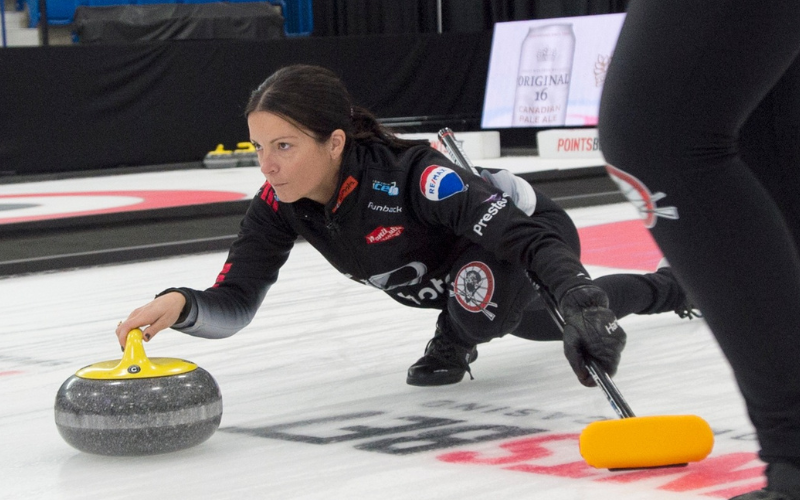 When you're the No. 1 seed at any curling event (photo: Michael Burns, Curling Canada), other teams will naturally have ambitions to take you down.

Add to that the prospect of bringing home the 2023 PointsBet Invitational's top prize of $50,000 and the bounty on your team gets elevated to new heights.

That was the exact scenario facing four-time Canadian women's curling champs Team Kerri Einarson as they took to the ice at the Sixteen Mile Sports Complex at Oakville, Ont.

And while a weaker team may fold under the pressure of playing for big cash prizes, Kerri Einarson doesn't flinch. She and her Gimli, Man., squadron of vice-skip Val Sweeting, second Shannon Birchard, lead Breanne Meilleur and coach Reid Carruthers pulled out a gritty 8-3 Final 4 win over Team Kaitlyn Lawes (Winnipeg), securing a berth in Sunday's final.

"I don't look too much into it," laughed Einarson about the prospect of playing for the $50,000 grand prize offered at the 2023 PointsBet Invitational.

Her grounded approach paid dividends on Saturday afternoon against Team Lawes, which saw Team Einarson get out to a shaky start. Lawes looked strong scoring two in the first end with hammer before an unforced error left Team Einarson to settle for a single in the second end.

The bad start didn't last for Team Einarson, as it scraped back three consecutive steals of one, taking a 4-2 lead into the fifth-end break.

Unshaken by the less-than-ideal start, Einarson made one simple adjustment that gave way to the mid-game success.

"I just dialled back my kick a little bit," said Einarson of her performance turnaround. "I was kicking a little hard and once I felt that, I regrouped and strung a couple together."

The adjustment proved to be a timely one. Lawes was successful on an incredible runback-triple in the fourth end, putting pressure back on Einarson to make a quality hit-and-roll.

It's a moment the skip says brought a marked change in momentum to the Final Four matchup.

"She made a great shot and I knew I had to follow up with a hit-and-roll to try and get a steal," said Einarson. "I think we put a lot of pressure on them."

The steal game proved succesful. After forcing Team Lawes to a single in the sixth end, Team EInarson responded with a deuce in seven followed by an additional steal of one in the eighth.

Though Team Lawes would brew some pressure of its own in the ninth, it would be squandered on a miss, granting Team Einarson an additional steal of one, followed by handshakes.

"It feels pretty good," said Einarson of the Final Four win. "It's always nice to play great and make it into another final."

On the other side of the women's bracket, Ottawa's Team Rachel Homan took the wind out of Team Christina Black's (Halifax) sails with a 10-5 win, setting the stage for a Team Einarson vs. Team Homan final.

Additional 2023 PointsBet Invitational action continues Saturday evening with the men's Final 4 at 5 p.m. (all times Eastern).

Both finals will be played on Sunday, with women's action set for 12 p.m. and men's to follow at 5 p.m.