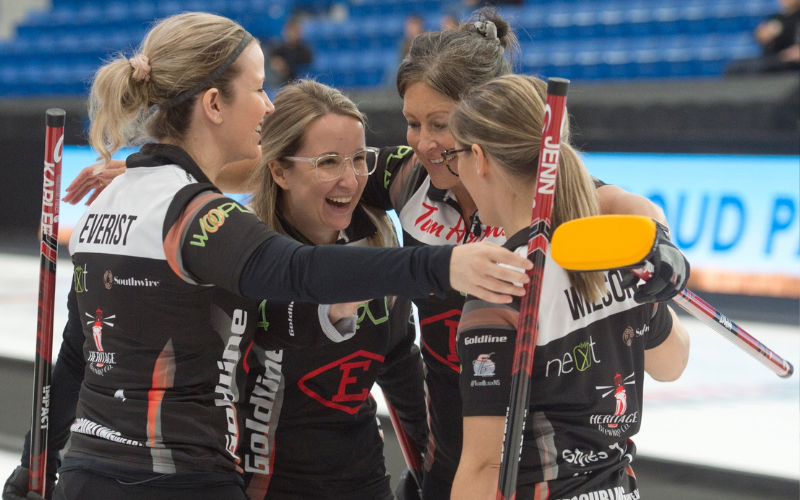 Christina Black's Bluenosers (photo: Michael Burns, Curling Canada) navigate past Jennifer Jones to Final 4 at 2023 PointsBet Invitational

Black doesn't mind being an underdog.

Coming into the 2023 PointsBet Invitational, the sixth-seeded Team Black knew it had its hands full after dispatching its first opponent, Team Nancy Martin of Martensville, Sask., in the Sweep 16, setting up an Elite 8 matchup on Thursday morning against incumbent PointsBet Invitational champion Team Jennifer Jones.

Team Jones (Winnipeg) is a tough team to play against on any occasion. Add to that the chase of the 2023 PointsBet Invitational's top prize of $50,000, and you've got a pressure-cooker situation on your hands.

It proved to be no problem for the Dartmouth, N.S., foursome of skip Christina Black, vice-skip Jennifer Wilson, second Karlee Everist and lead Shelley Barker, who downed Team Jones 9-6, earning a berth in Saturday's Final Four.

It proved to be a bracket-buster for many, considering Team Jones occupied the No. 3 seed in the 16-team single-knockout 'spiel.

"I don't mind," said a composed Black. "It's always OK to be the underdog and for people to underestimate you. We don't mind at all."

Momentum between the two teams swung like a pendulum with the game's lead changing hands six times in eight ends. After a ninth-end blank from Team Jones left Team Black up 7-6, Black knew she'd need an immaculate 10th to steal the game outright, or at least hold Jones to a single to set up a sudden-death draw-to-the-pin tiebreaker.

Jones did indeed have a shot to tie the game, but nothing more. She would have to navigate a tight port of Team Black rocks in the house and have her draw stop in the four-foot or better to force sudden death.

The Jones offering would end up being heavy, splitting the port but slipping to the back of the eight-foot, securing a 9-6 win for Team Black.

Black recounts her thought process as she watched the game's final stone track down the sheet.

"My only thoughts were, 'Let's get a time on this because I'm going to need to throw that path to win if we go to the draw to the button,' " recounted Black. "It's very sudden death, so you just go out and try to win the game you're playing. You don't know if you're going to be in any more games so you can't worry about anything else in the week. Just plan for the one in front of you, go out, and give it your all."

Team Black has been finding its stride as of late. The team enters the '23-'24 season marking its fifth season together. After a strong run into the playoffs at the 2023 Scotties Tournament of Hearts at Kamloops, B.C., they're looking for more success.

"When you know your teammates really well and we enjoy playing together, you know you can hang in games," said Black about her team's strengths. "We can keep them close and close them out if we get the opportunity. You build that as you gain more experience with your teammates."

The Final Four berth puts an extra $6,000 in Team Black's coffers and sets up a Saturday afternoon matchup with three-time Canadian women's champion Team Rachel Homan (Ottawa), from which $12,000 will go to the winner.

In other women's Elite 8 contests, Team Homan secured a timely steal of two in the sixth end and a score of three in the ninth to polish off Team Isabelle Ladouceur (Whitby, Ont.) by a 10-6 score. Winnipeg's Team Kaitlyn Lawes was comfortable in an 8-3 victory over Team Clancy Grandy (Vancouver, B.C.) while reigning Canadian champion Team Kerri Einarson prevailed 10-6 in a spirited contest with Calgary's Team Kayla Skrlik.

The 2023 PointsBet Invitational continues Friday afternoon with four men's Elite 8 games at 4:30 p.m. (all times ET), followed by the Celebrity Invitational.