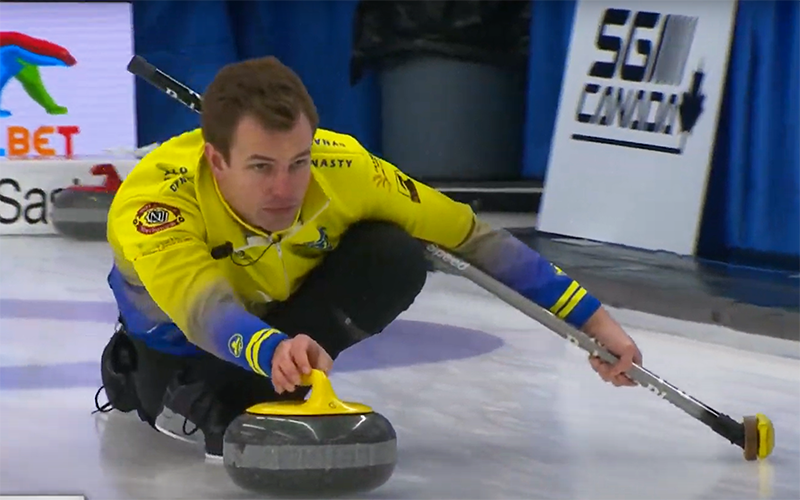 Since winning gold at the Canadian university curling championships with the Alberta Golden Bears, Karsten Sturmay keeps ticking boxes as he gains experience on the competitive men's curling scene.

The 26-year-old Edmonton skip won a U Sports title in 2018. He won silver for Canada at the World University Games the next year and played in the Olympic Pre-Trials in 2021.

His PointsBet Invitational debut came last year and he made his first Brier appearance last winter.

It's all part of a consistent trajectory upward for a squad that includes Kyle Doering, Glenn Venance and Kurtis Goller.

Sturmay said the team's expectations have changed now that they're in their second season together as a foursome.

"I think in the early stages of this team, we would have been happy to make playoffs," he said. "Now we have that expectation that we know that we're a playoff contention team. We know that if we perform to a standard that we likely will be in playoffs. So then it's just about moving those benchmarks."

Sturmay is 4-2 at this week's Pumps and Pressure Red Deer Curling Classic and into Monday's quarterfinals where they will play Japan's Yusuke Morozumi at 9 am Mountain Time.

In their opening game, Sturmay defeated Kohsuke Hirata (Kitami, Japan) 9-4, then went on to lose 5-2 against Saskatoon's Mike McEwen. Sturmay responded with a 4-3 win over Braden Calvert (Winnipeg), but then lost their next game, 6-5 to Korea's Jongduk Park.

Dropping into the C-event bracket, Sturmay responded with a 8-4 win over Shinya Abe (Sapporo, Japan) to advance to the C-Qualifier games where they 7-1 against Hirata to advance to the playoff round.

Playing in Red Deer has been a learning experience for Sturmay, his career record of 18 wins and 17 losses in 6 appearances shows this circuitous path through the C-side is not unusual for his teams at the second-tier level tour event.

"I think it just encourages development at all levels of the game," Sturmay said. "It doesn't matter if you're looking for some experience against the best teams in the world or if you happen to be in the top 20 or top 30 in the world.

Sturmay is just outside the fringes of the Grand Slams, ranking 20th overall on the WCF World Team Rankings as they attempt to push inside the Top 16 needed to book their place in curling's most prestigious event series. As the 8th-ranked Canadian team, Sturmay would have been a Grand Slam regular a decade ago, with events as large as 18 teams with 80% or more of the field being domestic teams.

As the game has changes and the Grand Slams gained a stronger foothold as the training ground for the game's best teams, the International curling programs all took focus on playing those events leaving many young Canadian teams like Sturmay's on the outside.

Events like the Pumps and Pressure Red Deer Curling Classic become even more important in the schedule of teams like Sturmay who can gain important ranking points needed to move up and graduate into the Slam-circuit.

"It gives you an opportunity to play in a non-arena setting and set yourself up for success."

On their half of the 8-team single knockout playoff bracket, Airdrie's Aaron Sluchinski plays Rylan Kleiter of Saskatoon while Calgary's Kevin Koe faces Japan's Riku Yanagisawa and Saskaoon's Mike McEwen playing Jongduk Park of South Korea. Monday's championship final game goes at 3:30 pm Mountain Time at the Pidherny Centre in Red Deer.