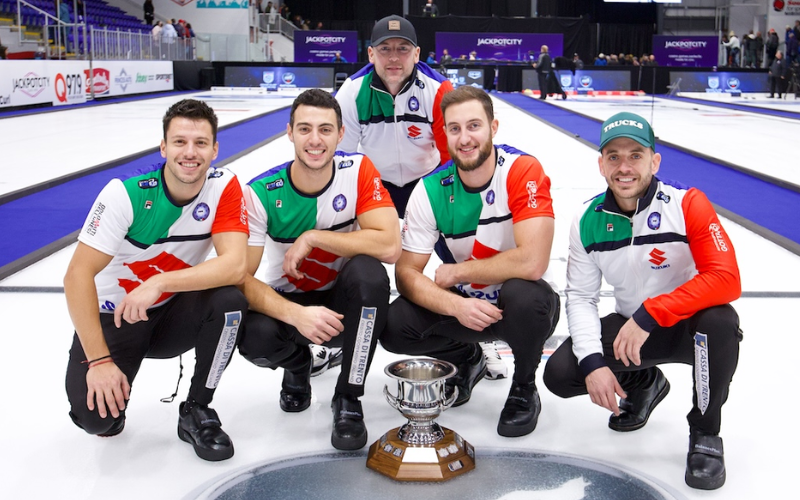 Italy's Joel Retornaz (Trentino) defeated Niklas Edin (Karlstad, SWE) 6-5 to win their second Grand Sam title of the season.

Retornaz with Amos Mosaner at third, Sebastiano Arman and Mattia Giovanella on the front end take home the $36,000CDN first place cheque ($20,000 bonus plus $4,000 per round-robin win) along with 75.000 world ranking points, while Edin receives $17,000CDN ($9,000 bonus plus $4,000 per round-robin win) and 55.000 world ranking points for their second place finish.


After a first end blank, Edin stole 2 in the second end to take an early lead with Retornaz responding in the third end scoring 2. Retornaz stole a single point in the fourth end, another steal in the fifth end and stole 2 more in the sixth end to lead 6-2. Edin got 2 points back in the seventh end, then added another steal in the eighth end as Retornaz their Swedes out of stones.

In the semifinals, Retornaz defeated Calgary's Brendan Bottcher 6-5 and Edin defeated Yannick Schwaller of Switzerland 6-5. In the quarterfinals, Retornaz defeated Korey Dropkin of Duluth, Minnesota 10-3, while Bottcher stole the extra end on Scotland's Ross Whyte to win 5-4. Schwaller defeated Scotland's Ross Craik 6-5, and Edin defeated Scotland's Bruce Mouat 5-4.

Four teams finished 2-2 and tied for the last playoff spots, with the draw to button deciding the playoff teams. Brad Gushue of St. John's, Matt Dunstone of Winnipeg, Aaron Sluchinski of Airdrie and Kevin Koe of Calgary all came up short on the shootout ranking and missed the playoffs.

The Grand Slams have eliminated tiebreaker games this season, and instead are using the pre-game draw to the button scores to break ties. With the increased impotance place upon these shootouts, teams now each player will throw two shots and count their best shot towards the team total.

The format for round-robin play at the Grand Slams features a four game guarantee for the teams, who are then seeding in to 4 separate pools to balance out each block. Teams in Pool A play all their games against teams in Pool D, creating a balanced draw for every team in the field as everyone plays a 1 seed, 2 seed, 3 seed and 4 seed from a pool. Pool C plays against Pool D teams.

Retornaz finished 4-0 in the 16-team round-robin qualifying round. In their opening game, Retornaz defeated Riku Yanagisawa (Karuizawa, JPN) 7-4, then won 6-3 against Dropkin and 4-2 against Mouat. Retornaz won 7-4 against Schwaller in their final qualifying round match to reach the playoff round.

Retornaz heads home and will compete in the Le Gruyere European Curling Championships starting next weekend in Aberdeen, Scotland.