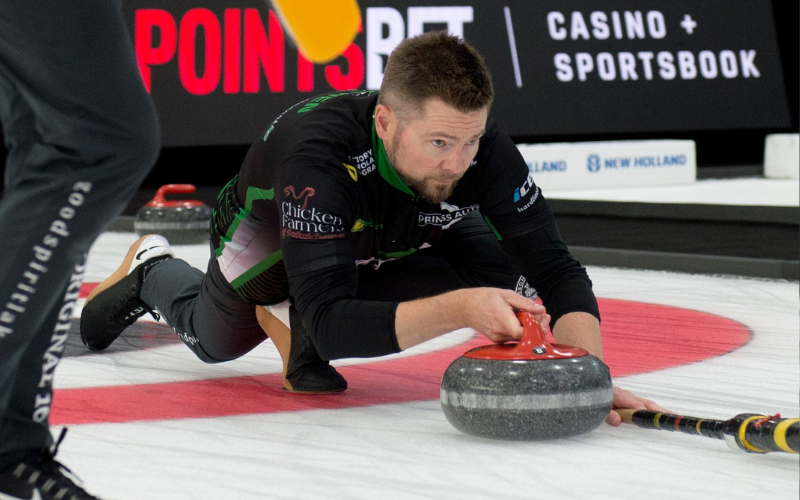 For the record, it wasn't Friday the 13th, but it sure felt that way for some of the favoured men's teams (photo: Michael Burns, Curling Canada) at the 2023 PointsBet Invitational.

Across the sheets at the 16 Mile Sports Complex in Oakville, Ont., three-enders were being swapped at an alarming rate, big shots were being made and just as many were being missed, and the "favoured" teams based on seedings were maybe wondering if they could catch a late-night flight out of town from nearby Pearson Airportt

But in the end, when the dust settled, it will be a Final 4 that features some of the biggest names in Canadian curling, and they'll all be on the ice Saturday at 5 p.m. (all times Eastern) chasing that massive winner's cheque of $50,000.

It was fun to watch. But, yeah, it was a grind.

Only Team Mike McEwen had a relatively easy time of it, putting together an impressive 9-5 win over second-seeded Team Brendan Bottcher of Calgary, powered by threes in the first and seventh ends.

But top-seeded Team Brad Gushue (St. John's, N.L.), No. 3 Team Matt Dunstone (Winnipeg) and defending champions No. 5 Team Reid Carruthers (Winnipeg) all faced some significant adversity in the late ends against lower-seeded opponents before prevailing and joining Team McEwen in the Final 4.

"Honestly, we put a ton of pressure on them," said McEwen, who was the first winning skip off the ice, which comes in handy as he fights a cold this week in Oakville. "I can't really take much credit myself; maybe I put the broom in the right spot. But honestly, the front three boys all played really well.

"It's our third event of the year and we've made three semis so far," he added. "So, very happy. The guys are playing really well. I feel like I'm getting close, missing the odd one that I'd like back but I feel like I'm doing my job."

Team McEwen will match up with 2022 PointsBet Invitational runner-up Team Dunstone in one Final 4 tussle, while the other will feature Team Carruthers meeting Team Gushue in a rematch of last year's semifinal in Fredericton, won by Carruthers.

I love the single-knockout," said Carruthers with a smile. "It's awesome, it's exciting. I'm all for it."

That said, there were elements of his game against No. 13 Team Rylan Kleiter that didn't feel so awesome at times on Friday. Team Kleiter, from Saskatoon, pulled off the biggest upset of the Sweep 16, taking down No. 4 Team Kevin Koe of Calgary on Wednesday, evenly swapped four three-enders over the first eight ends with Team Carruthers and held the favourites to a single in the ninth to take a tied 8-8 game and the hammer to the 10th.

But Kleiter's double-takeout attempt in the 10th was off the mark and Team Carruthers stole the winning point to advance.

Team Gushue, meanwhile, also had to shake off a stubborn opponent — ninth-seeded Team Ryan Wiebe of Winnipeg, who would tie the game 4-4 after seven with, you guessed it, a three-ender.

But after a blanked eighth, Team Gushue turned on the pressure in the ninth to score four and prompt a concession.

"It's early in the season," said Gushue. "So you're not 100 per cent confident in how you're throwing it either. So it was a challenge. We've got to play better. Hopefully we can step it up a notch (on Saturday)."

In the other Elite 8 game, Team Dunstone found itself down 5-4 after seven ends, but would rally with one in the eighth to tie it, and a stolen single in the ninth and two more in the 10th for an 8-5 win over No. 6 Team Karsten Sturmay of Edmonton.

The 2023 PointsBet Invitational continues with Final 4 draws Saturday at noon (women) and 5 p.m. (all times ET).