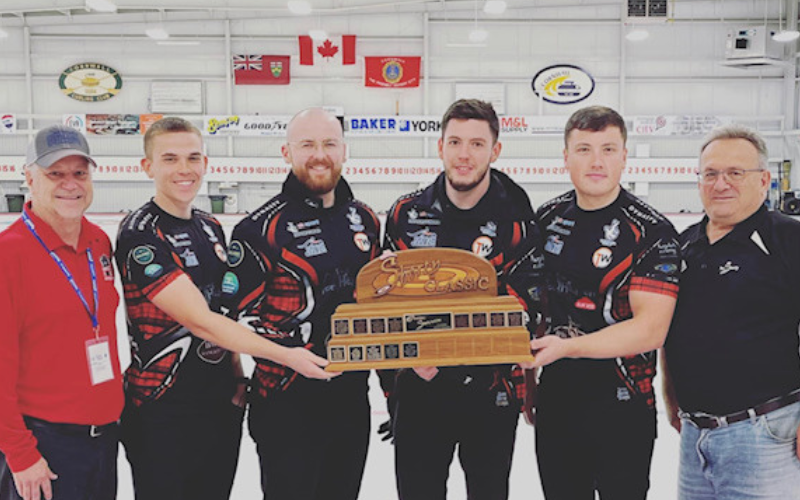 Victory over Sweden's six-time world champions capped a stunning run of form for Team Whyte as they claimed the prestigious AMJ Campbell Shorty Jenkins Classic title in Cornwall, Ontario to complete this season's impressive first tour of Canada.

It was the third successive final that Ross Whyte, Robin Brydone, Duncan McFadzean and Euan Kyle have contested this season and having missed out in both previous ones to compatriots Team Mouat, the reigning world champions, they showed tremendous grit this time to get the better of Olympic Champions Team Edin at an extra end.

It was a tight battle throughout, with the teams exchanging twos at the opening two ends after Niklas Edin's men started with the hammer.

Whyte briefly edged 4-3 ahead at the fifth end, only for the Swedes to respond immediately with a two before adding a steal to go to the final end with a commanding 6-4 advantage.

However the Scots got their two at the next to take the match into extra time and when Whyte managed to put his final stone into a counting position, guarded inside the house, Edin's attempt to draw into the four foot rings slid through.

"That was a very good game of curling," said the Scottish skip.

"We knew it was always going to be very tough against a great team, so it was brilliant to come out on top after making the finals at our previous two events.

"We rode a bit of luck all week, however it just seemed to be our week this time around."

Their victory in the biggest event of the season so far, which featured the top four in the men's world rankings, completed a run that has seen British Curling's teams reach the finals of every event they have entered over the past month in Canada.

Mouat had beaten Whyte in the final of the Stu Sells Oakville Tankard a fortnight ago, where Rebecca Morrison's new-look line-up had also reached the final of the women's event and Morrison, Gina Aitken, Jen Dodds, Sophie Sinclair and Sophie Jackson also reached the final of the KW Fall Classic the following week.

Team Morrison went on to reach the semi-finals at the Shorty Jenkins, where they were only beaten by Switzerland's four-time world champions Team Tirinzoni, who edged them out at the final end of their opening match and again in a hard fought semi-final.

Meanwhile, in the men's event, both Mouat and the youthful quartet skipped by last year's World Junior champion James Craik had joined Whyte in the play-offs before they both missed out at the quarter-final stage.

"The Scottish men's and women's teams are all doing fantastically this year," said Whyte.

"It's great to see good results everywhere we're going as a full programme and hopefully that can continue throughout the whole year.

"It seems like people are starting to really notice Scotland as a nation of real strength, so it feels fantastic to be helping to lead that charge."

Even more than their defeat of Edin in the final, the performance that demonstrated their capabilities was an astonishing comeback against Canada's top team, skipped by former world champion Brad Gushue in a quarter-final that had looked to be over almost before it began.

"Giving Gushue a 5-0 head start at the opening end was probably not quite our number one game plan," vice skip Robin Brydone said with a smile.

"However, it shows how much we've come on as a team to be able to bounce back from a bit of adversity and could just grind away against a top team in the world and come out with the win eventually and as a whole we've put in some really good performances recently."

That has strengthened their belief that they can challenge world number one ranked Mouat, Grant Hardie, Bobby Lammie and Hammy McMillan in the coming season, but he knows they must build on what they have achieved so far in order to do that and further prove themselves at the big money Grand Slams back in Canada.

"It's been a great start to the season," said Brydone.

"If you were to say to us that we'd have been in three finals, win one title and be in another semi-final in our three events so far, we'd have bitten your hand off.

"However, early season success doesn't mean anything unless we can push on and start to go deeper in the Slams, so I guess the next thing is to go to the first Slam of the season next month and see how far we can go.

"From there we want to try to close the gap to Mouat and try to put ourselves in a good spot to go to the World Championships."