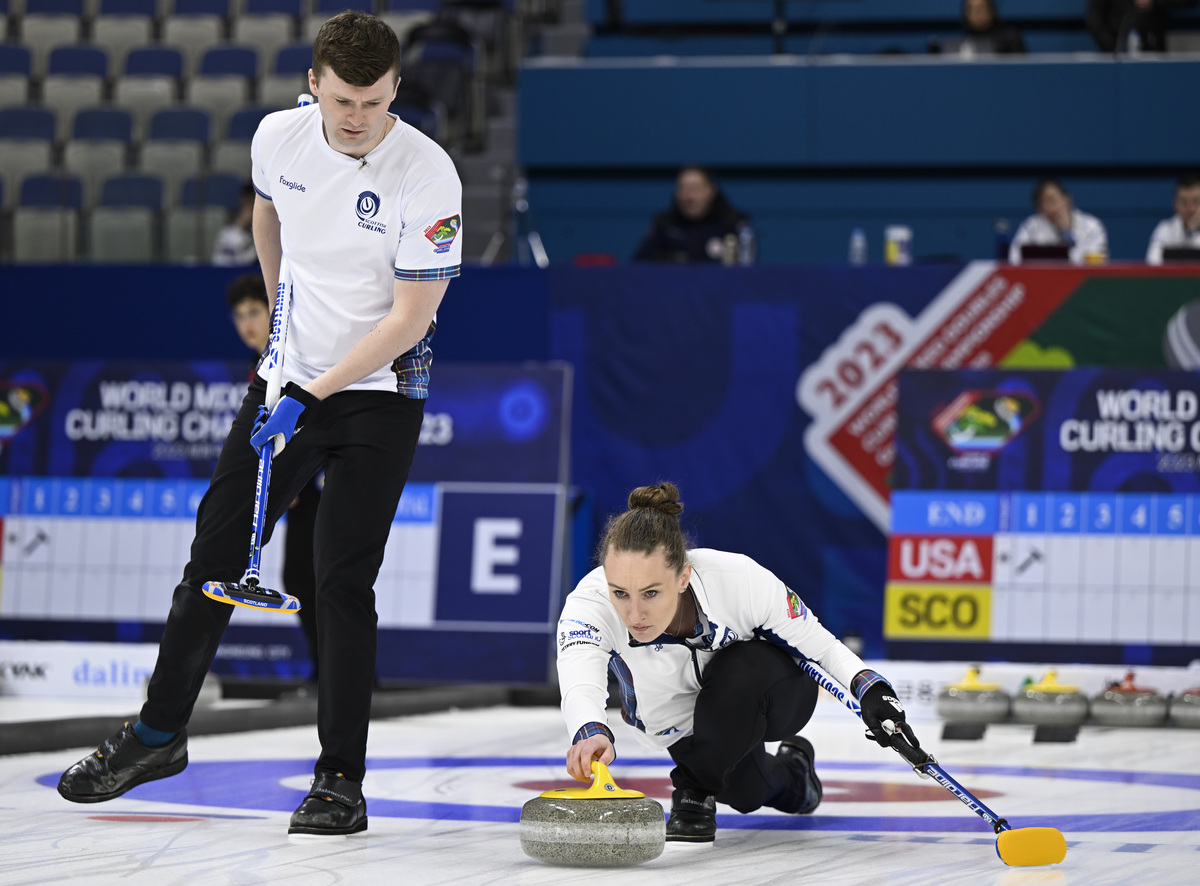 Dodds and Mouat (photo: Eakin Howard/WCF) bow out of World Championships with playoff loss to USA.

Scotland's bid to win the World Mixed Doubles title for a third successive year ended in the first round of the playoffs as Jen Dodds and Bruce Mouat ran into inspired opposition from the USA.

The American pairing of Cory Thiesse and Korey Dropkin began the match with the hammer, having started second in their qualifying group, whereas Scotland finished third in theirs, and they capitalized on that with a two at the opening end.

After forcing the Scots to settle for just one at the next, they then piled on the pressure at the third end, and while Thiesse was unable to make her final stone count, they still claimed a four after a measure.

That proved decisive, and while the Scots rallied in the second half of the match, they could only reduce the deficit against opponents who continued to perform well.

"We just started slow, unfortunately, and that's what killed us," said Mouat.

"We did manage to mount a bit of a comeback, but it just wasn't enough, so we're obviously gutted with our overall performance in that game.

"It wasn't what we envisaged for ourselves for the week, but we'll bounce back and hopefully be back at a Worlds again."

Dodds acknowledged that the quality of the American play had given them little opportunity.

"They didn't miss much today," she said.

"Once we got our stones in a good position, we did start to get a bit of momentum and were able to put them under a wee bit of pressure, but in the first half, that's probably what we were lacking.

"We were put under pressure, and they had slightly easier shots, but they are a great team, and it will be interesting to see how they go."

While he and Dodds won the title in 2021, before Bobby Lammie and Eve Muirhead successfully defended it last year, recently crowned men's world champion Mouat reckoned a week that had also seen them lose to Canada and Estonia in the round-robin stages had demonstrated that they have work to do to get back to the top.

"There's a wee bit we can work on going forward," he said.

"We didn't have our best week here and had our ups and downs.

"We're pretty happy where we are generally, but I just think there's another step we can go up to be world-leading at this point.

"We're not pushing that hard for the top yet, so we're going to have to work on a few things to make sure we get there next year."

However, as they set their sights on getting to the Winter Olympics in Milan-Cortina in 2026 and trying to improve on their fourth-place finish in Beijing last year, Dodds suggested that the experience had been a useful marker.

"There are a couple of new mixed doubles teams in the equation, so it's good to see where you are compared with them," she said.

"I think we've got a couple of things to work on, but we can come out of this with a lot of good things as well, things we wanted to concentrate on at the start of the week, and we kept that through the week, which is good.

"So, first year of an Olympic cycle, I think it's a good starting point."

The USA went on to upset North American rivals Canada 6-2 in their semi-final and will now meet Japan, who edged out Norway 5-4 in the other semi-final, while Mouat heads back to the airport to make another journey, crossing several time zones, to rejoin his men's team in Canada for the last Grand Slam event of the season at The Champions Cup in Saskatchewan, which gets underway on Tuesday.

"I'm excited to get back to the last event of the season with the boys," he said.

"We'll see what we can do at The Champions Cup.

"It's always a bit of fun that one, and it looks like we're going to have some good games there.

"The long journey and the time zone change are nothing new, so I just have to try to rest and recover over the next few days, and hopefully, I can turn it up and play some good curling again."