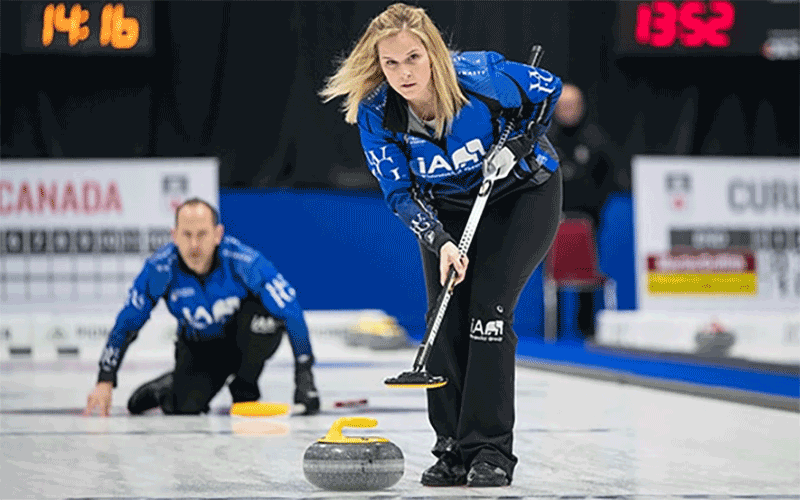 Canada's Jennifer Jones and Brent Laing (photo: Curling Canada) debut against Scotland in Worlds opener; follow details on where to watch HERE.

To watch Canada play Scotland, CLICK HERE to WATCH on Recast!

Recast is an advertising-supported platform that has been the home of all World Curling Federation events starting last season in a partnership that allows the Federation, events, teams, and promoters to share in the revenues from the broadcast of the sport.

The World Curling Federation faced several challenges with its "free" Youtube coverage that so many curling fans came to love. Rules surrounding how the Google-owned video platform manages geo-blocking and copyright sometimes put the WCF and broadcast partners like TSN in breach of contract.

The move to Recast has been widely panned, but with the most significant challenge being where to find the games, CurlingZone continues to be a leader in the sport by promoting all game links through Red Play buttons on the live scoreboard.

Follow each game though the Scores tab, or click on the Standings to get a complete listing of all game links.

Jones and Laing are no strangers to wearing the Maple Leaf on the world stage, but it will be their first time doing it as teammates.

They face a stiff test right out of the gate, as they play 2021 world champs Jen Dodds and newly crowned world men's champ Bruce Mouat, who will look to win Scotland's third straight world mixed doubles title, after Eve Muirhead and Bobbie Lammie prevailed last year in Geneva, Switzerland.

Jones and Laing have both played previous events at the Gangneung Curling Centre. Jones skipped her women's team to a fourth-place finish at the 2009 World Women's Championship, while Laing was a member of Kevin Koe's Canadian men's team that finished fourth at the 2018 Olympics.

Team coach Glenn Howard (who coached Muirhead's British women's team at the 2018 Olympics) and national coach Scott Pfeifer (the alternate for Koe's 2018 Olympic team) round out the Canadian contingent.

The 20-team field will be split into two 10-team groups, with Canada grouped with the Scots, Australia, the Czech Republic, Denmark, Estonia, Hungary, Italy, the Netherlands and South Korea.

Each group will play a nine-game round robin, and the top three teams from each group will advance to the playoffs. The first-place teams in each group receive a bye to the semifinals while the second and third-place teams cross over for qualification games from which the winners advance to the semifinals. The winners of those games go to the gold-medal game, and the losing teams compete in the bronze-medal game.

Canada has never won the World Mixed Doubles Championship but has finished on the podium four times (two silver, two bronze) since the event's inception in 2008.

Last year at Geneva, Canada's Jocelyn Peterman and Brett Gallant had an 8-1 round-robin record but lost to Norway in the playoff qualification round.

Here's is Canada's complete mixed doubles schedule (all times ET):
Friday, 9 p.m. - Canada vs. Scotland (Jen Dodds/Bruce Mouat)(watch here)
Saturday, 5 a.m. - Canada vs. Netherlands (Vanessa Tonoli/Wouter Goesgens)(watch here)
Sunday, 1 a.m. - Canada vs. Estonia (Marie Kaldvee/Harri Lill)(watch here)
Sunday, 9 p.m. - Canada vs. Italy (Stefania Constantini/Sebastiano Arman)(watch here)
Monday, 5 a.m. - Canada vs. Australia (Tahli Gill/Dean Hewitt)(watch here)
Tuesday, 1 a.m. - Canada vs. Czech Republic (Julie Zelingrova/Vit Chabicovsky)(watch here)
Tuesday, 9 p.m. - Canada vs. Denmark (Jasmin Lander/Henrik Holtermann)(watch here)
Wednesday, 5 a.m. - Canada vs. Hungary (Linda Joo/Lorinc Tatar)(watch here)
Thursday, 1 a.m. - Canada vs. South Korea (JiYoon Kim/ByeongJin Jeong)(watch here)
(If Canada qualifies)
Thursday, 9 p.m. - Playoff qualification games
Friday, 5 a.m. - Semifinals
Friday, 9 p.m. - Bronze-medal game
Saturday, 1 a.m. - Gold-medal game
The World Curling Federation's live-streaming platform The Curling Channel will be the only to watch games from the World Mixed Doubles Championship, and all sheets will be shown.

For the latest scores, draw and list of teams, follow visit CurlingZone.com.