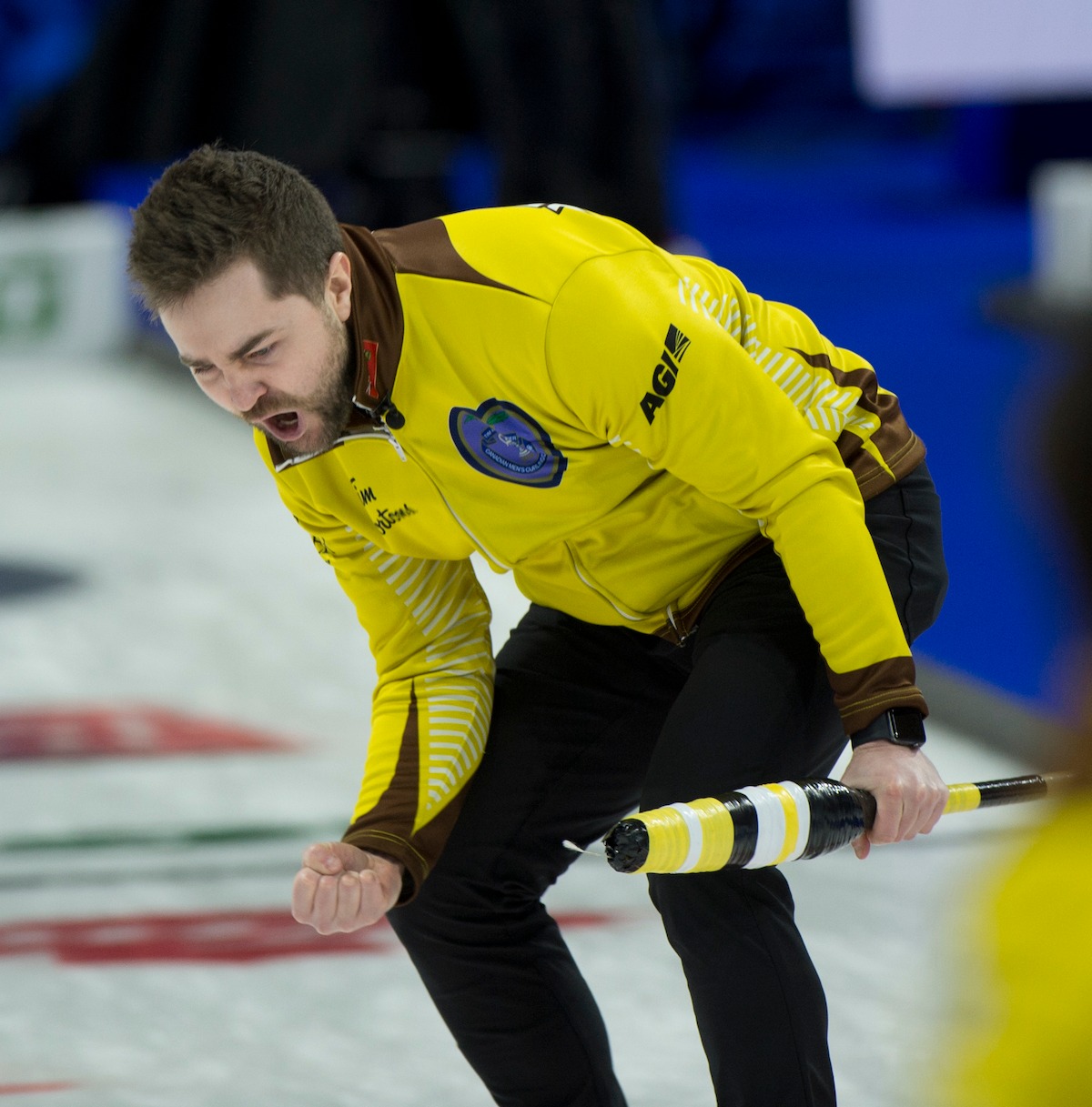 Manitoba's Matt Dunstone (Photo: Michael Burns) is off to the championship final at the 2023 Tim Horton's Brier in London, after the skip defeated Brendan Bottcher and Wild Card 1 7-5 in the semifinals on Sunday afternoon at the Budweiser Gardens.

By: Dylan Chenier


London - Coming off a disappointing loss to Brad Gushue in the 1v2 game on Saturday night at the Tim Horton's Brier in London, Matt Dunstone was able to bounce right back on Sunday afternoon, taking a thrilling 7-5 victory over Brendan Bottcher and Wild Card 1, securing a spot in his first-ever Brier final.

After opening the game with a blank in one, Dunstone would make a perfect hit and roll on his first shot in the second, setting up a soft backline tap for two on his second, putting Team Manitoba up 2-0 early on. Bottcher would answer right back in the third, however, with the skip making a draw for two.

Dunstone would attempt a chip and roll to score two in the fourth end, but the Manitoba skip was heavy on his last shot, allowing Bottcher to steal one heading into the fifth. Manitoba would then go on to take a 4-3 lead heading into the break with Dunstone making an impressive shot for two that brought the Budweiser Gardens crowd to its feet.

Wild Card 1 answered right back in the sixth, with Bottcher coming back from the break with his second deuce of the game to lead by one.

One of the key shots of Sunday's semifinal came in end number seven, with Team Bottcher third Mark Kennedy making an impressive double with his shot-rock freezing perfectly on Manitoba's stone, which eventually forced Dunstone to settle for a single point, tying things up at five-apiece.

With his final shot in the ninth, Bottcher was able to make a double for the blank, taking hammer into the tenth end with the game tied 5-5.

Facing two Manitoba stones on his last throw of the game, Bottcher was forced to attempt a counterclockwise draw for one and the win, unfortunately, the skip's rock would come up light, handing Dunstone a steal of two and the win. With the victory, Team Manitoba now advances to tonight's championship final where he faces Brad Gushue in a rematch of Saturday's thrilling 1v2 game.

"The last 14-15 hours have been really difficult, really emotional. But, I mean, what more can you say? We made what we had to down the stretch, got a bit of a break there and [now we're] off the final," Dunstone said. After losing last night's 1v2 game on a stolen point for Gushue, the skip will have a chance to take home his first-career Brier title tonight against the defending champion.

Meanwhile, for Bottcher, Sunday's loss marks the end of a hard-fought week for the 2021 Brier winner, who brought a new lineup heading into this year's national championship. "That was a great game, a really fun one to play and I thought we made a lot of really good shots, [and] Matt made a couple of beauties [as well]," said the Wild Card 1 skip.

"We were curling on Sunday at the Brier, so [it was] a huge success. I thought it was awesome. I thought the guys played great. We built a lot of momentum through the week and I honestly think we brought our best here these last few games."

If the last two page-playoff games are anything to go by, tonight's championship final should be one for the ages. Regardless of who wins, both teams come into tonight's contest with a chance to make history. For Matt Dunstone, the skip has a chance to lead Manitoba to its first Brier title since Jeff Stoughton won the top prize for the province in this very building in 2011.

A Dunstone victory would also mark the first time since 2013 that a skip other than Brad Gushue, Kevin Koe, or Brendan Bottcher has won the men's national championship. For Gushue, however, a win tonight would move him into a tie for first place in the all-time Brier wins list, with four gold medals to his name.

The 2023 Tim Horton's Brier championship final is set for Sunday night at 7:00 p.m. inside Budweiser Gardens in London, Ontario.