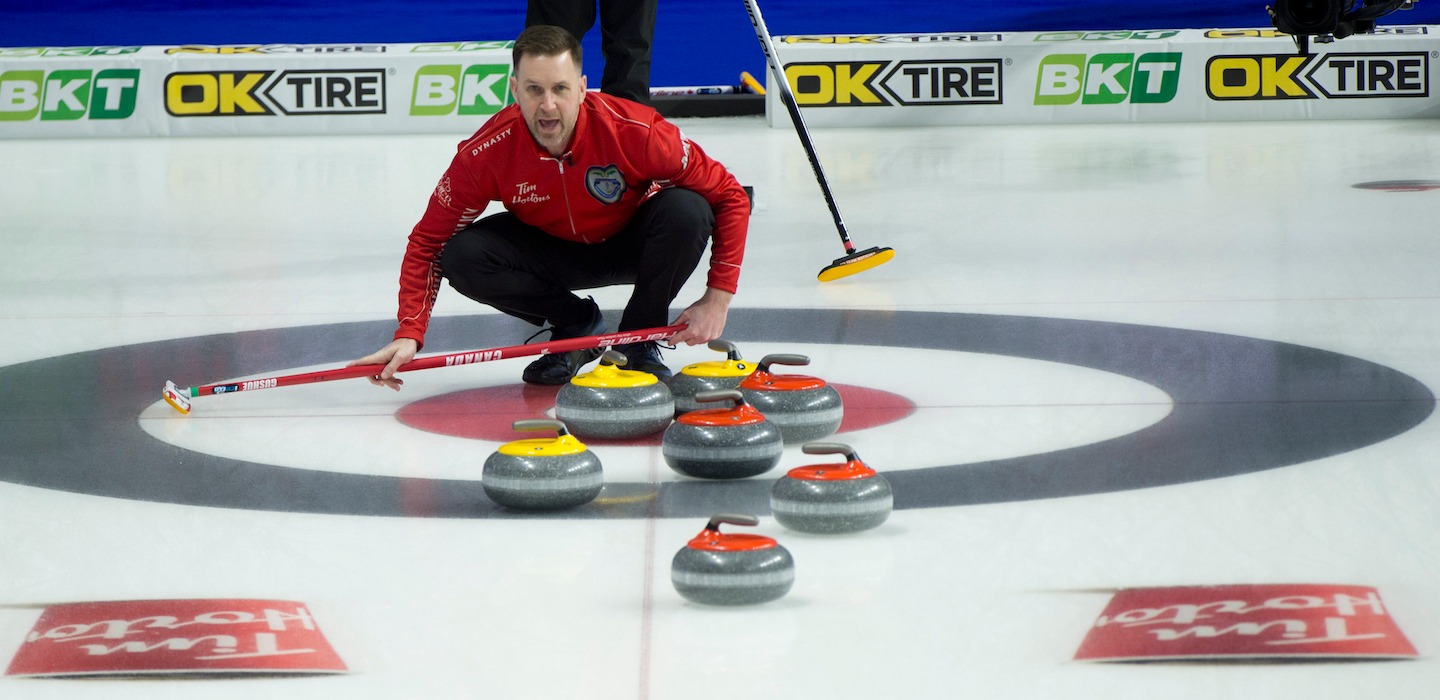 With an 8-2 victory over Team Ontario on Friday night, Brad Gushue's Team Canada (Photo: Michael Burns) is one win away from the championship final at the 2023 Tim Horton's Brier.

By: Dylan Chenier

Brad Gushue and Team Canada became the first rink to secure a spot in the 1v2 page-playoff game at the 2023 Tim Horton's Brier in London after the skip defeated Ontario's Team McEwen 8-2 in the page-playoff seeding draw on Friday night at the Budweiser Gardens.

After blanking the first end, Gushue would make an uncharacteristic mistake in the second, with his final throw coming up short, allowing McEwen to steal two for the early lead. Team Canada would bounce back in the third end, with Gushue making a draw for three to take a 3-2 lead.

Facing three Team Canada stones on his last shot in the fourth end, McEwen was forced to draw on an unfamiliar path, with the skip's stone coming up just light, handing Canada a steal of three. Canada would then go on to steal two more in the fifth, putting Gushue up 8-2.

After a blank in the sixth end, McEwen would finally get back on the board in seven, albeit with a single. With Gushue scoring one in the eighth, Team Ontario would opt for handshakes, securing Canada the win 9-3.

"I threw four really good rocks in the first two ends and got nothing out of it, [which] was frustrating but I knew we were playing well. I knew that if we played like we had the last couple [of] games, we [could] come back. We played a great third, end and once we got that three you could just feel the momentum shift," Gushue said of his team's comeback after giving up a steal of two in the second.

With the victory, Team Canada- with third Mark Nichols, second EJ Harnden, and lead Geoff Walker- now advances to the 1v2 game on Saturday night against Matt Dunsetone and Team Manitoba.

A win on Saturday night will secure Gushue a spot in the championship final, giving him a chance to defend his 2022 national title.

Meanwhile, for McEwen and Team Ontario, Friday night's loss marks the team's first defeat in his last six games at this year's Brier. The squad now drops to the 3v4 game on Saturday afternoon. "I'm pretty sure I've never heard [of] anybody win[ning] the Brier on Friday. So we're playing tomorrow. You know, I think we can just shake this off [in our] short-term memory," McEwen said after the game.

"We'll have conditions that were a little bit more used to tomorrow afternoon. And if we get into a night game, we just have to be mindful of what we experienced tonight... we'll learn from that."

The other page-playoff qualifier saw Manitoba's Matt Dunstone take on Brendan Bottcher and Wild Card #1, with Dunstone earning his spot in the 1v2 game with an impressive hit to score two on his last shot in the tenth.

"I think this team's been waiting for that moment all year, we haven't really had a moment where we, had a shot to win a game like that and obviously [it was] a big moment [in the tenth]," Dunstone told reporters after the game.

After earning bronze medals in 2020 and 2021, Dunstone is ready to take the next step in his Brier journey, with the skip set to face the defending champions in the 1v2 game on Saturday night. "There's something to always be learned in [Brier playoff games]. And, you know, I think tonight you saw exactly what I learned a couple of years ago," the Manitoba skip said about his two prior Brier semifinal appearances.

The 2023 Tim Horton's Brier continues Saturday afternoon with the 3v4 page-playoff game set for 2:00 p.m. ET, which will see Onatrio's Mike McEwen take on 2021 Brier champion Brendan Bottcher and Team Wild Card #1.