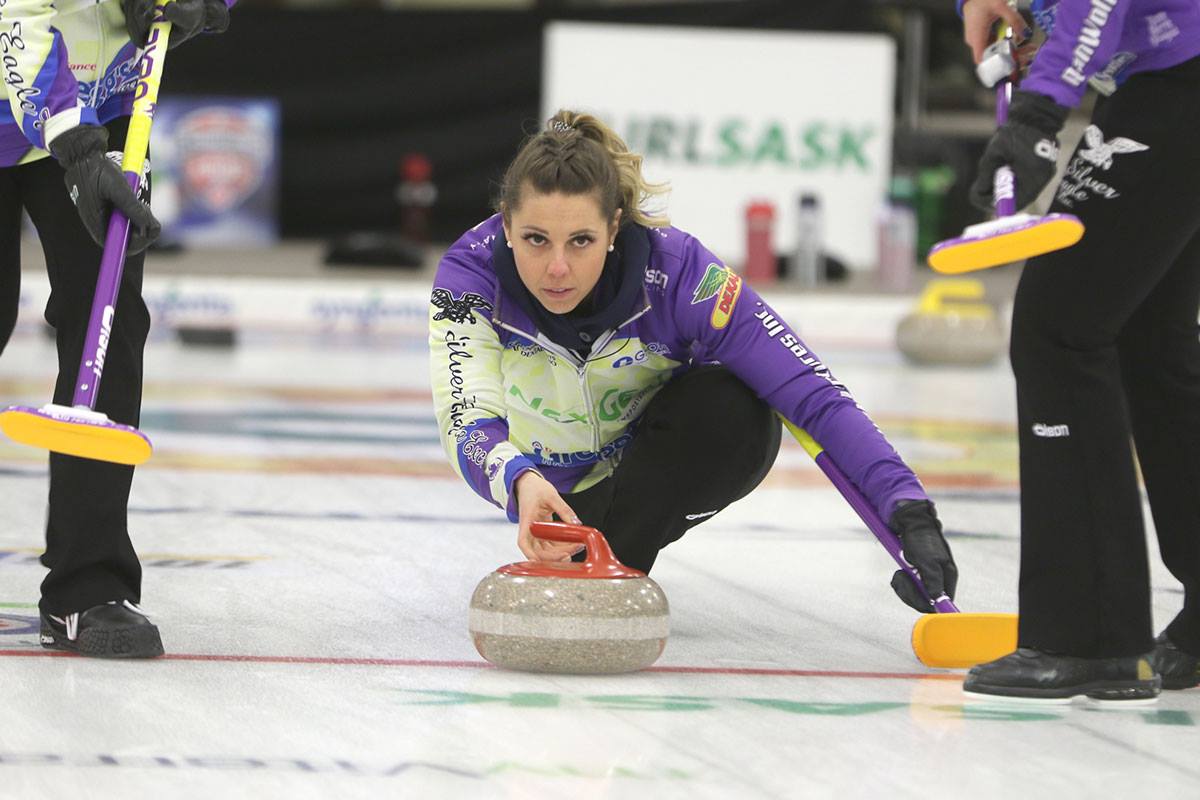 The 1v2 page-playoff game is set at the 2023 Sasktel Scotties Provincial Championship in Estevan, with Robyn Silvernagle (Photo: CurlSask) set to face Nancy Martin on Saturday night for a spot in Sunday's championship final.

By: Dylan Chenier

North Battleford's Robyn Silvernagle is through to the 1v2 page-playoff game at the 2023 Saskatchewan Scotties in Estevan, thanks to a lopsided 8-2 victory over Sherry Anderson in the B-Side final on Saturday morning at Affinity Place.

Things got off to a close start between the two rinks during Saturday's qualifier, with Silvernagle blanking the first two ends after starting with the hammer.

The team from North Battleford then settled for one in the third end, putting up the first point of the draw. Silvernagle would add to her lead in the fourth end with a significant steal of three to lead 4-0 early on.

Anderson then answered back in the fifth end with a score of one. The ten-time national Soctties participant would also steal one in the sixth, cutting Silvernagle's lead to two.

With Anderson heavy on her final shot in the seventh end, Silvernagle would be left with an easy draw for one, putting her rink up 8-2. Facing rather insurmountable odds with just three ends remaining, Anderson would opt for handshakes after the seventh, sending Silvernagle to the playoffs.

With the win, Silvernagle will now get set to face Martensvile's Nancy Martin in the 1v2 game on Saturday night, the winner of which will advance to Sunday afternoon's Championship final. Saturday night's draw gets underway at 8:30 PM ET.

Martin and Silvernagle last competed against each other on Thursday evening in the third round of the A-side of the triple knockout format, with Martin winning 9-2. Silvernagle will be hoping to even the score this evening as she looks to secure a spot in the finals.

The loser of Saturday night's 1v2 game will drop to the semi-finals, where they will take on the winner of Saturday night's 3v4 page playoff contest.

The two remaining playoff spots will be determined on Saturday afternoon with two C-Side qualifiers on the schedule. The first draw will see Team Anderson face off against Penny Barker of Moose Jaw. Meanwhile, the other matchup will see Brooklyn Stevenson take on Skylar Ackerman.

The C-Side qualifiers are set to get underway at 4:00 PM ET, at Affinity Place. Fans can watch the action live in the CurlSask YouTube page. For live SCORES, STATS, and BRACKETS, visit www.CurlingZone.com.