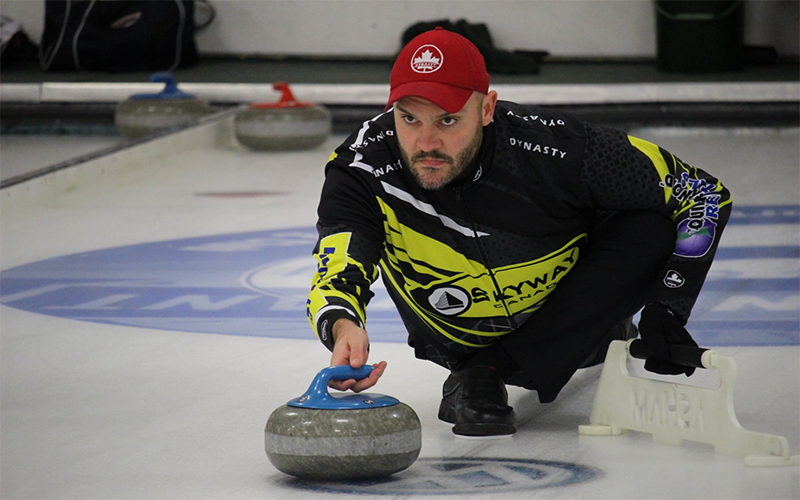 Kenora - Thunder Bay's Trevor Bonot stole the 10th end to overcome a 4-point deficit.

By Frank Roch

It was crunch time in the A Flight at the Unibet Northern Ontario Tankard in Kenora on Thursday afternoon as four teams battled for the two spots in the A Flight final on Friday afternoon.

Tanner Horgan's team out of Sudbury, the number one seed in the event, took on Bonot, the 2017 Canadian Mixed champion and finalist in this season's Canadian Mixed Championship played in November.

Horgan took control of the game in the first half, stealing points in ends four through six to take a 5-1 lead deep into the second half of the game.

Bonot then fought his way back into the game by scoring one in the 7th and then stealing three points in the 8th to tie the game 5-5. An attempt by Horgan to make a thin double to score, saw the young Sudbury skip flash through the rings without removing a stone.

In the 10th end, Horgan was left with a delicate hit and roll on a partially buried rock for one and missed, allowing the Bonot, third Mike McCarville, second Jordan Potts and Kurtis Byrd team to steal one point and a spot in the A Flight final.

Bonot will play Sault Ste Marie's Brad Jacobs, who's joined forces with Jordan Chandler of Little Current for a run at this year's Tankard title. Jacobs won 10-6 in an extra end to advance to the A-Final, where the first playoff berth will be up for grabs on Friday.

Follow all scores and streaming coverage on CurlingZone.com where every game is covered from the Kenora Rec Centre in Kenora, Ontario.