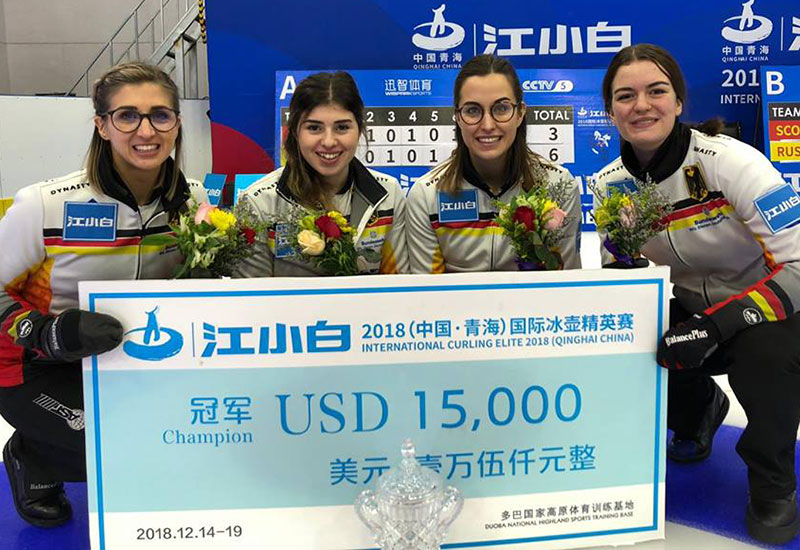 Daniela Jentsch (Fuessen, Germany) wins the Qinghai Curling Elite, defeating Alina Kovaleva (Saint-Petersburg, Russia) 6-3 in Xining, China. Jentsch with Emira Abbes at third, Analena Jentsch and Klara Fomm on the front end take home the $20,078CDN first place cheque, along with 27.930 world ranking points, while Kovaleva takes home $13,385CDN along with 20.482 world ranking points for their second place finish. Kelsey Rocque (Edmonton, Canada) wins the bronze medal game, defeating Elena Stern (Oberwallis , Switzerland) 6-4 in an extra end earning $6,693CDN and 15.827 world ranking points.

Starting with hammer, Jentsch scored 2 in the first end, then forced Kovaleva to a single in the second end. Jentsch and Kovaleva traded single point ends into the seventh end where Jentsch scored a single, then added a steal in the eighth end for the 6-3 win.

In the bronze medal game, Stern opened the scoring stealing 2 in the first end, Rocque responded in the second end scoring 2 to even the score, then after a blank end, Stern was forced a single the fourth end. After another blank end, Rocque scored 2 in the sixth end, then held Stern to a single the eighth end to force an extra end where Rocque scored 2 for the 6-4 win.

In the semifinals, Jentsch defeated Stern 12-4 and Kovaleva won 5-3 over Rocque.

Jentsch went 7-1 in the 9 team round-robin qualifying round. In their opening game, Jentsch defeated Cait Flannery (Chaska, USA) 5-2, won against Ying Yang (Harbin, China) 6-5, going on to lose their next game to Stern 8-3.

Jentsch responded with a 9-1 win over Eszter Juhasz (Hyvinkaa, Finland), then won against Rocque 6-4, against Kovaleva 7-3. With two games remaining, Jentsch defeated Di Zhang (Harbin, China) 4-3, then won against Siyu Han (Changchun, China) 4-3 in their final qualifying round match.