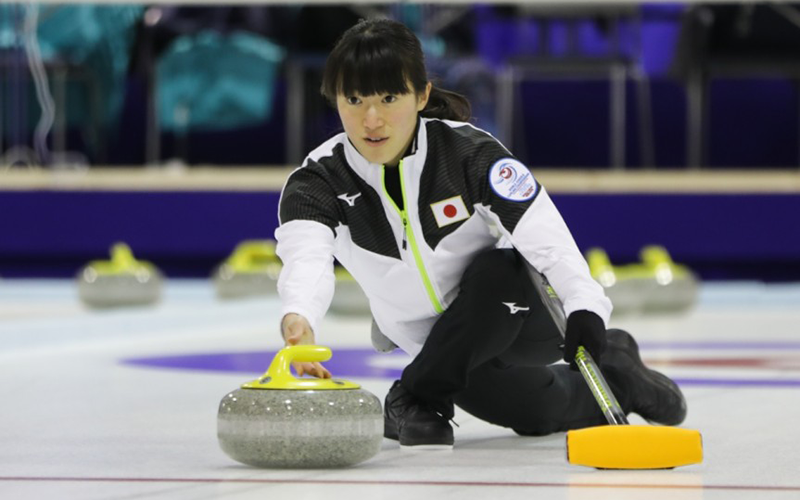 2022 World Junior Champion (photo: WCF/Alina Pavlyuchik) is undefeated into the playoff round at Curling Stadium Alberta Curling Series 5 presented by Hardline Curling.

Yamamoto, skip of the Japanese winning side at the 2022 World Junior Championships in May in Jonkoping, Sweden, stepped onto the ice in Leduc, Alberta, for the first time at an International Tour event.

Related:
Yamamoto Wins Junior Worlds: Japan Wins Historic World Curling Title

Representing Nagano with her junior team, Yamamoto switched to Sapporo, joining a team there. With fourth stone thrower Miyu Ueno together on the junior championship squad, Yamamoto added Suzune Yasui, Mizuki Hara and Momoka Isawa to the team.

The group won the Argo GRAPHICS Cup in September, defeating Sapporo's Sayaka Yoshimura 6-4 in the final.

While this is their first International event, Yamamoto has played several events this season on the Hokkaido Curling Tour, a new organization of events played in August and September. Yamamoto went 9-7 over four events, setting themselves up well for their trip to Canada. Yamamoto had also played four years at the Kariuzawa International prior to the 2020 shutdown of curling.

Yamamoto is currently ranked 85th on the World Curling Federation World Team Rankings.

In their opening game, Yamamoto forged out to a 6-1 lead on Calgary's Lisa Parent, only to see nerves get to them late in the game, with Parent forcing an extra end.

Game 1: Yamamoto vs. Parent


The Yamamoto team regrouped and came out strong in the extra end, scoring to win 7-6.

With Ueno away for the event, Momoka Iwase has moved into the third position, with Yamamoto throwing calling the game and throwing fourth stones.

The young squad continued their strong play in their next two games, winning 8-4 over Trina Ball of Edmonton and 6-2 over Nicky Kaufman, also of Edmonton. Kaufman, ranking #75 on the WCF Rankings, came off a title win at the previous Alberta Curling Series stop in early November.

Game 2: Yamamoto vs. Ball


Game 3: Yamamoto vs. Kaufman


Having squared up and proven themselves so far against a strong mix of teams, Yamamoto moves into the semifinals with their eyes on a spot in Sunday's Championship Final, played at 3:30 pm Mountain Time (7:30 am Tokyo Time)

Yamamoto will face the winner of the first of two quarterfinals, with the game going at 12:30 pm Mountain Time (4:30 am Tokyo time), with Edmonton's Jessie Hunkin and Kellie Stiksma facing off on their side of the 6-team playoff bracket.

Edmonton's Michelle Hartwell (#90) holds the other semifinal bye and will await the winner of the quarterfinals match between Calgary's Kayla Skrlik (#26) and Lacombe's Marla Sherrer (#71).

Game 4: Semifinals: 12:30 pm MT / 4:30 am Tokyo Time


Growing up in the Nagano development program, Yamamoto played lead on a team at the 2016 Japanese National Championships skipped by Seina Nakajima. With age limits for juniors, she would have been at most 15 years old, playing for a team that reached the playoff round in a competitive field.

Nakajima herself has graduated from the Nagano junior program and's now playing third with Ikue Kitazawa, winners of the Curling Stadium Alberta Curling Series Major in September and runners to Kaufman last month. Kitazawa has climbed all the way to #22 on the World Rankings, reaching five finals so far on the season, also winning at the KW Fall Classic in Kitchener-Waterloo, Canada.