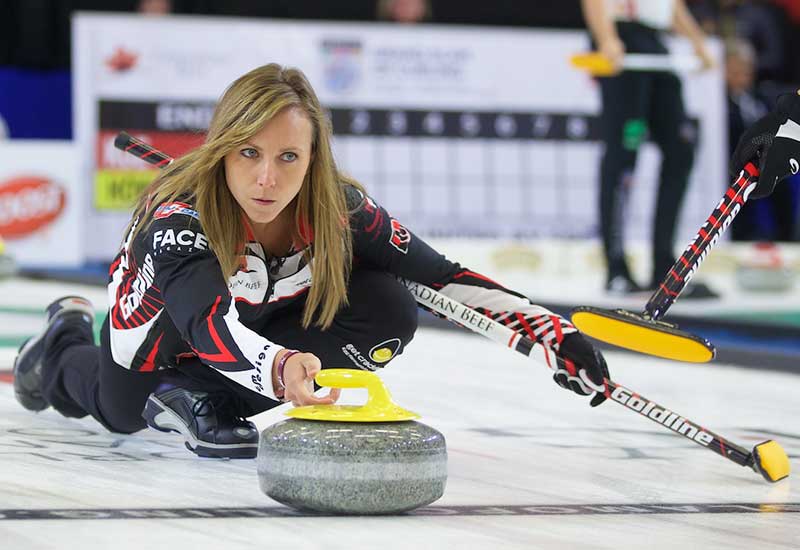 Ottawa's Rachel Homan (photo: Anil Mungal, GSOC) won 5-1 over Lethbridge's Casey Scheidegger in the Final Monday afternoon.

With Homan as team captain and throwing fourth stones, Tracy Fleury skips and throws third stones. Emma Miskew and Sarah Wilkes round out the foursome on the front end.

After two blank ends to open the game, Homan scored a single in the third end, then stole another point in the fourth end to lead 2-0 at the halfway point.

Scheidegger got a single back in the fifth end to get on the scoreboard, though they couldn't hold back Homan, who went on to score three in the sixth end to put the game out of reach.

Homan went undefeated to win the event, winning 7-5 against Regina's Amber Holland on Friday afternoon, then winning 8-7 over Tabitha Peterson of the United States on Saturday morning to advance to the A-Qualifier game. Homan booked their playoff spot with a 7-4 win over Jessie Hunkin of Spruce Grove, Alberta, to book their spot into the playoff round.



In the Quarterfinals, Homan won 6-3 in a rematch against Hunkin. In the Semifinals, Homan won 5-3 in another rematch over Peterson, while Scheidegger won 6-3 over Japan's Satsuki Fujisawa.

Fujisawa won 6-4 over Holland, while Scheidegger doubled up Team Lawes 6-3, with Selena Njegovan at the helm. Peterson won 5-4 over Sweden's Isabella Wrana in the last of four quarterfinal matches played Monday morning in Red Deer.

A recent decision by the World Curling Federation to drop the restriction that teams be named after their skip allows teams to name their team after any player designated as captain of the team.

For Homan, the name is vital for attracting sponsors and attention, having been built up since she and Miskew broke onto the scene as 15-year olds defeating Jennifer Jones twice in a tour spiel.