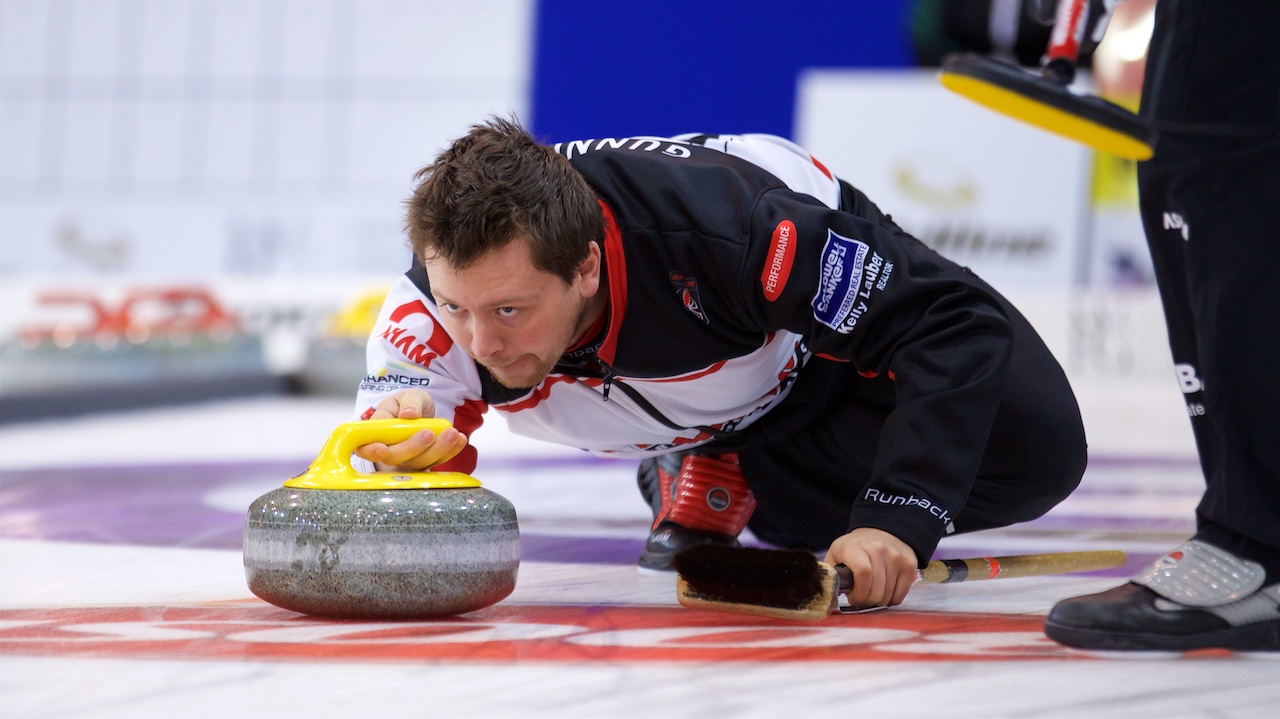 Manitoba's Jason Gunnlaugson (Picture: GSOC/ Anil Mungal) picked up his second-straight win of the Champions Cup on Thursday morning, defeating the USA's Team Dropkin 9-6 in Draw 10.

By: Dylan Chenier

After opening the 2022 KIOTI Tractor Champions Cup with a 5-6 loss to Sweden's Team Edin on Tuesday night, Manitoba's Jason Gunnlaugson has rebounded to win two games in a row at the Olds Sportsplex.

Team Gunnlaugson's latest game saw the rink take to the ice on Thursday morning, where they faced the USA's Team Dropkin in a critical mid-tournament matchup. A victory on Thursday would move Gunnlaugson to 2-1, keeping his squad on the winning side of the table, while a loss would drop the rink to 1-2.

Thursday morning's contest got underway with Gunnlaugson being forced to one in the first end after starting with the hammer. Dropkin's rink responded in the second end with a score of three, taking an early 3-1 lead.

The Gunnlaugson rink would blow things wide open in the third end with a massive score of five, putting the team from Manitoba up 6-3 early on. The team would add one more point to their tally with a steal in four to lead 7-3 at the break.

Coming back in the fifth end, Dropkin would keep his team in the game with a score of two. A steal of one in six by Dropkin would cut Gunnlaugson's lead to two points with just two ends to go.

After picking up a deuce in the seventh end, Gunnlaugson would run Dropkin out of rocks in the eighth, taking the win 9-6.

With the win, Gunnalusgon officially moves to 2-1, putting his rink in fifth place in the standings, with two draws remaining. At the conclusion of the round-robin, the top six teams will advance to the playoffs.

Up next, Team Gunnlaugson is set to face Alberta's Brendan Bottcher in Draw 10 on Thursday evening. Bottcher is currently at 1-2 and will likely need to win out if they hope to make the playoffs.

Tonight's draw will mark the 18th overall matchup between the two skips with Bottcher currently holding the overall head-to-head record with 13 victories. Their most recent game at the 2022 Players' Championship in Toronto saw Team Bottcher take the win 8-3.

Meanwhile, Team Dropkin saw their losing streak increase to three straight defeats this morning. With three losses, the team has likely been eliminated from playoff contention. However, they will continue to search for their first victory of the week, as the rink faces Team Soo-hyuk Kim on Friday morning in Draw 12.