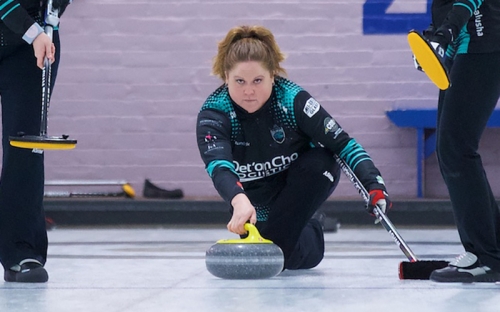 Galusha wins KW Fall Classic

Kerry Galusha defeated Hollie Duncan 13-7 winning title against Olympic Pre-Trials qualifier.

Kerry Galusha and her Yellowknife, Northwest Territories foursome continue to post strong results under trying circumstances as skip Galusha battles injury in preparation for the Canadian Olympic Pre-Trials quaifier in Ottawa this upcoming week.

Galusha reached the final of the Stu Sells Oakville Tankard last weekend and did one step better this weekend at the KW Fall Classic.

Galusha stole a single in the first end, then traded deuces with Duncan (Woodstock, Ont.) for the next four ends. After Duncan scored three in the sixth end to take a 7-5 lead, Galusha returned with five in the seventh end, then put an exclamation point on the win steal three in the last end.

Leigh Armstrong filled in on the lineup this weekend with Galusha throwing lead stones due to a hernia she's been battling with. Jo-Ann Rizzo throws the fourth stones, with Sarah Koltun and Margot Flemming filling out the rest of the lineup.



Galusha advanced to the final with an 8-2 win over Isabelle Ladouceur (Sudbury) in the semifinals, while Duncan won 8-7 over Katelyn Wasylkiw (Whitby), scoring a single in the extra end for the win.

In the quarterfinals, Galusha won 5-3 over Danielle Inglis (Toronto), Duncan won 9-1 over Chelsea Brandwood (St. Catharines), Wasylkiw won 6-5 over Janet Murphy (Mississauga), and Ladouceur won 6-4 over Lauren Mann (Ottawa).

Galusha went 3-1 in qualifying action, winning 6-4 in their opening game over Heather Heggestad (Thornhill), then won 10-0 over Inglis. Galusha lost their next match 8-7 to Parker Doig of Seaforth but bounced back with a 6-2 win over Kaitlin Jewer to book their spot into the playoff round.

Galusha will head to Ottawa this weekend to compete in the Pre-Trials Direct entry, playing seven other teams again for one of two spots into the Canadian Olympic Pre-Trials in Liverpool, Nova Scotia, at the end of November.

Competing this weekend against Galusha will be Jill Brothers (Halifax), Ashley Howard (Saskatoon), Jessie Hunkin (North Battleford), Kaitlyn Jones (Winnipeg), Laurie St-Georges (Laval), Sarah Wark (Abbotsford) and Mann.


Runner-up at the KW Fall Classic! Congrats @TeamGalusha on your well-deserved win after a very long day!
Huge thank you to our fifth Julie Tippin on stepping in at skip for the weekend! And playing two three-game days to boot #superfifth #curling pic.twitter.com/NYXgp6PCDx

— Team Hollie Duncan (@TeamHolDuncan) September 20, 2021