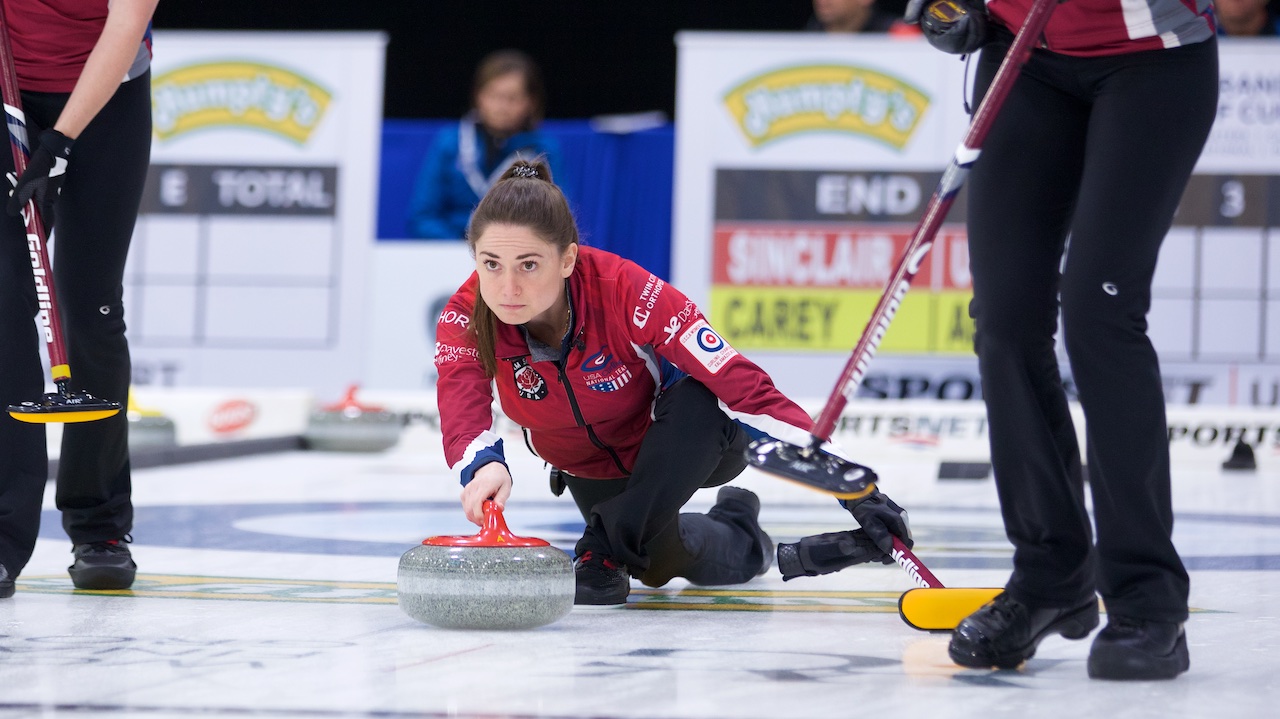 Team St-Georges will be sporting a new lineup next season, with Jamie Sinclair (Photo: GSOC/Anil Mungal) and Marie-France Larouche joining the young rink starting this fall.

By: Dylan Chenier

Quebec's Team Laurie St-Georges- one of the country's brightest up-and-coming rinks over the past few seasons- has made a major addition for the 2023-2024 season, bringing veterans Jamie Sinclar and Marie France-Larouche into the lineup. The team made the announcement through a social media post on Wednesday evening, ending days of speculation.


📣2023-2024 Team announcement📣
Watch till the end! The big moment has come! We are more than excited to add talent and experience to our team for next season! Welcoming TWO new RockStars!😎🙌🏼 https://t.co/n9yXqndzuj

— Team St-Georges (@CurlRockStars) March 29, 2023


After parting ways with former second Alana Routledge following the 2023 Scotties Tournament of Hearts, St-Georges and Company sought to add more experience to the lineup for the season ahead. According to St-Georges, Sinclair actually reached out to the young Quebec skip prior to last season, as she contemplated a move back to Canada. "Jamie wrote to us because she was moving back to Canada. We kind of knew each other spiels and whatnot... She's such a joy to be around," St-Geroges said.

While the two discussed opportunities for this past season, Sinclair was ineligible to compete in the playdowns for the Scotties Tournament of Hearts last year, due to her transferring back to Canada. The three-time US Champion was, however, able to join Chelsea Carey's rink for the 2022-2023 Grand Slam of Curling season. It was at the 2022 WFG Masters event in December when Sinclair and St-Georges were able to get to know each other better, as the Quebec skip filled in for Carey's usual third Jolene Campbell.

"When I spared with Chelsea at the Slam, it was actually a great opportunity to get to know [Jamie] more on and off the ice. I had a blast with the whole team, it was really just a fantastic week... After the announcement with Alana, we decided to go forward with [Jamie] and we [talked] to her about our plans for next season."

Sinclair brings a breadth of knowledge and experience to the young Quebec rink. With three World Championship appearances under her belt, as well as numerous Grand Slams, the 31-year-old Ottawa native should help St-Georges achieve the competitive edge needed to bring the team into the elite level of Canadian women's curling.

"She really knows what it takes to perform at a high level, and we want to reach that... Our goal this year was to really bring more experience to the team... for strategy, line calls, and whatnot. Just to have that support on the team, I think it's going to change for the better.

"I think, even shooting-wise, she's really close to our release. When I played with her, I saw her make great shots. The plan is to have her play third. I think one of the priorities [was] to find a third that can actually support strategy and shot-wise too," added St-Geroges.

The addition of Sinclair should also help the team gain the ranking points necessary to qualify for bigger tour events next season, notably the Grand Slam of Curling competitions which offer up significant prize money and media attention. "We're really planning to play a lot next season because we want to [earn] enough points to maybe get into the Slams eventually."

While most curling fans will likely associate Sinclair with Team USA, the player has extensive experience in Canada as well. In 2007, Sinclair won a Canada Winter Games gold medal as part of Rachel Homan's rink. 2012 saw Sinclair represent Ontario at the Canadian Junior Curling Championships, skipping the province to a fourth-place finish. In 2014, she skipped the gold medal-winning Carleton Ravens team at the CIS Curling Championship.

By the fall of 2014, Sinclair was fully committed to playing in the United States, in the hopes of representing the country at the 2018 Winter Olympics in Pyeongchang. In 2017, the curler won her first of three consecutive US Curling national championships.

After missing out on the chance to represent Team USA at the 2022 Winter Olympics in Beijing, Sinclair moved back to Canada and began curling with Chelsea Carey.

In 2023-24, Sinclair will be ineligible to compete in the Scotties Tournament of Hearts for the second year in a row, as well as the preceding provincial playdowns. With the team needing a substitute at third for those events, St-Georges put a call-in to longtime Quebec skip Marie-France Larouche.

"When I approached her I was so nervous, I was sweating during the call, it was just so weird to ask Marie-France to play with us. But, I'm really glad she agreed. She found that it was a good opportunity for her to not only play but also be a coach on the ice, this is a really great setup," St-Georges said.

"When I talked to her, she really wanted to give that experience, she really wanted to leave a legacy behind her, [but] she didn't really have the opportunity to do that with another team."

Like Sinclair, Larouche will add some important perspective to the rink dubbed curling's "Rock Stars," especially when it comes to provincial playdowns and the national Scotties Tournament of Hearts. The native of Levis, Quebec has competed in 10 national women's championships, winning a silver medal in 2004, and a bronze in 2009.

Right now, the plan is to have Sinclair play during tour events, while Larouche joins the rink for provincials and hopefully the 2024 Scotties Tournament of Hearts in Calgary, Alberta. Larouche's last Scotties appearance came back in 2016 when she skipped Team Quebec to a 5-6 finish.

The St-Georges rink, with Emily Riley and Kelly Middaugh rounding out the lineup, has made headlines since their 2021 Scotties debut in the Calagry bubble. In three straight appearances at nationals, Team St-Georges' best result came earlier this year in Kamloops, with Quebec narrowly missing the playoffs after falling in a tiebreaker.

"Every year we're kind of improving, and I think this year we really realized we needed to step up and that we were close but not close enough. So, I think we needed to have a little bit of a change, [and] get really experienced with these two amazing players.

"Our goal is to make it to the top [and] we're trying really hard, but sometimes it's just hard with the players you have in your province and the residency rules. But, we kind of found a way to [add] that experience and still be in the rules," noted St-Georges.

As for how long Larouche will stick with the team, St-Geroges said the focus has been on the 2023-2024 season. "We didn't really talk about it. I think, you know, it depends on families and whatnot. We told her, 'we don't expect you to absolutely come back next year.' It just always depends. It takes a lot to get to the top, and she knows what it takes to make it... So, we'll see year-by-year."