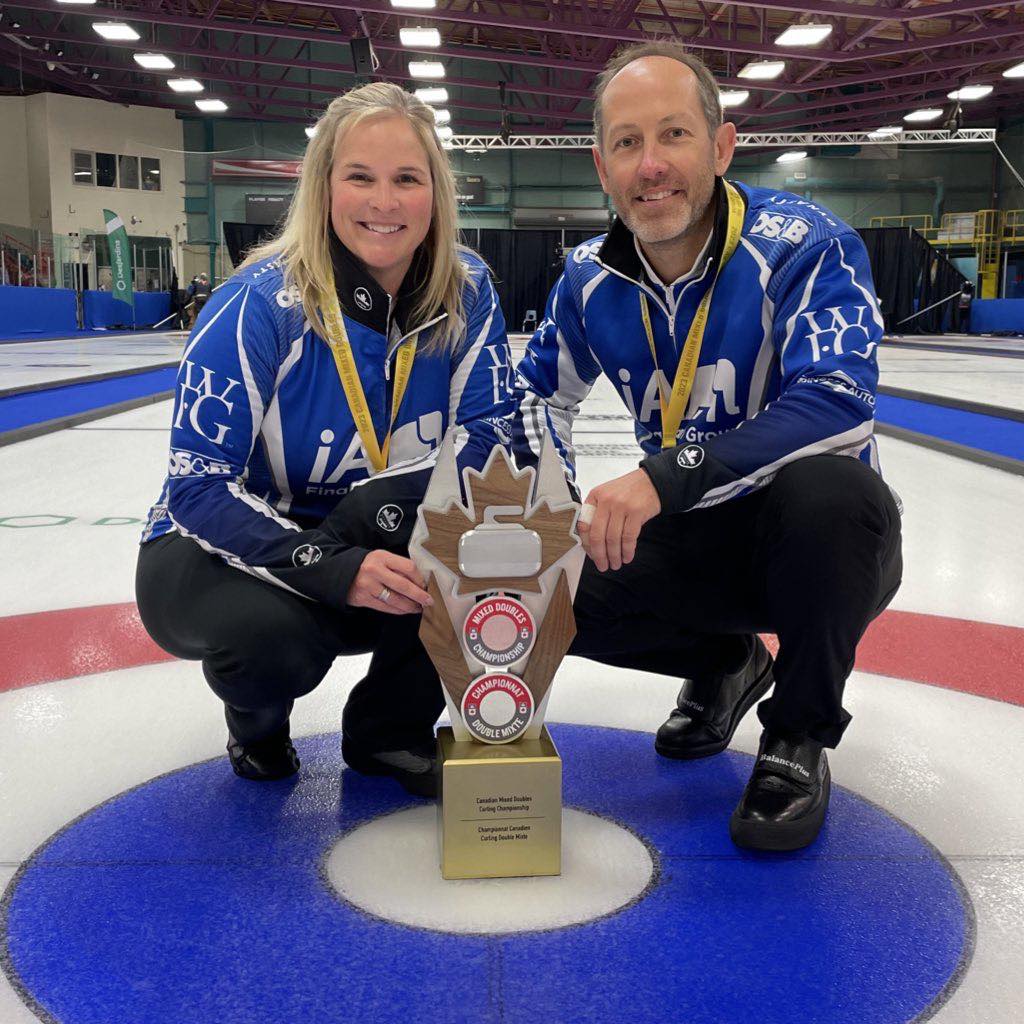 With a 9-4 victory over Jocelyn Peterman and Brett Gallant in Sunday's championship final, Jennifer Jones and Brent Laing (Photo: Curling Canada) took home the gold medal at the 2023 Canadian Mixed Doubles Championship.

By: Dylan Chenier

The husband and wife duo of Jennifer Jones and Brent Laing won the 2023 Canadian Mixed Doubles Curling Championship in Sudbury, Ontario, with the pair defeating Jocelyn Peterman and Brett Gallant 9-4 in the gold medal game on Sunday afternoon.

The first half of the game would see teams swap a pair of single points, with Peterman and Gallant making a shot for one in the fourth end to tie the game at 2-2 heading into the break.

Coming back in the fifth, the defending champions would secure the game's first stolen end, putting the pair up by one. Jones and Laing would answer right back in six to score the game's first deuce, giving the duo a narrow 4-3 lead. After a runback by Jones on her last shot in seven, Peterman and Gallant would be forced to settle for a single, tying the game at four apiece heading into the final end of play.

A massive score of five by Jones and Laing in eight would secure the duo the victory, with the pair taking home their first-ever Canadian Mixed Doubles title. Jones and Laing were easily the pair to beat all week in Sudbury, with the team going 10-0 en route to the title.


FOR THE WIN AND THE CANADIAN MIXED DOUBLES TITLE!! Congratulations @jjonescurl and @blaing99!#CMDCC2023 pic.twitter.com/hkY1THzpKJ

— Curling Canada (@CurlingCanada) March 26, 2023


The two will now get ready to represent Canada at next month's World Mixed Doubles Curling Championship in South Korea. In 14 appearances at worlds, Canada has never won a gold medal, meaning the expectations will be high for Jones and Laing as the duo competes against the best teams in the world.

For Jones, Sunday's win marks another title in the 48-year-old's illustrious curling career. The 2023 Scotties runner-up now adds a mixed doubles gold to an already crowded trophy case, which includes an Olympic gold, four Tournament of Hearts titles, two women's world championship victories, a Canadian junior title, and two Olympic trials gold medals.

Meanwhile, Laing becomes the fourth former Brier champion to win gold at mixed doubles nationals, joining Reid Carruthers, Brad Gushue, and Brett Gallant in doing so.

For Peterman and Gallant, the two-time national champions take home their first-ever silver medal. Sunday's final marked the duo's first and only loss of the tournament.

The 2023 World Mixed Doubles Curling Championship will be held from April 22 to 29 at the Gangneung Curling Centre in Gangneung, South Korea.