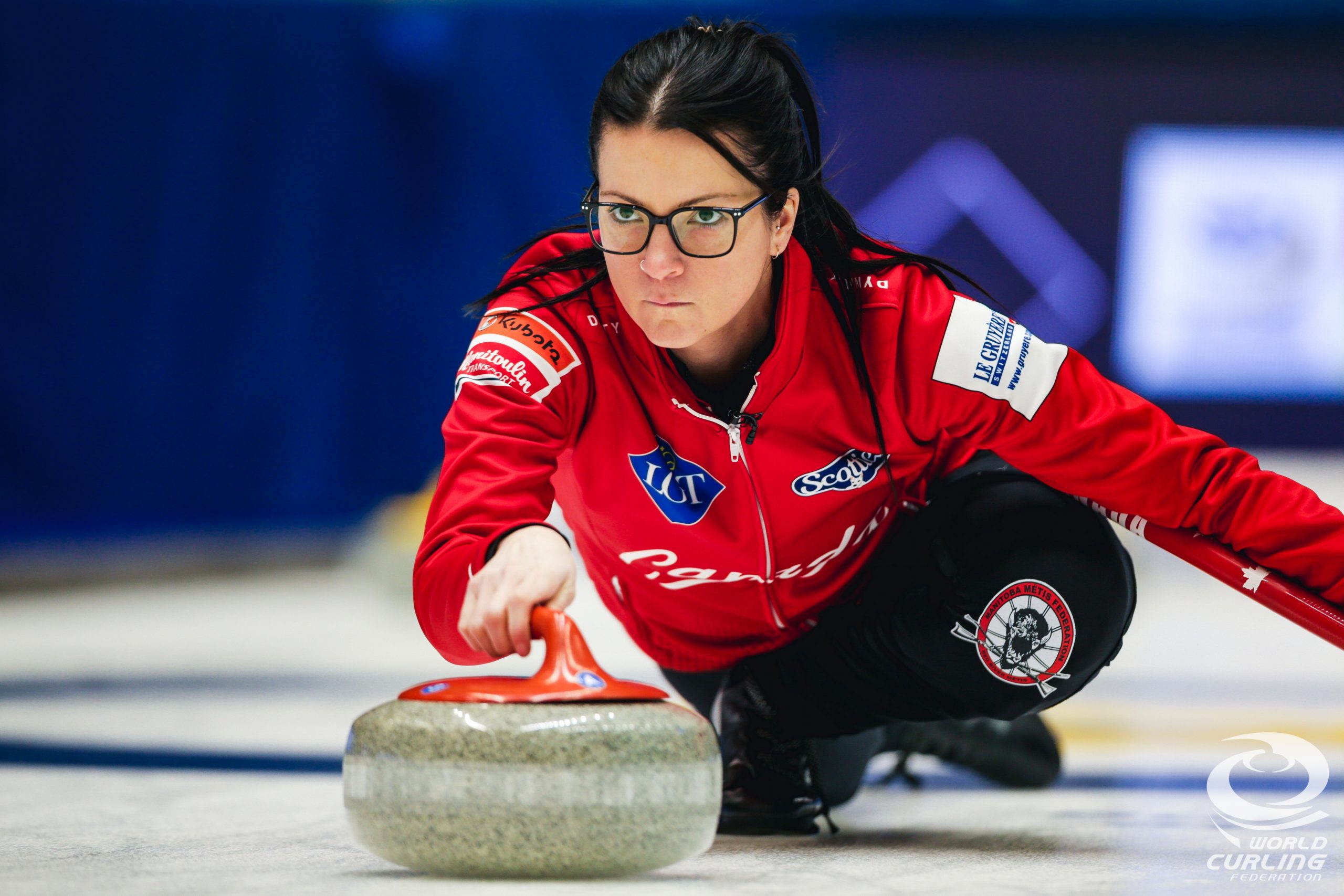 On Wednesday at the 2023 World Women's Curling Championship, Team Canada (Photo: WCF / Jeffrey Au) had a pair of mixed results, with Kerri Einarson and Company picking up a loss and a victory, giving the team a 5-3 record.

By: Dylan Chenier

Following a rather surprising and lopsided 8-3 loss to Team Germany in Draw 13 at the 2023 World Women's Curling Championship, Kerri Einarson's Team Canada was able to bounce back on Wednesday evening to beat South Korea 8-6 in Draw 14, closing out the fifth day of competition in Sandviken, Sweden.

In Canada's afternoon loss to Germany, Einarson's rink was able to keep things close throughout the first half, before suffering some serious setbacks in the second. After scoring one in the first end, Canada would force Daniela Jentsch's rink to a single in three, after which the Germans would go on to steal one in four. Another single point by Canada in the fifth end would tie the game at 2-2 heading into the break.

Coming back in the sixth, Germany would begin to take control, with Jentsch scoring two and then forcing Canada to one in seven. Down 4-3 heading into the eighth, Canada was looking to force Germany to one and re-take the hammer. Unfortunately, a miss by Einarson on her last shot of the end set up an opportunity for Jenstch to score four, with Canada conceding, handing the Germans the win 8-3.

On paper, Team Canada continued to show signs of struggle, with skip Einarson curling just 61 per cent on 16 shots. While third Val Sweeting showed signs of improvement compared to some of her previous games, the player curled a disappointing 60 per cent on her five draw attempts.

For the second day in a row, Team Einarson was forced to play in back-to-back draws, meaning Canada had to put the sting of defeat behind them rather quickly, as the rink got set to face Ha Seungyoun and Team South Korea in Draw 14.

After forcing the Koreans to one in the first end and giving up a steal of one in the second, Canada would tie things up in the third end with a deuce. A score of one by Team Korea in five would put Ha's rink up 3-2 heading into the break.

Canada would go on to score its second deuce of the game in six, with Einarson's rink taking a 4-3 lead. The Koreans then answered right back in seven, scoring their first multiple-point end of the draw to lead 5-4.

After being forced to one in the eighth, Canada would return the favour in nine, as the rink took back the hammer down by one heading home in ten. In the final end of play, Team Eianrson would put three points on the board to take an 8-6 victory.

With the win, Canada finishes Day 5 in Sandviken with a 5-3 record, putting Einarsin in a tie for second place in the standings alongside Stefania Constantini's Team Italy.

"It was huge for us, especially for our confidence level. We came out with a pretty solid game. We really focused on our speeds. The speed this game was much better than the previous," Einarson said of Canada's performance against Korea. "Mentally it's been really tough because it's changing every single game. We're giving it our all out there and we're trying to figure it out, but it's been really challenging."

The stats sheet from Wednesday evening's draw showed some noticeable improvements for Team Canada, with Eianrson and Sweeting both curling above 80 per cent. Canada's strongest performance came from lead Brianne Harris who curled an impressive 98 per cent on 20 shots.

Team Canada has just one game on the schedule Thursday, as Einarson faces off against Satsuki Fujisawa and Team Japan in Draw 16 at 2:00 p.m. CET (9:00 a.m. ET). The two rinks are no strangers to each other, having met nine times already this season, with Einarson just narrowly leading the head-to-head with five wins compared to Fujisawa's four. However, the Japanese skip has won the last two matchups, including a 5-3 victory in the championship final of the 2023 Co-op Canadian Open.

After five days of competition in Sandviken, Team Switzerland continues to lead the way as the only undefeated rink in this year's tournament, as Sivana Tirinzoni's team picked up two wins on the day to improve to 8-0. With just two days left in the round-robin, rinks will be eager to secure as many wins as possible, with only six teams advancing to the playoffs.

For LIVE SCOREs, STATS, and STATISTICS, visit www.CurlingZone.com.