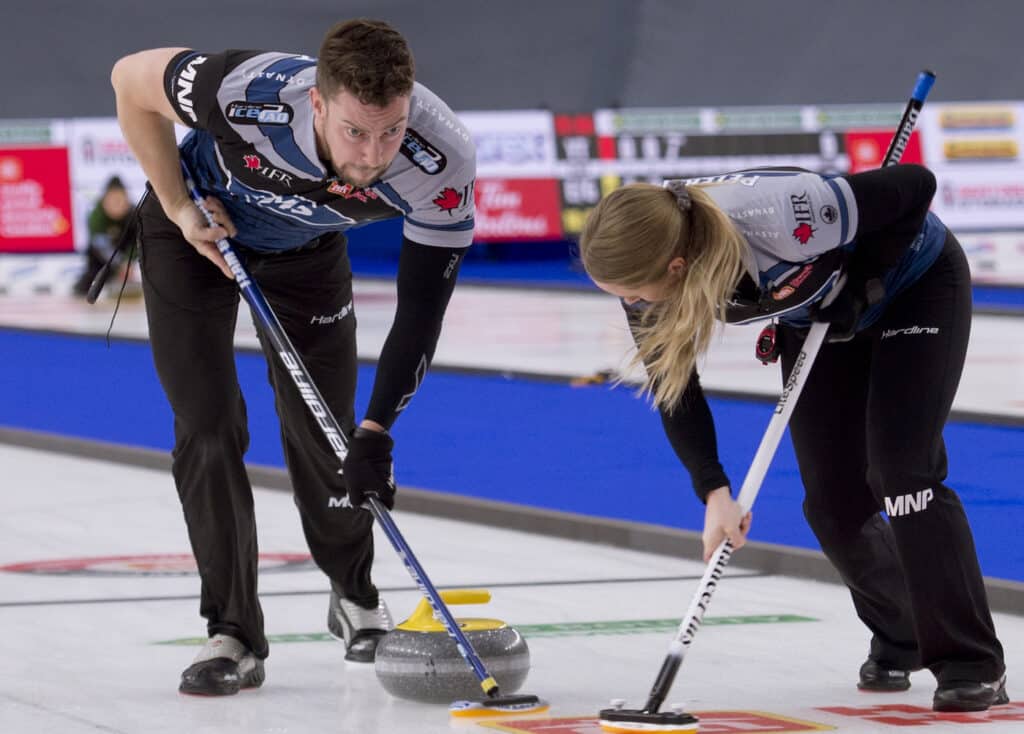 2019 national champions Jocelyn Peterman and Brett Gallant (Photo: Curling Canada/Michael Burns) headline a stacked 32-team field at this year's Canadian Mixed Doubles Curling Championship, which officially gets underway Tuesday night in Sudbury, Ontario.

By: Dylan Chenier

Beginning Tuesday, Mar. 21, 2023, 32 of the top mixed doubles curling rinks from across Canada will descend on Sudbury, Ontario for the 2023 Canadian Mixed Doubles Curling Championship, with a trip to the 2023 World Championships in South Korea on the line for the tournament's eventual winner.

This year's field includes some big names, including many popular players from the men's and women's games, with a number of mixed doubles specialist rinks in the mix as well. Leading the way heading into this year's tournament are Jocelyn Peterman and Brett Galant, who currently sit in first place in the Canadian Mixed Doubles Rankings (CMDR).


We're excited for our three person mixed doubles team to hit the ice next week at the Nationals in Sudbury! @IfrWorkwear @amjcampbell @CowsCreamery pic.twitter.com/8bLonxoJCX

— Team Peterman/Gallant (@PetermanGallant) March 14, 2023


The pair won gold at the Canadian nationals in 2019 before securing a silver medal at that year's world championship. When organizers were forced to cancel last year's national tournament due to the COVID-19 pandemic, Curling Canada named Peterman and Gallant as its representatives at worlds, with the duo finishing the tournament just off the podium after losing a playoff qualification draw.

So far this season, Peterman and Gallant have played in just two tournaments together, losing in the finals of the Qualico Mixed Doubles Classic in Banff in October, before winning the Mixed Doubles Super Series' Winnipeg Open in December.

This year's tournament features four pools of eight teams each, with a number of teams from the CMDR competing against 13 provincial/territorial champions. Peterman and Gallant headline a Pool A filled with heavyweights from the traditional four-person men's and women's games, such as Rachel Homan and Tyler Tardi, as well as Clancy Grandy and John Morris. While these players may be more known for their contributions to the four-person game, they are no strangers to mixed doubles, with Morris and Homan recently representing Canada in mixed doubles at the 2022 Winter Olympics in Beijing. Morris also won gold in the same event in 2018 competing alongside Kaitlyn Lawes.

Pool B, meanwhile, features more mixed doubles stalwarts than four-person standouts, including 2014 national champions Kim and Wayne Tuck, as well as 2019 national silver medalists Nancy Martin and Tyrell Griffith. The duo has been one of the busiest pairs on tour this season, competing in six events and winning three of them.

Pool C is where you will find 2018 national champions Laura Walker and Kirk Muyers, as well as Quebec's Laurie St-Georges and Feliz Asselin. The team of St-Georges and Asselin has won three mixed doubles events so far this season, with both players having recently competed in the Scotties Tournament of Hearts and Tim Horton's Brier respectively.

If name recognition is any indicator of pool strength, Pool D may be the toughest of this year's field, with many familiar names included in the eight-team roster. The biggest threat to win from Pool D could come in the form of husband and wife pair Kadriana and Colton Lott, two-time national mixed doubles silver medalists.

However, standing in their way will be some star-studded pairings, including Jennifer Jones and Brent Laing, Lisa Weagle and John Epping, and Tracy Fleury and Jacob Horgan. The brother and sister pair of Fleury and Horgan will hope to give Sudbury fans plenty to cheer for as they compete in their first national mixed doubles championship in front of a hometown crowd


Congratulations to the Champions of the 2023 Northern Ontario Mixed Doubles Provincial; Team Tracy Fleury and Jacob Horgan!

We look forward to seeing them represent Team Northern On at the 2023 Mixed Doubles Canadian Championship here in Sudbury!

Stay tuned for more updates! pic.twitter.com/iaHvKE8fw6

— Team Northern Ontario (@TeamNorthernON) February 14, 2023


Teams will contest a seven-game round-robin in their respective pools, with the tournament officially getting underway on Tuesday evening at 6:00 p.m. ET. After the round-robin comes to a close Friday, the top 12 pairs will advance to the playoffs, with the four pool winners receiving a bye to the quarter-finals.

The playoffs will continue Saturday and into Sunday, with the championship final set for Sunday at 1:00 p.m. ET. The winner of this year's Canadian Mixed Doubles Curling Championship will move on to represent Canada at the 2023 World Mixed Doubles Curling Championship in Gangneung, South Korea. Canada has yet to win a gold medal in 14 appearances at worlds.

A full breakdown of the four pools is as follows:
Pool A
-Jocelyn Peterman/Brett Gallant
-Emilie Desjardins/Robert Desjardins
-Clancy Grandy/John Morris, Coquitlam
-Patty Hersikorn/Steve Laycock
-Rachel Homan/Tyler Tardi
-Sarah Loken/Cody Tanaka (Team BC)
-Ashley Kalk/Craig MacAlpine (Team Alberta)
-Patty Wallingham/Ben Robinson (Team Yukon)

Pool B
-Nancy Martin/Tyrel Griffith
-Chaelynn Kitz/Brayden Stewart
-Lauren Cheal/Greg Cheal
-Kim Tuck/Wayne Tuck
-Paige Papley/Evan Van Amsterdam
-Lynn Kreviazuk/David Mathers (Team Ontario)
-Karlee Everist/Bryce Everist (Team Nova Scotia)
-Jessica Wiseman/Trent Skanes (Team Newfoundland and Labrador)

Pool C
-Laura Walker/Kirk Muyres
-Laurie St Georges/Felix Asselin
-Jennifer Armstrong/Brad Jacobs
-Veronique Bouchard/Jean-Francois Charest
-Brittany Tran/Aaron Sluchinski
-Emily Riley/Jesse Mullen (Team Quebec)
-Jenny White/Edward White (Team PEI)
-Leah Thompson/Charlie Sullivan (Team New Brunswick)

Pool D
-Lisa Weagle/John Epping
-Jennifer Jones/Brent Laing
-Melissa Adams/Alex Robichaud
-Lauren Wasylkiw/Shane Konings, Stouffville, Ont.
-Kadriana Lott/Colton Lott (Team Manitoba)
-Tracy Fleury/Jacob Horgan (Team Northern Ontario)
-Stephanie Bukurak/Adam Bukurak (Team Saskatchewan)
-Margot Flemming/Jamie Koe (Team Northern Ontario)

Curling Canada will provide live coverage of select draws through its new premium streaming service Curling Canada Plus. Event subscriptions can be purchased at https://plus.curling.ca/.