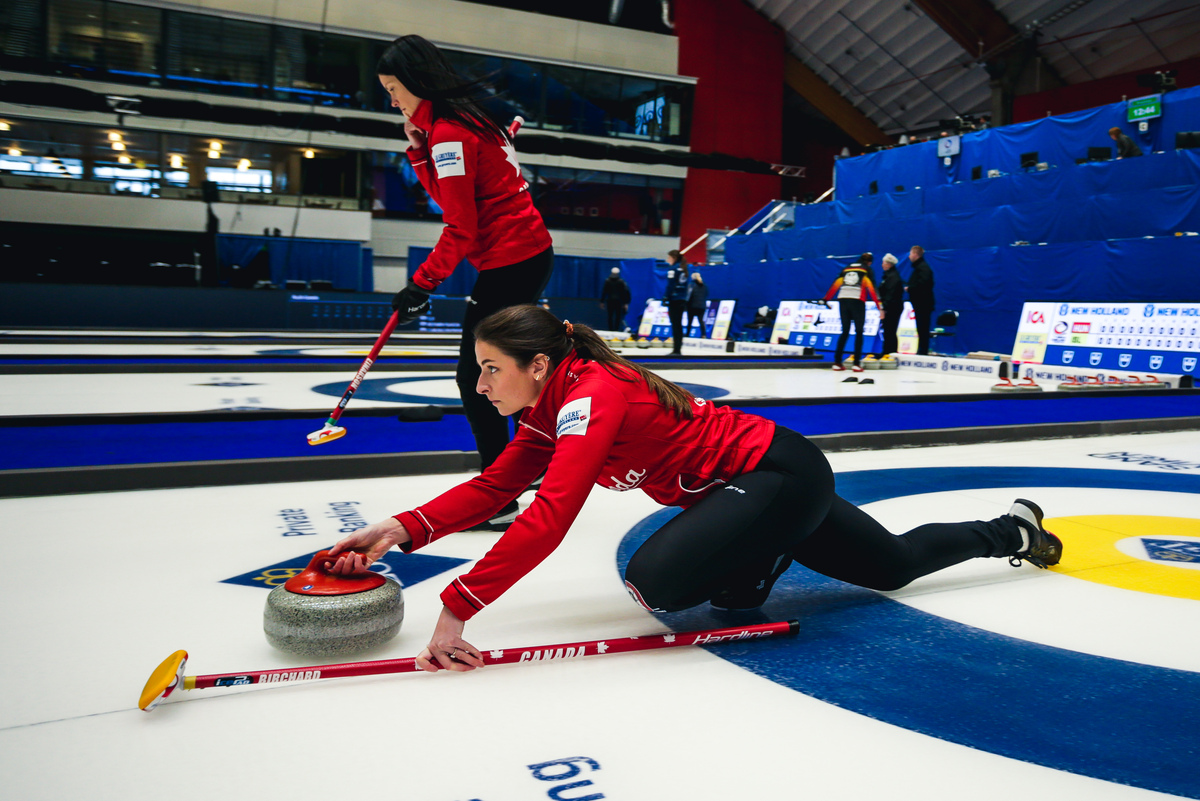 Team Canada (Photo: WCF / Jeffrey Au) picked up its second win of the 2023 World Women's Curling Championship on Sunday evening, defeating Marianne Roervik and Team Norway 9-6 in Draw 5 in Sandviken, Sweden.

By: Dylan Chenier

Kerri Einarson's Team Canada was looking to return to the win column on Sunday evening at the 2023 World Women's Curling Championship, as the rink faced Marianne Roervik's undefeated Team Norway in Draw 5 in Sandviken, Sweden.

After starting with the hammer, Canada would open the scoring in the first end with Einarson making a draw for two on her last shot. Norway would answer right back in the second with a deuce, tying things up 2-2 early on.

With their last shot in three, Team Norway would tick on Canada's counter, allowing Einarson a second draw for two, putting her rink up 4-2. Canada would then go on to extend its lead in the fourth with a steal of one. In the fifth end, Norway's fourth stone thrower Kristin Skaslien would make a difficult draw to the button to score two, cutting Canada's lead to one heading into the break.

Coming back in six, Eianrson would attempt a takeout for the blank, unfortunately, the skip's last stone would run wide, allowing Norway to steal one, tying things up at five apiece.

After blanking in the seventh end, Einarson would attempt a draw for one on her last shot in eight, however, her throw would come up light, with Norway stealing one more to take a 6-5 lead with just two ends remaining.

Despite ticking a guard on her last shot in nine, a measure would reveal Canada was sitting shot stone, allowing Einarson's rink to tie the game at 6-6, with Norway retaking the hammer heading home in ten.

An attempt at a runback double by Norway on the team's last shot of the game would jam on a stone at the back of the house, allowing Canada to steal two for the win. The steal was set up by a masterful tap by Einarson on her last shot of the game.


Makin' them when it matters most! Canada's @EinarsonTeam gets the win thanks to this shot! Norway jams the run double. #WWCC2023

🇨🇦 9 - 6 🇳🇴 pic.twitter.com/mEHcRUiq5l

— Curling Canada (@CurlingCanada) March 19, 2023


On paper, Einarson's performance was the weakest among the four Canadian players, with the skip curling 66 per cent on 19 shots, including 50 per cent on 10 take-outs. Canada's second Shannon Birchard, meanwhile, led the way at 94 per cent.

With the victory, Canada finishes the day at 1-1 in Sandviken, after the country fell 8-7 to Tabitha Peterson and Team USA in Draw 3 earlier this morning.

After two full days of competition, Canada now holds a 2-1 record at the 2023 World Women's Curling Championship. The rink is now in a five-way tie for second place in the standings, with four other teams at 2-1. Switzerland's Silvana Tirinzoni continues to lead the way as the only undefeated team at 4-0.

Einarson and Company return to the ice on Monday morning against Stefania Constantini and Team Italy, who suffered their first loss of the tournament on Sunday evening, falling to Team Germany (Jentsch) 7-4.

Meanwhile, Roervik and Team Norway also suffer their first loss of the tournament, with the rink now sporting a 2-1 record. The team will look to return to the win column on Monday afternoon as they take on Madeline Dupont's Team Denmark in Draw 7.

The 2023 World Women's Curling Championship continues Monday in Sandviken, with Draw 6 set for 9:00 a.m. CET (4:00 a.m. ET), with Canada's game against Italy set to be broadcast live on TSN 1.

For LIVE SCORES, STATS, and STANDINGS visit www.CurlingZone.com