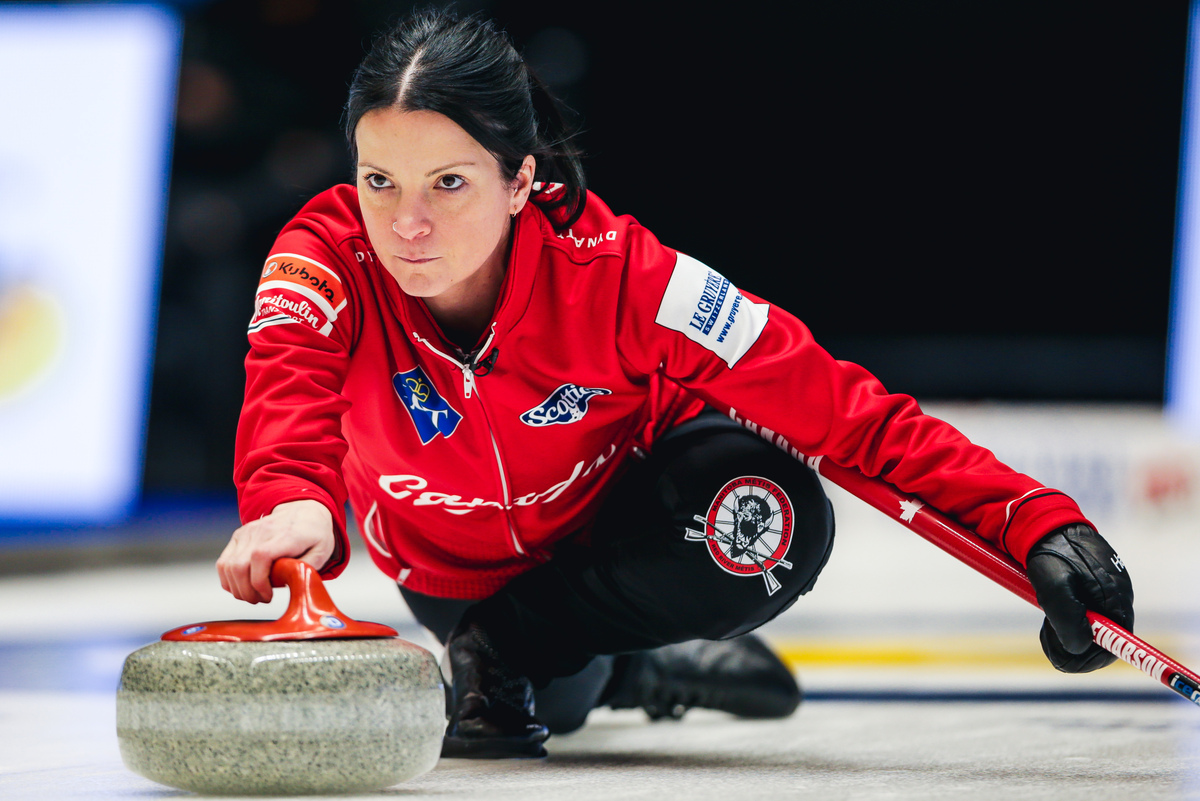 Kerri Einarson and Team Canada (Photo: WCF / Jeffrey Au) got their 2023 World Women's Curling Championships off to a winning start, with the rink picking up a 9-4 victory over Anna Hasselborg and Team Sweden in Draw 2 on Saturday evening in Sandviken, Sweden.

By: Dylan Chenier

Team Canada started its 2023 World Women's Curling Championship in Sandviken, Sweden in the win column, with Kerri Einarson defeating Sweden's Anna Hasselborg 9-4 in Canada's first draw of the tournament, on Saturday evening.

Facing three Sweden rocks on her final shot in the first end, Einarson would attempt a narrow nose hit for one, with the Canadian skip making the difficult shot to take an early 1-0 lead. Canada would go on to force the Swedes to one in the second, retaking hammer with the game tied at one after two ends.

With her final shot in the third, Einarson would attempt an angle raise, unfortunately, the Canadian stone would end up ticking a guard, allowing Sweden to steal one. After blanking in the fourth end, Canada would settle for one in five, tying things up at two-apiece heading into the break.

After a blank coming back in the sixth, Team Sweden would go on to score the first deuce of the game in seven, putting Hasselborg's rink up 4-2. The host country would then force Canada to one in the eighth, reclaiming hammer with a one-point lead with just two ends to go.

A rare miss by Hasselborg in the ninth, with the skip hitting a guard on her final shot, would give Canada a steal of two, putting Einarson's rink up 5-4 heading into the final end.

End number ten would see Einarson make a double to sit four on her last shot, before Hasselbog was light on her final throw, allowing Einrson to steal the win 9-4. With the victory, Canada begins its 2023 World Women's Curling Championship on a positive note, with the rink 1-0 after the first day of competition.

KERRI EINARSON!! What a double! #WWCC2023 pic.twitter.com/GAMVAGUg73

— Curling Canada (@CurlingCanada) March 18, 2023

Despite stealing four on route to victory, Canada's statistical performance on Saturday showed some room for improvement, with skip Einarson and third Val Sweeting both curling below 80 per cent. The strongest performance of the evening came from Team Canada's lead Brianne Harris who curled an impressive 93 per cent on 20 shots, including 100 per cent on three hits.

Team Canada is one of five undefeated rinks after two draws of competition in Sandviken. Team Switzerland currently leads the way as the only rink at 2-0. Canada's next game is set for Sunday morning at 9:00 a.m. CET (4:00 a.m. ET) against Tabitha Peterson and Team USA, who are currently at 0-1 after falling to Switzerland in Draw 1.

Sunday will also see Team Einarson face off against Marianne Roervik and Team Norway in the evening draw at 7:00 p.m. CET (2:00 p.m. ET). Meanwhile, for Team Sweden, the host nation finishes the day with a 1-1 record after defeating New Zealand 14-2 in Draw 1.

Canadian fans can catch all of Team Einarson's round-robin games live on TSN, with the network also providing comprehensive coverage of the playoff draws. Canada's Sunday morning draw against Team USA will be broadcast live at 4:00 a.m. ET on TSN 3.

Meanwhile, World Curling TV will stream all games from the event live through the Curling Channel on Recast. Select streams will include full production value with commentary, while every other game will be available without commentary. Geo-blocking may apply to broadcast games due to broadcast partner agreements.

For LIVE SCORES, STATS, and STANDINGS, visit www.CurlingZone.com