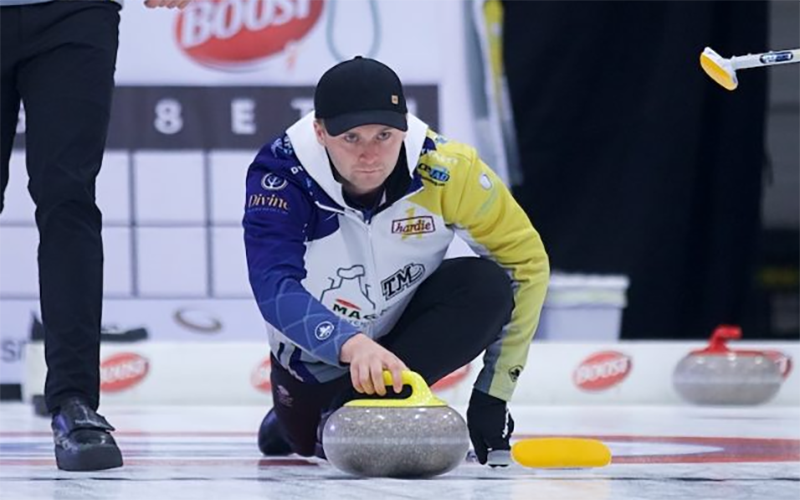 Scotland's Bruce Mouat (photo: Anil Mungal/GSOC) opens WFG Masters with an 8-2 win over USA's Korey Dropkin after semifinals finish at Mixed Doubles Super Series Sunday.


After another run to the latter stages of a Grand Slam event, Bruce Mouat has made a nearly 2000 kilometre trip across the country to rejoin his regular teammates as they prepare for the defence of their Masters' title against the world's best teams in Oakville Ontario.

Less than 48 hours after he and Jen Dodds contested the semifinal of the Winnipeg Open Mixed Doubles on Sunday, Mouat is due to be back in action alongside Grant Hardie, Bobby Lammie and Hammy McMillan for a returned to the scene of one of the victories that helped them become the first ever Scottish winners of The Pinty's Cup as the leading team in Grand Slam events last season.

Their defence of that title got off to a difficult start as they were forced to re-shuffle their line-up for The National and The Tour Challenge in October due to a serious hand injury suffered by powerhouse sweeper Lammie.

However, they demonstrated that they were back to something close to the form which also took them to the top of the world rankings for the first time at the beginning of this year when they completed a hat-trick of European Championships title wins on their third appearance at that event and believe they are now ready to show what they are capable of once more.

"We're looking forward to getting going in Oakville and trying to re-create what we did last year when we won the event," said Mouat.
"I'm really excited to see what we can do with the boys this week.

"Coming off the Europeans the morale in the team is pretty high.

"With our slower start to our season, having the European Championships towards the end of the first half of the season it meant a lot for us to really go out and show that we are a really strong team and moving back to world number three is very encouraging for us because we had been falling a little at the start of the season.

"So I'm glad we got some ranking points at the Europeans and are climbing a wee bit again. We've got a tough few games this week, so we've got to try to focus on re-creating what we did at the Europeans and that will hopefully see us win a few games."

While he has taken on a challenging personal schedule in Canada this month, with another Mixed Doubles Grand Slam event following on directly after this week's competition, Mouat is revelling in the environment and was pleased that he and Dodds performed well together more than two months after they contested their only other event of the season together when they won the first Grand Slam of the season.

"I enjoyed being back with Jen and we were obviously playing decent," said Mouat.

"I wouldn't say it was our finest competition, but to make it to the semifinal in what was a really strong field, we're very happy with that, so there were a lot of positives to be taken from the weekend.

"Now moving onto the men's game and playing another Grand Slam, which is always very exciting. These events are so much fun to play in when you get to play against the best teams in the world on some of the best ice."

And going in as European Champions carries even more kudos because, in what would have been an unimaginable scenario only a few years ago, there are more European than Canadian teams competing this week.

"It's always quite exciting to see how all the European teams do in these Slams and in recent years they've done very well," Mouat observed.
"We'll also see how our fellow Scots fare this week and hopefully some of us will be in the mix towards the end of the weekend."