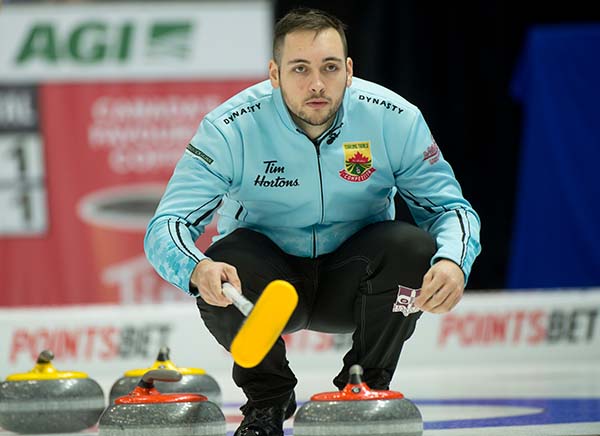 Siblings Tanner and Jacob Horgan (Photo: Curling Canada) to team with experienced Moulding and Hodgson for 2022-23 season.

By: Cameron Sallaj

There will be a new men's curling team to watch out for heading into the 2022-23 season. The young brothers of Tanner and Jacob Horgan will team up with two experienced veterans in Darren Moulding and Colin Hodgson with the ultimate goal of representing Canada at the world level. Moulding will skip the team but throw third stones, with Tanner throwing fourth, Jacob at second, and Hodgson rounding out the lineup at lead.

In a release from the team, they stated "our team of Tanner Horgan, Darren Moulding, Jacob Horgan and Colin Hodgson was built with the objective of competing at the highest level of the sport - working towards representing our province at the Brier, and representing our country at the World level within the next four years." The team will play out of Northern Ontario, and will be one of the only elite teams playing out of the region following the disbanding of the Brad Jacobs rink.

Despite their youth, Tanner and Jacob are both heavily experienced players. In 2021, Tanner led his team of Jonathan Beuk, Wesley Forget and Scott Chadwick to the Olympic Trials by winning the Home Hardware Pre-Trials. They then went 1-7 at the Trials, only beating the Bottcher rink which Moulding was a part of. Jacob was also the alternate on the team. The Horgans' sister is Tracy Fleury, who is set to compete with Team Homan next season.

Speaking of Team Bottcher, Moulding was cut from the lineup following a disappointing Olympic Trials where the team placed seventh with a 3-5 record. They had previously won the 2021 Tim Hortons Brier and went on to a fifth place finish at the 2021 World Men's Curling Championship. Skipping will be a new role for Moulding, one which he is excited about.

"I am really excited for a new role and challenge with a group of guys that share the same vision. I am thrilled to get to play at the highest level again, it's what I love to do."

The final member of the team is Colin Hodgson, who previously played for the Mike McEwen rink. The team finished just outside the playoff round at the Olympic Trials and lost in a tiebreaker at the most recent Brier to Jason Gunnlaugson. This will be Hodgson's first time curling out of Northern Ontario, where he now resides.

Team Horgan is just one of many rinks with a new lineup as all teams look towards the end goal of the quadrennial, the 2026 Winter Olympics in Cortina d'Ampezzo, Italy.