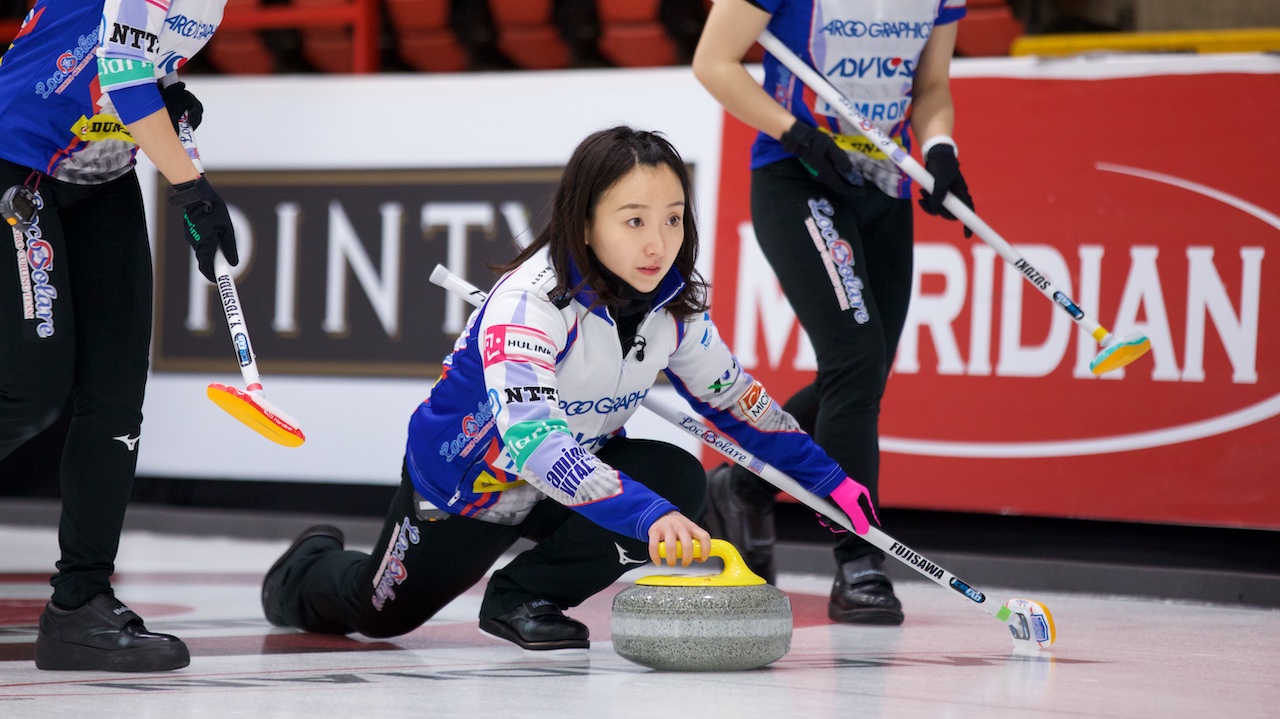 The Olympic silver medalists from Kitami (Photo: Anil Mungal/GSOC) began their quest at the Japanese National Championship with two wins on the first day of competition.

By: Cameron Sallaj

Satsuki Fujisawa and her team representing Loco Solare were the favorites heading into the 2022 Japan Curling Championships, and proved why with two straight victories to begin their campaign. The team won 7-4 over Chubu Electric Power in Draw 1 and topped Team Hiroshima 8-1 in the evening Draw 3.

The first draw of the event featured Loco Solare up against Chubu Electric Power, represented by Ikue Kitazawa. Team Kitazawa were also among the favorites heading into the event as the team represented Japan at the 2022 World Women's Curling Championship in Prince George, BC, where they placed seventh with a 6-6 record. The opening draw featured these top two teams going head to head.

Loco Solare opened the game with the hammer and blanked the opening end. They were then forced to one by Chubu Electric Power, who converted to a deuce in the third end. After trading singles through ends four and five, the Kitazawa rink led 4-3 at the halfway point.

For the rest of the game, Team Fujisawa, consisting of Fujisawa, third Chinami Yoshida, second Yumi Suzuki, lead Yurika Yoshida and alternate Kotomi Ishizaki shut their oppositions out 4-0 to secure the victory. The team blanked the sixth end before tying things up with a single in seven. The Olympic silver medalists then stole singles in ends eight, nine, and ten to secure the victory in their opening contest.

In Draw 3, Loco Solare battled against Team Hiroshima, being represented by Yuki Shibuto. Experience proved to be the biggest factor in the match, as the Fujisawa rink went up 3-0 early, allowing them to coast to an 8-1 victory after just seven ends of play. Loco Solare currently sit tied for first place in the standings with Hokkaido Bank, who is being represented by Momoha Tabata.

Following closely behind is Fujikyu at 1-0. The team is usually skipped by Tori Koana, but due to her pregnancy is sitting out as the alternate this week. Third Yuna Kotani has moved up to skip, with sister Arisa Kotani throwing the third stones.

Other teams of note in the women's competition include Fortius, who is the defending Sayaka Yoshimura rink from Sapporo. The team won 8-3 over Philosique Aomori in their first game before dropping a close 8-7 contest against Chubu Electric Power in their second game. Team Yoshimura, along with Team Kitazawa are both currently tied for fourth place with one win apiece.

Rounding out the women's field are SC Karuizawa Club (Asuka Kanai; 1-1), Sapporo Association (Kana Ogawa; 0-1), Philosique Aomori (Miori Nakamura; 0-2), and Team Hiroshima (Yuki Shibuto; 0-2).

The men's field of the 2022 event is headed by Consodole, a team that was formely skipped by Yuta Matsumura. He has since left the team, with second Yasumasa Tanida now taking over skipping duties. In the lone men's draw of day one, the new Consodole rink had no problem in securing a 9-2 victory over Team Tokyo (Junpei Kanda).

Other results from the first men's draw include a 6-5 victory for SC Karuizawa Club (Riku Yanagisawa) over Team Ishimura (Juon Ishimura), a dominant 10-3 win for Kitami Association (Kosuke Hirata) over Okayama CA (Hiroki Yoshioka) and a 12-2 triumph for Sapporo International University (Hayato Sato) over Nagano Prefecture CA (Minato Hayamizu). Tokoro Junior (Takumi Maeda) had a bye in the opening round.

Day 2 from the 2022 Japan Curling Championships with see two men's draws and one women's draw. Draw 4 begins Sunday night at 8:00 PM Eastern Time, with Draws 5 and 6 running at 12:30 AM and 5:00 AM Eastern Time respectively. In the women's draw, two of the favorites, Fujikyu and Fortius, will go head to head.

SCORES, STANDINGS and STREAMING LINKS at www.CurlingZone.com.