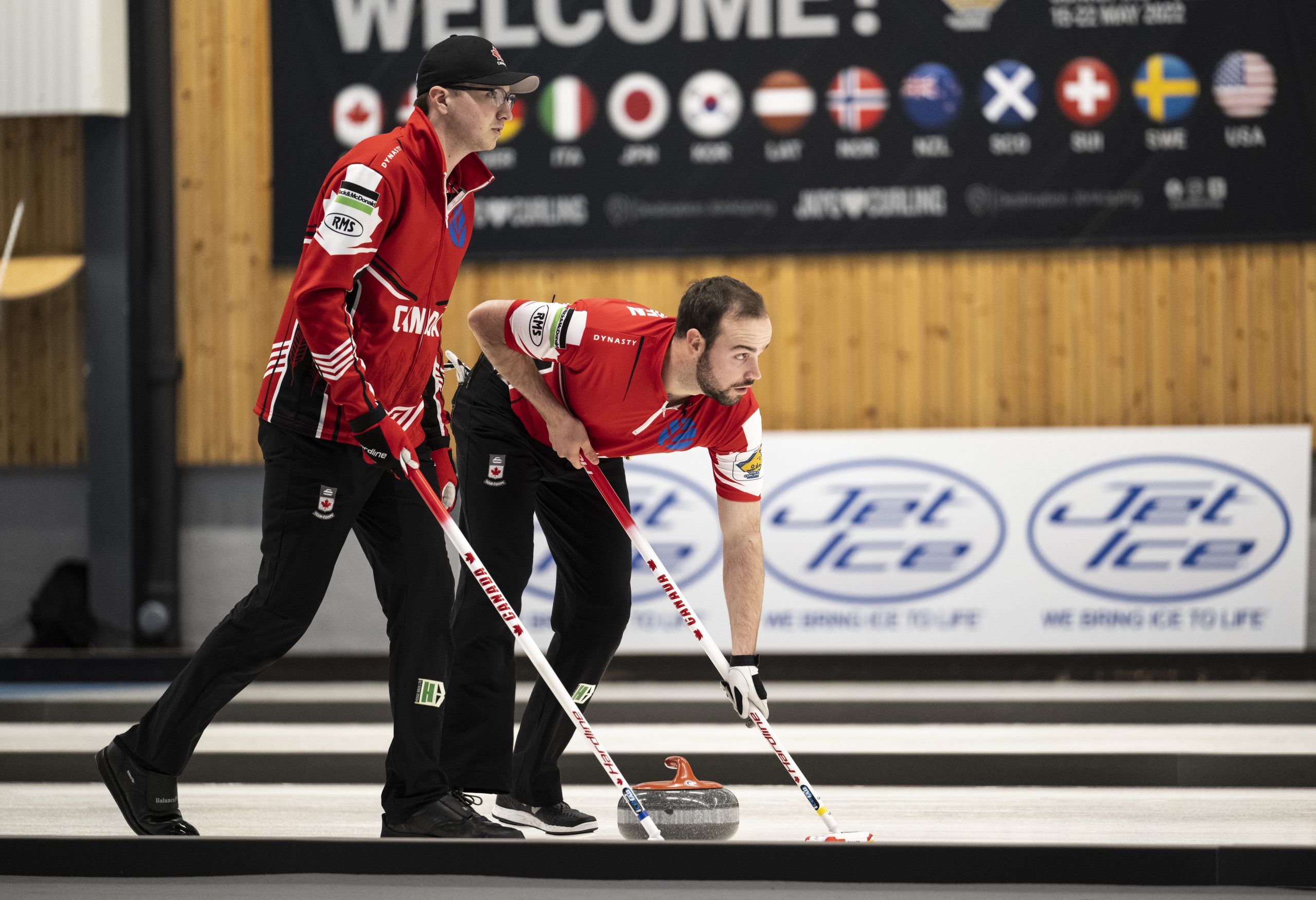 Canada's Team Purcell (Picture: WCF) fell to Germany's Benjamin Kapp 8-5 in the semifinals at the 2022 World Junior Curling Championships.

By: Dylan Chenier

Canada's Team Purcell will play for the bronze medal at the 2022 World Junior Curling Championships, after coming up short in their semifinal game against Germany on Saturday afternoon in Jonkoping, Sweden.

The Nova Scotia-based rink secured a spot in the semifinals with a third-place finish in the men's standings after a nine-game round-robin. With a 6-3 record, Canada would face the second-ranked German squad, skipped by Benjamin Kapp, with a spot in the gold medal game on the line.

Saturday's draw got underway with Germany scoring two in the second end after blanking in the first. After another blank in the third end, the Germans would steal two in four.

The Canadians would put up their first points of the draw in the fifth end, with Purcell making a double to trail 4-2 heading into the break.

Coming back in six, Purcell was able to force Kapp to one before scoring two more in the seventh to trail 5-4. Kapp's rink would respond in eight, making their third deuce of the game to lead 7-4 with two ends to go.

Down by three in the eighth end, Team Purcell was looking for a multiple-point haul to keep their hopes alive. Unfortunately, the Canadians would be forced to settle for one, handing the Germans a two-point lead with hammer coming home in ten.

The final end would see Kapp's rink secure a single point, taking the win 8-5.

With the victory, Team Germany will now advance to Sunday's championship final, as they face Scotland for the gold medal.

The Canadians will have to put Saturday's loss behind them and regroup ahead of Sunday's third-place game, where they take on Norway for the bronze medal.

"They're a really strong team, and giving up early points like that is very tough to come back from. They played really well and capitalized on a lot of our misses," Purcell said in a press release issued by Curling Canada.

"I feel like we eventually started making a lot more shots and junking it up a little better. We started getting some misses out of them after that. I really liked how we played the second half, but it's just so tough to come back from what ended up happening in the first half."

A win on Sunday would secure Canada its eighth men's medal in the last ten editions of the World Junior Curling Championships. The last time out in Russia in 2020, the Canadian men's team won gold. While Team Purcell is not competing for top honours at this year's event, it would still be a major accomplishment for the rink to leave Sweden with a medal of any colour.

"I think we're going to play it cool and chill out for a little bit to decompress. A lot of energy and intensity goes into a game like that. So we'll need to regroup and prepare for the next game the same way we did for this game," said the Canadian skip.

Canada last took home the bronze at world juniors back in 2016 when Matt Dunstone defeated Switzerland's Yannick Schwaller 8-4 in the third-place game.

Sunday's bronze medal game is set for 3:00 AM ET and goes at the same time as the men's championship final.