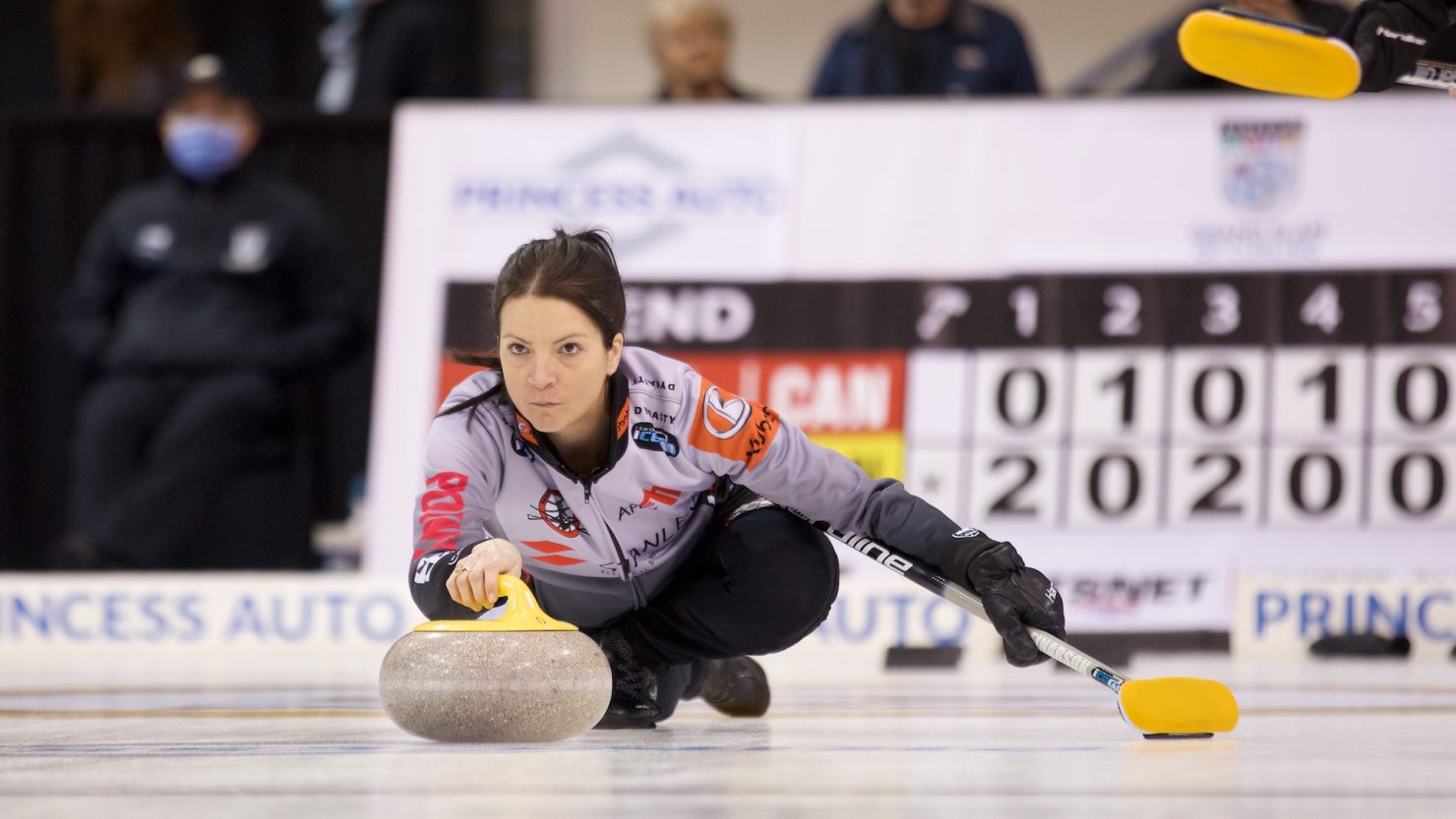 Manitoba's Team Einarson (Picture: GSOC/ Anil Mungal) defeated Rachel Homan's Ottawa rink 5-4 in Draw 5 on Wednesday afternoon at the Champions Cup in Olds, Alberta.

By: Dylan Chenier

Gimli's Kerri Einarson has found her team in a tie for first place at the 2022 KIOTI Tractor Champions Cup in Olds, Alberta, after defeating Rachel Homan 5-4 in Draw 5 on Wednesday afternoon.

Wednesday's game got underway with Team Einarson settling for a single point in the first end after starting with the hammer.
Team Homan responded in the second with a score of two.

A steal of one by Homan in the third end would put her Ontario-based team up by two early on.

Team Einason would get back in the scoring column in the fourth end with another single point to trail 3-2 heading into the break.

Coming back in five, Team Einarson would tie things up at three-apiece with a steal of one. After forcing Homan's rink to one in the sixth end, Einarson would tie the game at 4-4 with a single point in seven.

With the game tied at four-all, Team Homan would have hammer coming home in the eighth end, however, the skip would come up light on her last shot, handing Einarson a steal of one and the win.

Following today's narrow 5-4 victory, Eimarson now moves into a tie for first place with Switzerland's Team Tirinzoni, with both rinks at 2-0 early on in the tournament. The rink from Manitoba will look to keep the winning streak alive tonight as they take on Team E.J. Kim in Draw 7 at 8:00 PM MT.

This week in Olds, Team Eianrson is chasing their first-ever Champions Cup crown. The 2022 World Championship bronze medalists have finished runners-up in the competition on two occasions, most recently in 2019.

Meanwhile, Team Homan now drops to 1-1 on the week, after the rink defeated Tracy Fleury on Tuesday. Homan will look to get back on the winning side of the table when her rink takes on Team Gim on Thursday morning. This week, Homan is in search of her fourth-overall, and second-consecutive, Champions Cup victory, she is currently the only female skip to win the event on multiple occasions.