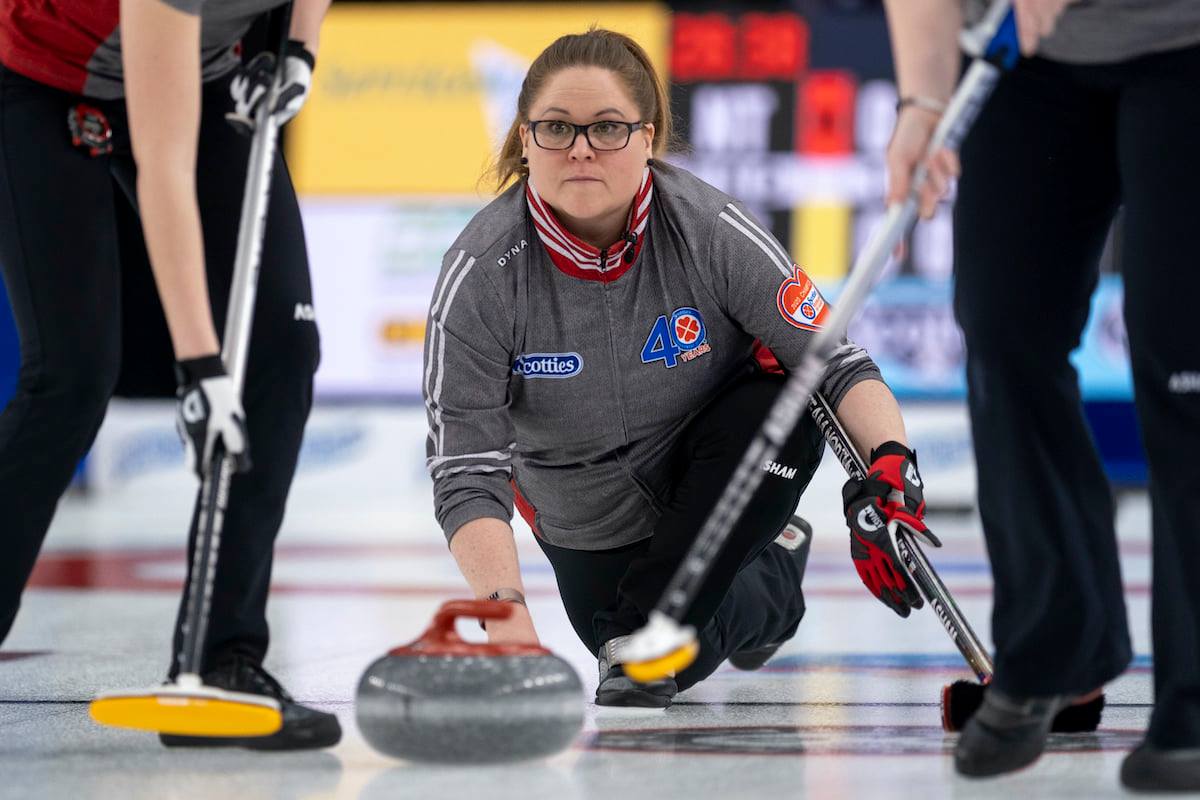 Kerry Galusha (Picture: Curling Canada), Skip of Team Northwest Territories, opened up about her rink's preparation and chances heading into this year's Scotties Tournament of Hearts.

By: Dylan Chenier

While a number of the women competing in the 2022 Scotties Tournament of Hearts have played in the event numerous times, no one in this year's field has more experience at the event than Northwest Territories' Kerry Galusha.

At this week's Scotties in Thunder Bay, Galusha, who hails from Yellowknife, will be competing in her 15th national women's championship.

Just as Galusha and her teammates did last year in Calgary, this year they are heading into a closed bubble to compete in the championship, amid Ontario's fourth wave of the COVID pandemic.

Going into last year's Scotties, Galsuha admits she felt a bit safer, considering there were no COVID cases in the territories at the time. This year, things are quite a bit different, with the OMICRON variant presenting a new threat to athletes and their families.

"This year there [were] a lot of cases, so it's different, we had to really isolate before we left Yellowknife, to begin with, whereas last year we didn't experience that," Galusha said.

"Last year we knew what we were walking into, we were really prepared. The bubble itself was very different for us, we each had our own room, we were a little more isolated from our teammates.

"This year, we weren't really sure what was happening; how much isolation we would have to do when we got here. [But,] it turns out we are definitely in a bubble like we were last year in Calgary, the only difference is we are sharing rooms, so we're not as isolated from our teammates, which is kind of nice."

Considering the rapid transmissibility of the new OMICRON variant, Galusha admits that she is taking more of a risk competing in this year's tournament.

"It feels way more risky... I mean, people weren't sending their kids to school, I kept my daughter and my husband home for a couple of days. It's so much more transmissible this year, and all the teams [are] trying to do everything they [can].

"Everyone [is] being a lot more cautious this year... It's a lot more risky and we're just trying to not get COVID right now so we can field a team."

However, with the team's first game now just one day away, Glashua says they are turning their attention to the task at hand.

"Once we got the results of our first PCR we were a little bit more relieved, we knew we were good... We're going to be a little bit more focused today and just put all the distractions to the side."

Heading into this year's competition, Team Galusha is in a bit of a unique position. So far this season, the squad has competed in five events together, with their best result coming at the Pre-Trials DIRECT entry event in Ottawa, where the foursome went undefeated to secure a berth in the Olympic Pre-Trials.

While the rink started the season playing in more competitions, particularly on arena ice, than they would most years, they haven't played together since the Pre-Trials in October.

"It's basically been two seasons for us. We really curled a lot in September, then we went to the Pre-Trials. That feels like it was a long time ago, we haven't played [with] each other since the Pre-Trials."

"Sometimes when we get together after not seeing each other for a while, it takes us a little bit to gel. So today's practice is really important, we want to make sure we're all on the same page and feeling like a team out there. It's almost like we're starting a second season this weekend."

After their territorial playdowns were cancelled back in December, Team Galsuhsa was once again named as NWT's representative at the National Scotties.

This year's Tournament of Hearts features a new format, which includes the addition of two new Wild card Teams, as well as an expanded playoff. Unlike last year, only the top three teams per pool from the round-robin will advance to the playoffs next weekend.

"We like the extra Wild Card teams because it gives us one more game, so our team in particular really likes that. We panicked a little bit when it got changed from top-four to top-three because that takes away one spot... But, we were looking at our pool, we feel like that third spot is wide open."

Galusha's Team Northwest Territories will be competing in Pool B at this year's Scotties, alongside top rinks such as Ontario (Duncan), Manitoba (Zacharias), Canada (Einarson) and Alberta (Walker).

"We're gunning for that third spot to try and make it into the next round. We kind of like our chances. We've played a lot of the teams in our pool, so we're familiar with all the teams... We're excited to get on the ice and play and see what we can do. Hopefully, we end our season just as well as it started."

In previous years, Galusha has found herself within striking distance of advancing beyond the round-robin. As for what it will take to make the playoffs this year, the veteran skip believes that if the team can get a handle on their draw weight, they should have a strong chance at cracking the top-three.

"We've always been close, we always have our good years and our bad years coming from the NWT... But, this year we curled a lot more, we've been on arena ice for two events already, normally we don't see arena ice till we get to the Scotties.

"We had a team meeting last night, we just really want to find our draw weight. That's so important at a week-long event like this. If we're comfortable with our draw weight I think we're going to do really well this week. You'll see us make a run for that third spot."

While Galusha knows she has what it takes to contend with some of the bigger teams in this year's field, she believes her rink's position coming out of the Northwest Territories may cause others to discount NWT's potential, something which could allow Team Galusha to fly under the radar.

"People will always underestimate us even though they know that we're a good team. We still don't play as much as Einarson and Walker and Homan... I think people do underestimate us but I don't think they should."

With this year being the final season of the current Olympic quadrennial, and many teams discussing their future, Galuhsa opened up about her thoughts on what's to come for herself and the team.

"I'm always battling injuries and this year I kind of had enough of it, it was very, very bad. So I was planning on probably this being my last year, and Jo-Anne [Rizzo] said if I retire she'll retire. So, we were kind of thinking it will be our last year.

"But, our second Margo [Flemming] moved up to Yellowknife and she was hoping to be up there another year. So, Sarah [Koulton] and Margo were trying to convince Jo-Anne and [me] to maybe curl another year. And it's working, we've had such a great year."

With this year's Scotties set to be held behind closed doors, Glausha admits it would be nice to end her career in front of fans.

"We were thinking it might be nice to play another year, especially since we've had no fans at the Scotties the last two years. It would be kind of nice to retire at a Scotties with fans... We'll see, we're just chatting about it right now and nothing's set in stone yet."

For now, the team will focus on the task in front of them, making a strong run at this year's Scotties and hopefully qualifying for the playoffs.

The competition gets underway for Team Northwest Territories on Saturday afternoon, as they face Team Nova Scotia (Black).

The 2022 Scotties Tournmanet of Hearts begins Friday in Thunder Bay and runs through February 6th at the Fort William Gardens.

Fans can follow along throughout the entire 11-day tournament either by watching live on TSN or by visiting www.CurlingZone.com for live SCORES and STANDINGS.