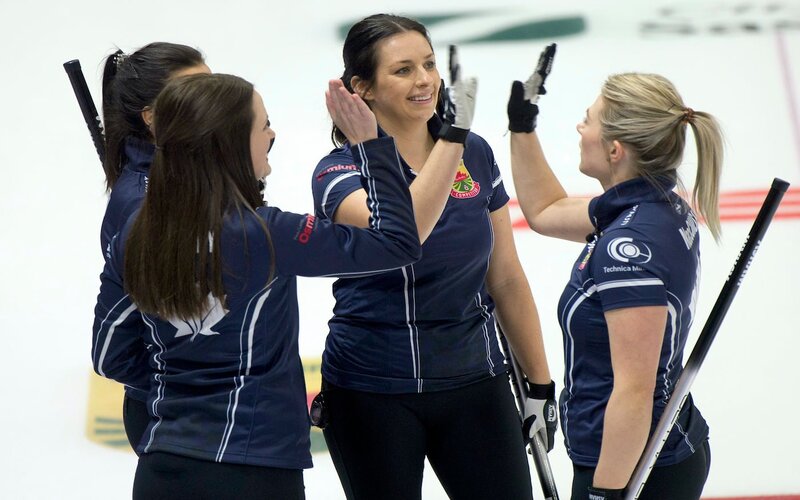 2022 Scotties Tournament of Hearts (Photo: Curling Canada) and Tim Hortons Brier fields expanded to include three Wild Card teams.

By: Cameron Sallaj

In an update Thursday night, Curling Canada officially announced the expansion of the 2022 Scotties Tournament of Hearts and Tim Hortons Brier fields to eighteen teams. Both events will be held in the same format as the 2021 editions where there will be three Wild Card teams in each championship.

Per Katherine Henderson, CEO of Curling Canada, "Curling has a time-honoured tradition of teams playing their way into events such as national and world championships. Unfortunately, over the past two years, that's fallen to the wayside due to the ongoing pandemic. Like last season, some playdown events were played, and others were cancelled leading up to the Scotties and Tim Hortons Brier, and the only thing we can do to ensure equity across the playing field is expanding the field once again. Barring any future setbacks related to the pandemic, we fully intend on returning to the traditional 16-team field and Wild Card play-in game in 2023."

Instead of the Wild Card play-in game, three Wild Card teams will be chosen based on the Canadian Team Rankings System from the 2021-22 season. The three highest ranked teams not already qualified for the national championship will be granted a Wild Card spot at this years national championship.

For the Scotties Tournament of Hearts, this means that Tracy Fleury (East St. Paul, Manitoba), Chelsea Carey (Regina, Saskatchewan) and Team Rachel Homan (Ottawa, Ontario) will join the field. Fleury with Selena Njegovan, Liz Fyfe and Kristin MacCuish currently rank first on the CTRS standings and lost out of the Manitoba provincial championship in mid-December.

Next on the list is Team Jennifer Jones, however, the team is preparing to represent Canada at the 2022 Winter Olympics and therefore will not join the field.

Since third ranked Laura Walker and fourth ranked Kerri Einarson have already qualified as Teams Alberta and Canada respectively, fifth ranked Chelsea Carey and sixth ranked Rachel Homan slot in as the second and third Wild Card teams. Carey with Jolene Campbell, Stephanie Schmidt, Jennifer Armstrong and Rachel Erickson lost to Team Penny Barker in the final of the Saskatchewan Scotties but now joins the Scotties field.

With Rachel Homan set to represent Canada at the Olympics in Mixed Doubles, it meant that Team Hollie Duncan was named as Team Ontario. Now with the expansion of the field, the rest of team Homan (Emma Miskew, Sarah Wilkes, Joanne Courtney) will have a chance at the national championship with Allison Flaxey coming in to join the team as their fourth player.

The Scotties Tournament of Hearts field is now complete, however, the Tim Hortons Brier has only qualified four teams so far so the Wild Card picture is a bit more complicated.

Here is the now complete Scotties field:

Canada: Team Einarson (Kerri Einarson, Val Sweeting, Shannon Birchard, Briane Meilleur)
Alberta: Team Walker (Laura Walker, Kate Cameron, Taylor McDonald, Nadine Scotland)
British Columbia: Team Arsenault (Mary-Anne Arsenault, Jeanna Schraeder, Sasha Carter, Renee Simons)
Manitoba: Team Zacharias (Mackenzie Zacharias, Karlee Burgess, Emily Zacharias, Lauren Lenentine)
New Brunswick: Team Crawford (Andrea Crawford, Sylvie Quillian, Jillian Babin, Katie Forward)
Newfoundland and Labrador: Team Hill (Sarah Hill, Kelli Sharpe, Beth Hamilton, Adrienne Mercer)
Northern Ontario: Team McCarville (Krista McCarville, Kendra Lilly, Ashley Sippala, Sarah Potts)
Northwest Territories: Team Galusha (Jo-Ann Rizzo, Sarah Koltun, Margot Flemming, Kerry Galusha)
Nova Scotia: Team Black (Christina Black, Jenn Baxter, Karlee Everist, Shelley Barker)
Nunavut: Team MacPhail (Brigitte MacPhail, Sadie Pinksen, Kaitlin MacDonald, Alison Taylor)
Ontario: Team Duncan (Hollie Duncan, Megan Balsdon, Rachelle Strybosch, Tess Bobbie)
Prince Edward Island: Team Birt (Suzanne Birt, Marie Christianson, Meaghan Hughes, Michelle McQuaid)
Quebec: Team St-Georges (Laurie St-Georges, Hailey Armstrong, Emily Riley, Cynthia St-Georges)
Saskatchewan: Team Barker (Penny Barker, Christie Gamble, Jenna Enge, Danielle Sicinski)
Yukon: Team Birnie (Hailey Birnie, Patty Wallingham, Kerry Campbell, Kim Tuor)
Wild Card 1: Team Fleury (Tracy Fleury, Selena Njegovan, Liz Fyfe, Kristin MacCuish)
Wild Card 2: Team Carey (Chelsea Carey, Jolene Campbell, Stephanie Schmidt, Jennifer Armstrong, Rachel Erickson)
Wild Card 3: Team Homan (Allison Flaxey, Emma Miskew, Sarah Wilkes, Joanne Courtney)

The Scotties Tournament of Hearts is set to be played January 28 to February 6 at the Fort William Gardens in Thunder Bay, Ontario while the Tim Hortons Brier is scheduled to be played March 4 to 13 at the ENMAX Centre in Lethbridge, Alberta.