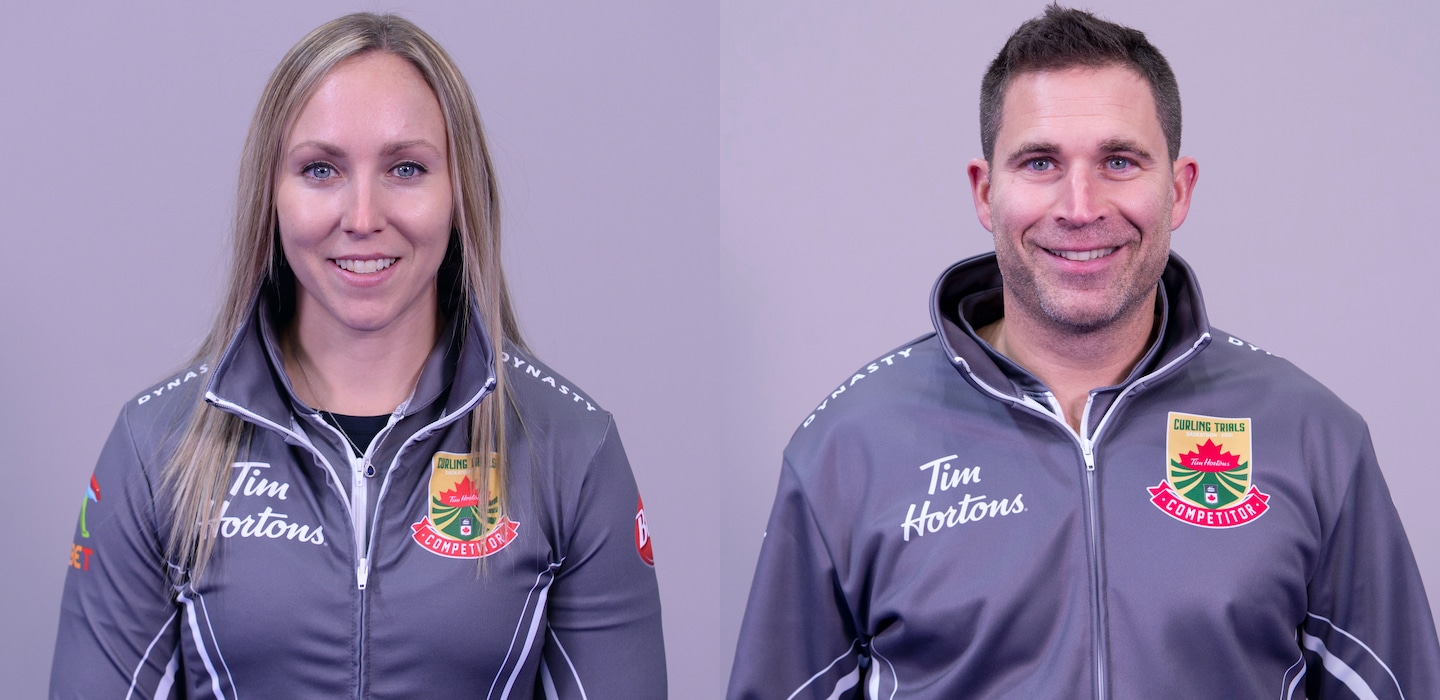 Rachel Homan and John Morris (Picture: Curling Canada) addressed the media on Thursday, after being named Canada's Mixed Doubles Olympic Team for Beijing 2022.

By: Dylan Chenier

When Rachel Homan stepped off the ice at the Gangeung Curling Centre, on the evening of February 21, 2018, her Olympic dream had come to anend. After making it to their first Olympics as a foursome, Team Homan struggled early on in the tournament, before picking up wins towards the end of the round-robin.

With a final record of 4-5, Homan's Team Canada would finish the tournament in sixth-place, missing out on the playoffs and a chance at a medal. Nearly four years later, Ottawa's Rachel Homan has a chance not many Canadian curlers get. Next month, Homan will return to the sport's biggest stage, this time as a member of Canada's mixed doubles team, where she will seek out her first Olympic medal in her second trip to the games.

While the opportunity to compete at this year's Olympics in Beijing certainly provides Homan with the chance to do something she wasn't able to last time around, the 32-year-old says her sights are squarely focused on the task at hand, she does not see this as a second chance.

"We were ecstatic we were able to win Trials last time and we gave it our all and it wasn't enough," Homan said during a Curling Canada media availability after the announcement of the mixed doubles team.

"Obviously, we would have loved to bring back a medal for Canada but it [just] wasn't in the cards for us. We don't regret anything, we did everything we thought we could and at the end of the day, it wasn't enough. It's sport and it's not easy.

"The world stage is tough. As you can see, we're struggling to get on that podium. So, we're excited that we're going back to the Olympics, and we're taking all of our experience from our previous Olympics. John has two gold medals and we're hoping to draw on that."

Homan and Morris are entering uncharted territory this time around; since curling was officially added as an Olympic sport in 1998, Canadian officials have never hand-picked a team to represent the country at the Games.

Typically, teams compete for a spot on the Olympic team through curling Canada's highly competitive Olympic Trials process. This year, as a result of rising COVID-19 cases amid the OMICRON surge, organizers opted to cancel the Mixed Doubles Trials.

Instead, Curling Canada was forced to name its representatives in the mixed doubles competition. While the duo has been put in a position no other Canadian curler has ever experienced, for Morris, the pressure is no different than what he's encountered at previous Olympics.

"Regardless of the Olympics and how it's chosen, there's always pressure on Canadian athletes, especially curlers because we have such a big tradition [of] success," Morris said.

"My first Olympics when we were in Vancouver, wearing that Maple Leaf in your home country, people that that was as much pressure as you're going to get."

While the pair is thrilled to be selected as Canada's representatives, Morris acknowledges that events did not exactly transpire as they had hoped, but that won't stop the team from giving it their all in China.

"Is this we way we wanted to be picked? No. We wanted to go to battle against Canada's best and prove that we're the best team in the nation. Under the circumstances, this time it was not possible. I think we're both very excited to work really hard for Beijing and go out and prove ourselves on the ice there."

Despite both athletes' experiences competing at the Winter Olympics, the trip to Beijing will be a unique one. Given that COVID-19 remains a threat globally, organizers are deploying a number of restrictions meant to prevent the virus from spreading amongst athletes and officials. As such, the environment will be similar to that of the 2021 curling bubble in Calgary, which both Homan and Morris competed in.

"The good part about this is that we've been through the bubble that Curling Canada put on. It was amazing last year, it went off without a hitch. We had great experience[s] there, both of us," said Homan.

The skip also recalled her time competing at the 2017 World Women's Curling Championships in Beijing, an experience that wasn't all that different from what she expects at this year's Winter Games.

"We've also been to Beijing for Worlds and it wasn't much different. We have pictures of masks on over in Beijing and [we] really felt isolated over there, So, I think with all of our experience through COVID and our Beijing experience in the past, we feel kind of prepared for it."

The pair, both currently based in Alberta, will now begin their training in earnest, ahead of their departure for China.

In Beijing, Team Canada will compete against nine other nations in the hopes of taking home the country's second-consecutive mixed doubles Olympic Gold Medal.

"I know that the field is going to be really tough, they're sending their best athletes from even the four-person teams, so we know that we need to focus on ourselves, where we need to get," Homan said.

"We have lots of resources through Curling Canada to be able to access and really fine-tune where we want to be, come February 2nd. So, we're so excited to start our training. I can't wait to get there, I'm trying to dodge OMICRON left, right, and centre, and we're just excited to get into that isolation and start training.

While a Gold in China would mark the first-ever medal of Homan's relatively young career, for Morris it would be one for the history books. No Olympic curler has ever won three gold medals in their career, Morris hopes to do so in his third trip to the games.

"I want to get [John] his hattrick. I know everything John brings to the game and just how dedicated he is and how much this means to him. It means the same to me but it's something that I want, to go out there and get a gold medal for him," Homan said regarding the prospect of helping Morris win his third consecutive Olympic title.

The 2022 Winter Olympics mixed doubles competition begins on Wednesday, February 2nd, with Canada's first draw set for February 3rd against Great Britain.