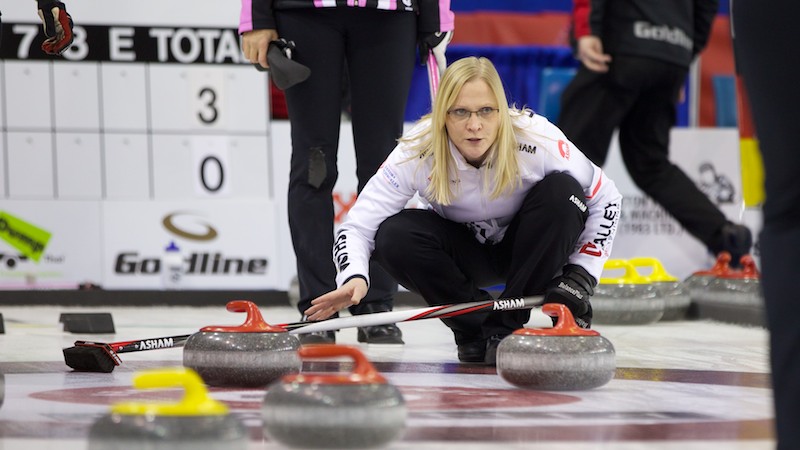 Saskatchewan's Amber Holland (Picture: Anil Mungal) has won the women's side at the 2021 DEKALB SuperSpiel.

By: Dylan Chenier

On Monday afternoon, Team Holland defeated Kayla MacMilan's Vancouver-based rink 6-4 in the championship final at the DEKALB SuperSpiel.

Team Holland, with third Kim Schneider, second Karlee Korchinski, and lead Debbie Lozinski, opened the game with a steal of one in the first end.

Team MacMilan then answered back by scoring a single in the second end, tying things up a one apiece after two.

In the third end, Team Holland put up the first deceive of the game, taking a 3-1 lead.

McMillan would cut into Holland's lead in the fourth end by scoring one, she would then tie things up in the fifth end by stealing a point.

In the sixth end, Holland was able to take full advantage of the hammer, scoring two points and taking the lead 5-3. Team Holland would then extend their lead in the seventh end by stealing a point.

Down 6-3 in the final end, Team MacMilan needed a score of three just to tie things up. Unfortunately, the Vancouver-based team could only manage a single point, giving Holland the win 6-4.

The victory marks team Holland's fist title of the 2021-2022 season, after competing in six events so far this season.

At this weekend's event in Morris, Manitoba, Team Holland put up three straight victories in the triple-knockout, before defeating Switzerland's Team Schori 6-5 in the quarterfinals. The Saskatchewan rink would then go on to beat Team Workin (ND) 9-4 in the semis to advance to the championship final.

As tournament winners, Team Holland takes home a $7,800 first-place cheque, as well as 35.802 world rankings points.

Team Holland will now continue their preparations for the 2022 Viterra Scotties, which are set for January 5-9 in Assiniboia, Saskatchewan.