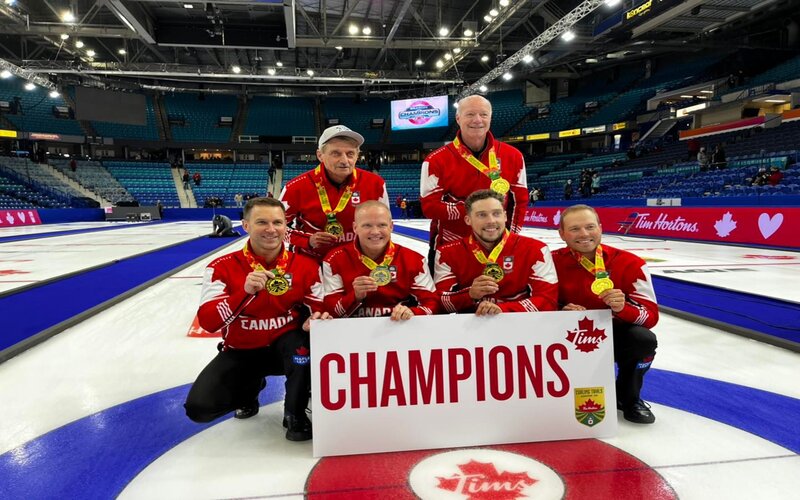 SASKATOON - Brad Gushue (Picture: Curling Canada) is going back to the Winter Olympics for the first time in 15-years, after beating Brad Jacobs 4-3 in Sunday night's men's final the 2021 Tim Hortons Curling Trials.

By: Dylan Chenier

The draw got off to a slow start after Gushue opened with a blank in the first end. In the second end, the St. John's skip was forced to one, leading 1-0 after two but relinquishing the hammer.

Gushue returned the favour in three, forcing Jacobs to take the single and tying things up at one apiece. The two skips would continue alternating single-points, with Gushue taking one in the fourth end.

After the fourth, Jacobs would take hammer and blank the next three straight ends. The trail of blanks would end in the eighth, with Jacobs settling for the single. With just two ends to go things were tied up once again at two-all.

Gushue finally broke through in the ninth, putting up the first multiple-point end of the game. In the tenth, Jacobs could not manage to score a needed double, giving Gushue the 4-3 victory.

"These games are tough but boy-oh-boy did we play well. I thought that we managed the game. I heard "boring" out there so I apologize to those people who thought it was boring but I enjoyed myself," Gushue said after the game.

The win marks Gushue and third Mark Nichols second Olympic Trials title, after the duo won the 2005 event in Halifax, before winning gold at the Turin Olympics. Now with second Brett Gallant and lead Geoff Walker, Team Gushue was a chance to win Canada its first Olympic gold since 2014.

"Once you're an Olympian you're always an Olympian. The special part is the fact that Brett and Geoff now get that opportunity. They're two of the best players in the world and have heard stories from myself and mark for years and now they get to develop their own memories and have their own experiences," Gushue said of bringing Gallant and Walker to their first Olympics.

For Team Jacobs, the loss means they came up just shy in their quest to make a second Olympic Games in eight years, after taking Canada to victory at the 2014 games in Sochi.

"Didn't have our best tonight, definitely could have played a little better as a team. Not the outcome that we wanted," Jacobs said of the loss. While the Northern Ontario-based skip was disappointed with the result, he believes Canada will be well represented in Beijing.

"The Gushue team is one heck of a team, Canada's got a great representative. Hats off to them, they played great, well deserved."

While the game was extremely close, with three blanked ends and only one deuce scored, Jacobs, says he wouldn't change strategy if he could do things over again.

"[Would I] mix it up a bit more? I don't think so. It was pretty open, we definitely tried to score some simple deuces when we had hammer and it didn't work out, we got forced."

Between the two teams, there wasn't too much separating them but Team Gushue clearly had the upper hand curling a cumulative 89% compared to Jacobs' 82%. The strongest performance of the night went to Gushue lead Geoff Walker who curled 96% on 20 shots.

For Gushue's second Brett Gallant the win is extra special, as he will join partner Jocelyn Peterman in representing Canada at the Olympics. Peterman will be travelling to Beijing as part of Jennifer Jones' female rink.

"You think maybe with mixed doubles, we play together, we might be able to go to the Olympics together, but for both of us to come out on top through both of these fields this week [is] incredible," Gallant said of winning the Trials in this same year as Peterman. "She was kind of inspirational, watching her win, so it's defiantly a special moment for sure."

After taking some time to celebrate, Team Gushue will turn their attention to the task at hand, earning Canada its first Olympic gold since 2014. In Beijing, the team will face some tough competition. The men's curling field features 2018 gold medalists Team Schuster (USA), five-time world champions Team Edin (Sweden), 2021 European champions Team Mouat (UK), and many other top contenders.

Gushue's rink will likely face plenty of pressure at the Games, following a disappointing result for Canada at the 2018 event in Pyeongchang, where the country failed to medal in both the men's and women's events. This time around, Canada will be led by two experienced skips, Gushue and Jones, both of whom have already won Olympic gold.

The 2022 Winter Olympics begin February 4th in Beijing, China.