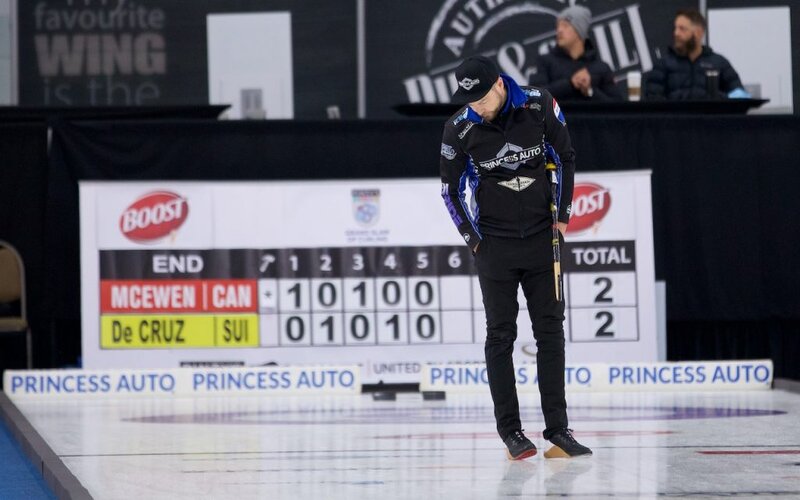 SASKATOON - Manitoba's Mike McEwen (Picture: Anil Mungal, Grand Slam of Curling) is one of the skips looking ahead to events in the new year after a disappointing run at the Olympic Trials.

By: Dylan Chenier

Only four men and four women will emerge from this weekend's Olympic Trials having realized their Olympic dreams. For the vast majority of Canada's elite curlers, the Trials mark the culmination of a nearly four-year-long journey. Many of the teams in this year's field were assembled back in 2018 with the intention of winning the Trials four years later.

While a select few will realize that ultimate goal this weekend, for the vast majority of curlers leaving Saskatoon, the focus now shifts to events ahead in the new year, including provincial and national championships.

Ontario's John Epping is one curler hoping to turn his fortunes around as the calendar shifts to 2022 and win his first Brier title.

"Our goal now is to go win a Brier, I've never won one and neither has Matt [Camm] so it would be nice to win that."

Despite finishing in sixth place with a 3-5 record, Epping sees some positives in his team's performance, which he hopes too channel towards a strong run at the Brier.

"Things are actually going our way right now when it comes to the progress we've made as a team."

While Epping has a strong chance of getting to the Brier in Lethbridge, either as Team Ontario or through a CTRS Wild Card Birth, he will still have to play through provincials in January.

The event in Port Elgin will likely feature a strong field of experienced veterans and young teams, Epping's team will have to bring their A-game to beat the likes of Glenn Howard and Tanner Horgan.

Another skip looking towards provincials and the Brier in the new year is Manitoba's Jason Gunnalugson. The Morris, Manitoba-based skip had a disappointing week in Saskatoon, posting a 2-6 record and finishing eighth out of nine teams in the round-robin.

"You learn a lot from these events. I mean, right now it sucks but late this week we'll be able to start pulling some really good lessons from the event," said Gunnlaugson. "Come January we'll be really excited to build towards the Brier and a couple of big Slams."

While the Trials were likely the ultimate goal, Gunnlaugson explains that for his team this year's Brier is the more realistic focus.

"Because we're a newer team than some of the teams we really had to focus on the Brier this year because we know that realistically it was going to be hard to get good enough fast enough to win the Trials, so I think we have a good focus to that point."

While the Brier and Scotties provide a nice consolation prize for those unsuccessful in their quests towards a Trials title, it is likely that many curlers are already thinking ahead to the next quadrennial and what it would take to win the 2025 Olympic Trials.

Some athletes are even willing to admit that thoughts and discussions about potential lineup changes in the offseason have already started.

"I'm not naive, I know there are conversations going on right now. So if a guy says he hasn't thought about it he's probably not telling you the complete truth," said Manitoba's Mike McEwen.

"Let's just say people aren't going to wait till the Brier to figure things out, there'll be lots of people having some deep thoughts and conversations going forward. The timing will be interesting."

McEwen has curled with the same lineup for the entire 2018-2022 Olympic quadrennial and will be considering his options ahead of another run at the Trials.

"A lot of this stuff can happen before we even get to the nationals. So, that's on my radar, I'll have to put some time into figuring out where I want to be going forward. But honestly, can't tell you where that is right now."

While McEwen openly admits that those sorts of thoughts have already begun, John Epping isn't yet ready to get into the mindset of planning beyond this season.

"I think that happens after the Brier... We won't have those discussions until the season's over and [we] see where we're at," said Epping.

Matt Dunstone is another curler hoping to focus on the task at hand and avoid thinking too much on anything beyond this season.

"It's hard to speak for everybody. We've got such good relationships on this team that we totally respect what each and every guy wants to do. For me it doesn't start until the last rock is thrown in the season. I have no intentions of diving into that sort of conversation [now]," said Dunstone.

"I owe it to this team, I think everybody owes it to this team, to give it everything we've got to work as a unit up until April and then see where the chips fall.

"Regardless, I absolutely adore playing with these guys, I love these guys to death and there's a lot of good things ahead."

Despite having their sights firmly set on this year's Brier, Jason Gunnlaugson admits that changes could be coming.

"You know, in the curling world everything does sometimes get shaken up so we'll see what happens."

As the Olympics dawn near, and the 2021-22 season progresses, it is possible that we will start to see lineup changes and possible retirements over the next several months. So enjoy your favourite foursome while you still can, as nobody quite knows what's in store for 2022 and beyond.