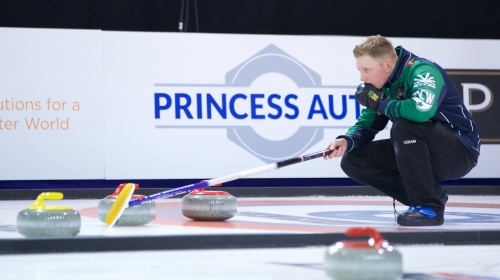 This weekend, Braden Calvert and his Winnipeg teammates Kyle Kurz, Ian McMillan, and Rob Gordon play the Halifax Mayflower Classic.

By: Resby Coutts - thecurler

The team has a busy three weeks ahead of them - part of it planned, part of it a recent addition resulting from on-ice success.

They'll start this weekend at the Dave Jones Stanhope Simpson Insurance Mayflower Classic in Halifax, where 16 men's teams and 12 women's teams will compete at the Mayflower Curling Club this weekend.

Calvert opens against 2004 Brier champion Andrew Gibson on Friday morning, with the event beginning with games on Thursday at 5 pm Atlantic Time / 3 pm CT.

Following their time in Halifax, the team moves on next week to the Home Hardware Pre-Trials in Liverpool, NS, and then fly over Winnipeg to Chestermere, AB for the Grand Slam of Curling's BOOST National.

After being announced as a qualifier for the Pre-Trials last season, the team needed a plan for some prep competitions.

"We couldn't go to Swift Current due to some personal commitments," lead Rob Gordon explained recently.

"We knew we needed games before the Pre-Trials, so the Halifax event just made sense. It will get us to Nova Scotia early to get adjusted, and it will give us competitive games to help us prepare."

The third leg of the cross-country journey was unplanned but also earned. Looking at the rankings, the young team knew they had a shot at an invitation to the season's second Slam event. All they had to do was earn some more 'points'. They entered the Atkins Curling Supplies Classic at Winnipeg's Assiniboine Memorial club alongside their friends on the Pat Simmons team.

Both teams aimed to make the final in the Atkins Classic, and the winner would have the points needed to earn the Slam invitation.

Team Calvert reached the final while Team Simmons skipped by
Tanner Lott, lost to USA's Rich Ruohonen in the semi-final. When the Calvert foursome beat the Americans in the final, they knew they had also won the coveted Grand Slam opportunity.

Together as a team since the 2018-19 season, the team has had three previous Grand Slam opportunities. "The first was a real eye-opener. We were 0-4 in a fairly tough group - Koe, Bottcher, Howard, and Jacobs. It was a rude awakening," Gordon says.

The following two went better as the team reached games to qualify for playoffs both times. Although they lost both times, they gained valuable experience.

"We were just happy to qualify for those three previous Slams," Gordon says. "Now we think we belong, and we think we can make the next step."

Looking ahead to Liverpool and Chestermere, Gordon says the team has "a good level of optimism". "If we continue to play like we have (in winning the Atkins and losing the final of the Winnipeg Granite's
Mother Club Classic), we can be right there," he suggests.

Calvert and Kurz are World Junior Champions (2015), while Gordon is a World Junior Bronze Medalist (with Matt Dunstone in 2016) and played the 2017 Pre-Trials (with Pat Simmons). McMillan also played in the last Pre-Trials (with Jason Gunnlaugson), and there are those three previous Slam appearances. All have added to the team's experience base.

Gordon says he is excited about the three weeks ahead.

He is excited about the competition, of course, and about what doing well in Liverpool and Chestermere could mean for the team's future.

He is also enthusiastic about the prospect of travelling with three good friends.

"We get along well off the ice. They're three of my best friends, and we enjoy each other, so time off work and travelling together are not a chore," he explains.

Importantly he says they also all share the same level of competitive drive whether on the ice or in their team bonding through golf and cards or ping pong between games.

Calvert will be prepared. They have gained experience, and have one other reason for optimism as they looked ahead to the trip, specifically the Pre-Trials.

"Braden and Kyle won a Canadian Championship in Liverpool in 2014."

"We feel good about going back there. It's going to be a great trip," Gordon says with a smile.