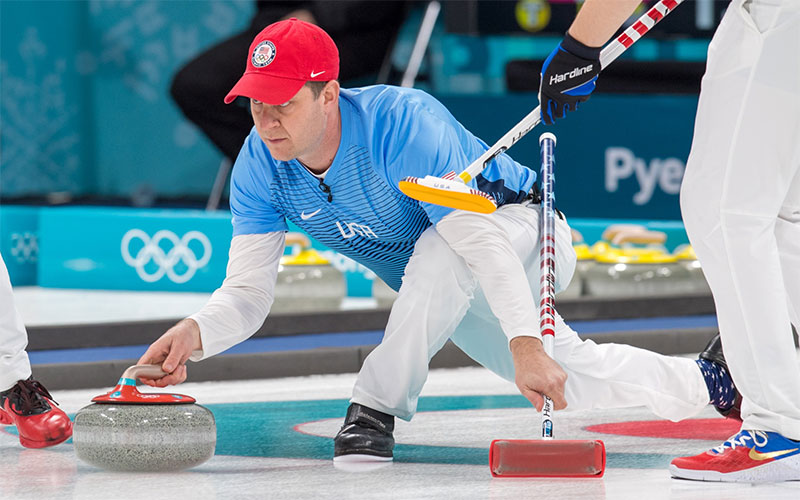 Skip John Shuster (photo: Rich Harmer) has always been one to try new things.

By Price Atkinson

He tried a new diet a few years ago and became more fit and trim. And he 'tried' a MAJOR comeback at the last Winter Olympic, which worked out quite well.

Coming off a curling season that was an afterthought last year, Shuster and his foursome are trying something else new.

It's a different approach to the upcoming U.S. Olympic Team Trials thanks to their one bonspiel last year - a fifth-place finish at the World Men's Curling Championship in Calgary.

Without any opportunities to play or compete, Team Shuster only practised and scrimmaged at the Duluth Curling Club to prep for Worlds. The returns were solid, playing their way to a 10-3 mark in round-robin play before being derailed by Switzerland (and a false-positive COVID test) in the playoffs.

"With the way we prepped last year during the pandemic for the World Championships and the way we performed there, we realized that the practice time together was every bit as valuable as playing a lot of events," Shuster said.

While most other high-level curling teams are criss-crossing the country or the U.S.-Canadian border this fall to sharpen their skills ahead of the upcoming Olympic Trials, Shuster and crew are doing the opposite.

This season, their only other event was the Curve U.S. Open of Curling in Blaine, Minn., where they lost in the semifinals. And now the defending Olympic gold medalists have made their way across the border for only the second time since the pandemic began to compete at this weekend's Stu Sells Toronto Tankard hosted by the High Park Club.

"We played two events (the filming of Curling Night in America) and held a scrimmage weekend this year," Shuster said. "But we felt like adding one more event, a high-quality event with the competition that'll be in Toronto at a venue that has great ice. We knew this would be one last great tune-up opportunity in advance of the Trials.

"The competition in Ontario is always top-notch. We look for quality competition and where we can play on world-class ice. Those are the boxes we like to check when we decide to travel and play."

Shuster's rink will open play in the Stu Sells Friday afternoon at 3:00 pm (ET) against Mark Kean's rink.

A recent curveball thrown their way is the loss of ice at the Duluth Curling Club, where Shuster and teammates Chris Plys and John Landsteiner curl out of and call home. And they're unsure when or if they'll have ice this season, driving 50 minutes to an hour to practice at Curl Mesabi in Eveleth, Minn.

"The situation in Duluth isn't perfect, but we're all grateful that Curl Mesabi and USA Curling worked things out to get us ice where we can practice daily," he said. "That's been a key part of my curling preparation and success."

For the Superior, Wisc. Native, this has been the week his entire team has been ready for.

"Starting October 1st is when all of us had circled on our calendars to go from preparing to locking it in," Shuster said. "I think the four of us are looking forward to this month and a half coming up."

Follow all the action and live scores this weekend from the Stu Sells Toronto Tankard on CurlingZone.com.