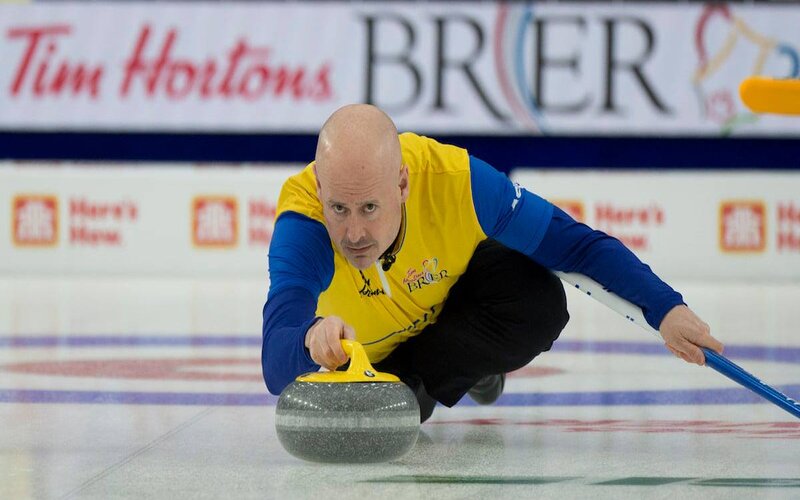 Kevin Koe (photo: Curling Canada), skip of Team Wild Card #2, says the Calgary Bubble has "gone off without a hitch."

By: Dylan Chenier

Just as the women did at the Scotties Tournament of Hearts, the curlers competing at this week's Tim Hortons Brier are adjusting well to life in the bubble.

Due to the COVID-19 pandemic, the 2021 Brier is being held behind closed-doors at the Markin MacPhail Centre in Calgary. As such, there are no fans in the stands, and teams spend the majority of their time between games in their hotel rooms.

While certain Brier traditions are definitely missed, such as the famous "Patch," the curlers are taking advantage of the increased downtime.

"Being in the hotel in between games is kind of normal for us," said Team Ontario lead Brent Laing. "Curling Canada has done a great job, it's been different, but it's been more than manageable."

Despite the fact that this year's round-robin features an additional game, due to the two added Wild Card entries, for some athletes the lack of distractions has meant more time on their own.

"It feels like we have a lot of time between games this year, even though it's more games if you end up making it through," said Saskatchewan lead Dustin Kidby.

While some curlers may have had their doubts over whether the bubble would work, the success of the 2021 Scotties meant curlers arrived at the Brier with very little concern.

"We had a good handle on what the actual event was like," said Team Wild Card #2 skip Kevin Koe, of getting to watch the Scotties, before heading into the bubble.

"I think what was good is that all the curlers [knew] what was going to happen, so nothing's been a surprise. It's gone off without a hitch."

Many of the curlers in this year's Brier, also had the benefit of speaking to some of the women who competed at the Scotties, to get a better understanding of what life is like inside the bubble.

Brent Laing, who is married to Jennifer Jones, was able to "pick [the skip's] brain" about how best to prepare for bubble life:

"She offered up some suggestions, and the good news was that all the info she was sending was that it's great, not nearly what people expected," said Laing. "She even my groceries for me."

The success of the Calgary bubble so far is no small feat for Curling Canada. Considering their lack of resources compared to other organizations, such as the NHL or NBA, the events so far have exceeded all expectations.