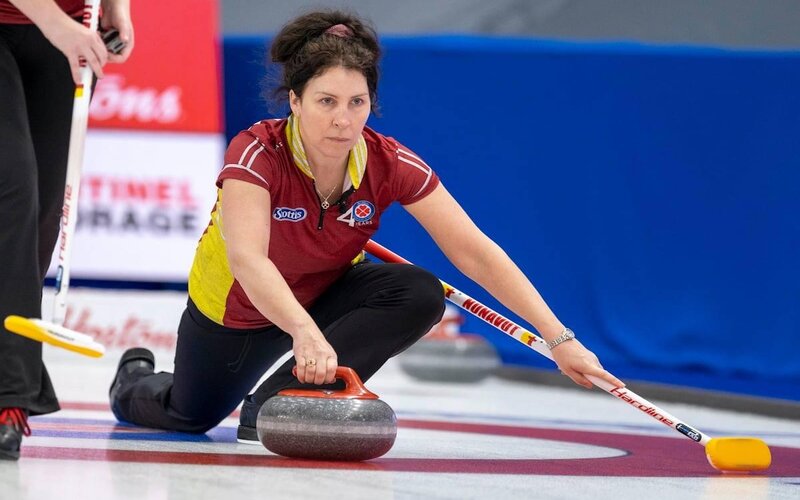 Team Nunavut Skip Lori Eddy (photo: Andrew Klaver / Curling Canada) is looking at the positives following a difficult 2021 Scotties Tournament of Hearts.

By: Dylan Chenier

In 2020 Lori Eddy returned to the Scotties Tournament of Hearts for the first time in 23 years. Skipping a young team from Nunavut, Eddy's rink finished the 2020 event with a record of 2-5, marking the territory's best ever Scotties performance.

Eddy's team returned to the Scotties in 2021, entering the Calgary bubble with a mix of excitement and uncertainty; the team hadn't been together since they departed the 2020 event in Moose Jaw over a year prior.

Nunavut got off to a fairly slow start at the 2021 Scotties, failing to score multiple points in a single end after the first four draws.

"I think we had to reset our goals a little bit after the first couple of days and recognize that the conditions were challenging, and being a new team, with very little experience," Eddy said. "We sort of decided to adjust our goals and just say, let's play competitively and make them earn it.

"There was some difficult conditions at the beginning of the week, I think everybody was finding the same thing, but we settled in as the week went on, and we were pleased that we had some competitive games."

And the team did start to improve as the week went on, playing several close games, holding many of the top teams to within just a few points.

Despite some improvements across the board, Nunavut was unable to build upon their successes of 2020, finishing the event with a 0-8 record.

"[We] could've come out with a couple of wins, but it just didn't go our way," said Eddy.

Nunavut's 0-8 record did not adequately reflect just how close some of their games were. Eddy's rink had several close games throughout the week, including a narrow 7-5 loss against the up and coming, team St-Georges, from Quebec.

"The breaks just didn't go our way, you have to have breaks in order to have success in these events, curling is such a slippery little game."

A particularly difficult break for Nunavut came when they met Melissa Adams' rink from New Brunswick in Draw 12. After a close battle all game, Eddy was left with a makeable shot in the tenth-end for the win, but ultimately came up short.

"I think we played well [trying] to get that win," said an emotional Eddy. "To come up short on the draw in the 10th was bad because we had it, but the ice just fudged at the end.

"Again, it comes down to a lack of experience... That was sad because I was really pleased with how I threw it, and I really felt like we deserved to win that game."

In the extra-end, Eddy missed a draw to the button, handing Adams the win. While the result was disappointing, to say the least, the skip has no regrets:

"The extra end just went a little array; I honestly wouldn't change anything with either of [my] throws, it just didn't work out."

Despite a few disappointing results throughout the week, Eddy is pleased with the way the team was able to adapt to the difficult conditions at this year's Scotties:

"Once we sort of settled in, and the ice settled in, we played so much better as a team. So if we could just forget about the first couple of days, we were overall pleased with our performances!"

Like most teams in this year's field, Nunavut entered the 2020 event with very little preparation, which Eddy thinks played a factor in the team's performance:

"I know for me, where I was lacking, it wasn't in shot-making or throwing, it was more [that] I hadn't thrown enough last rocks this year. I only played five games [prior to the Scotties], so I just didn't have enough reps to feel the way I wanted to feel confidence-wise."

As for life inside the Calgary bubble, Eddy noted the many changes compared to a typical Scotties, in particular, the lack of family and fans:

"It was really bizarre! It just didn't feel like how a Scotties feels. The atmosphere was so different," said Eddy. "It felt really lonely, and when you're not winning it feels even more lonely. There were no distractions, you have no way to blow off steam."

While the experience may have felt isolating for Eddy and her teammates inside the bubble, the team wasn't without its share of fans cheering them on from home. Many supporters of Team Nunavut took to social media throughout the week to express their support for the rink:

"[Lori Eddy] just wanted to say thanks for the joy you exude on the ice. You didn't win a game, but your attitude makes you a winner and your genuine smile is pure joy. Keep going. Keep playing. Cheers," said @THOMASCOLVILLE2 on Twitter.

"You brought a lot of joy to us curling fans, and your love of the game and the experience of playing in your third Scotties was evident," Tweeted @FenlonCurls.

Despite the many challenges at this year's Scotties, Eddy says she is pleased with the team's performance:

"We're still learning a lot of things, we're still figuring out stuff, we've only played 20 games together total, and I think given the inexperience of the team as a whole, and our lack of playing time, I'm pretty proud."

As for a positive memory of this year's Scotties, Eddy says she is grateful for the opportunity to compete once again on the national stage, alongside her team:

"I think just spending time with the team and just being together again, they're just such wonderful teammates."