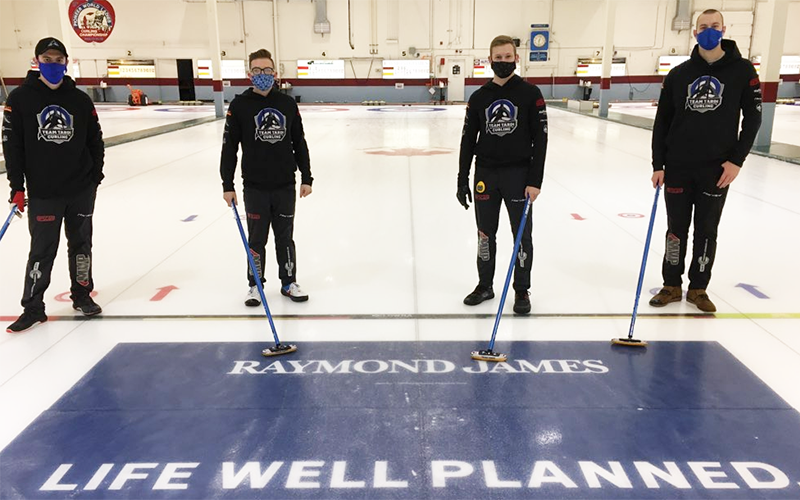 BC's Tyler Tardi opened their season with a 7-6 win over Sean Geall to win on Sunday.

Trailing 6-4 in the eighth and final end, Tardi scored three to grab victory over Geall and his New Westminster side.

Tardi and his team of Sterling Middleton, Jason Ginter and Jordan Tardi started with hammer, dropping a steal to open the game.

Tardi came back with two in the second end, with Geall following up with three to take the two-point advantage, held through to the last end as the teams traded singles.

"This is a nice accomplishment for us, " said Tardi following the win.

"We have never really done well in that event so to finally pull through, it's a big boost of confidence for this season."

The young squad from Langley, British Columbia, runners-up in last year's provincial championship have eyes on continued development in his first year officially aged out of juniors.


Winner winner krill filled dinner! Thanks to all our supports to help us win the Kelowna cash! #krilledit pic.twitter.com/TU8vLugUU2

— Team Tardi (@TeamTardi) November 9, 2020


As the pandemic has been playing challenging across the country, we've seen each province come up with a regional response to competition.

"Being able to compete again is huge," continued Tardi.

"It has been pretty hard just to go out and practice, and without games, it's tough to know what you need to focus on."

Tardi won 4-2 over Chris Baier (Victoria) in the semifinals while Geall defeated Steve Laycock, with Jim Cotter throwing fourth stones. Tardi advanced directly to the semifinals along with Laycock, with Geall advancing with a 7-5 quarterfinals win over Brad Wood. Baier won 9-8 over Sebastien Robillard in the other quarterfinals match.

"We're quite fortunate that with BC's new rules that we're able to play in Kelowna, so we've got a few more days here before heading to Penticton."

Tardi plays next weekend at the Ashley Homes Curling Classic, featuring several top-ranked rinks from across Canada.

"We're very excited about playing some top tor teams."