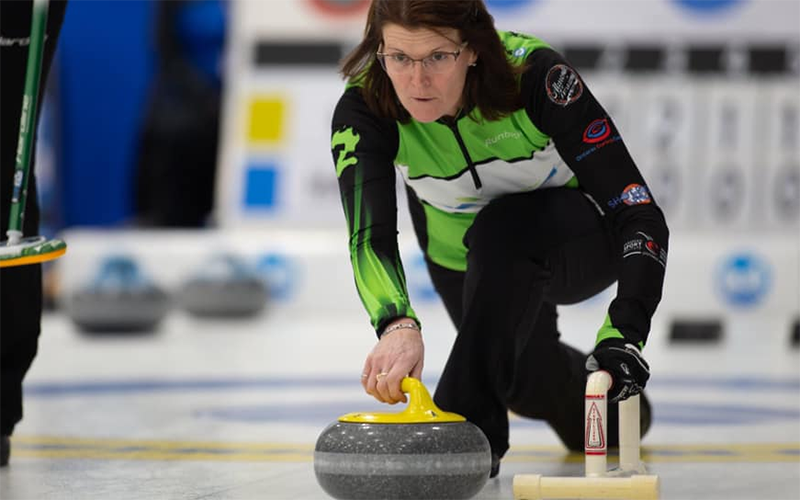 Alliston's Susan Froud wins 8-2 over Maddy Warriner of Dundas in the KW Fall Classic, held on the weekend in Kitchener-Waterloo, Ontario.

'Loud 4 Froud' is the Facebook page of Susan Froud and her team of Kristina Brauch, Kaelyn Gregory and Karen Rowsell from just north of Toronto, champions of the KW Fall Classic for this season.

Warriner and Froud traded singles in the first two ends, then in the third end, Froud stole two to lead 3-1. Another challenging end for Warriner in the fourth resulted in a steal of four more for Froud, blowing the game open.

Froud won 9-3 over Sierra Sutherland (Ottawa) in the semifinals, while Warriner defeated Jestyn Murphy (Mississauga) 7-5 in their semifinal match.

In the quarterfinals, Froud defeated Thea Coburn (Toronto) 7-4, Sutherland defeated Cathy Auld (Toronto) 5-4, Warriner won 6-3 over Joanne Curtis (St. Thomas) and Murphy doubled up Lauren Mann (Ottawa) 6-3.



The event took place at the KW Granite Club in Kitchener-Waterloo, Ontario and following protocols put in place to go above and beyond local health guidelines.

Players wore masks throughout the building, were required to download the COVID Alert App and follow and local health guidelines.

Special thanks to the KW Granite club, their President Matt Wilkinson, the ice-crew and everyone involved in making these events possible.