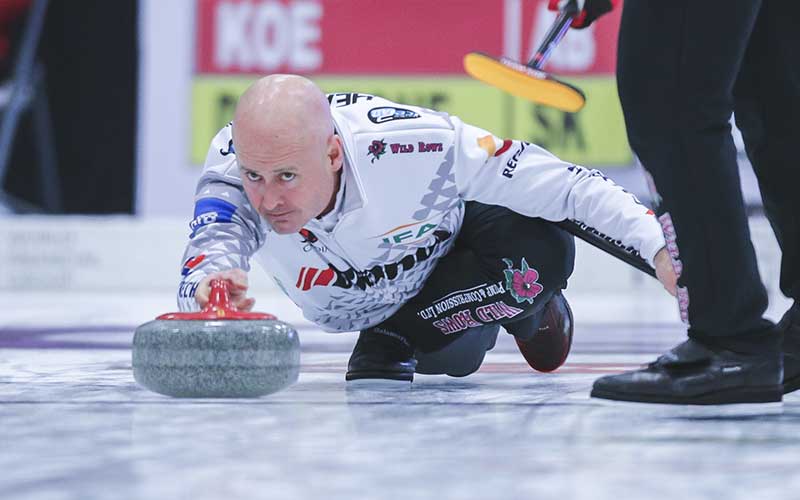 Calgary's Kevin Koe (photo by Jeffrey Au) is back on the ice with two wins to open play at the McKee Homes Fall Curling Classic in Airdrie.

Koe, with BJ Neufeld and Ben Hebert returning from last season have been debuting John Morris in the lineup and the intention of getting some early games in has got the Koe team grinding it out on the club Tour circuit.

Koe opened with a 10-1 win over Airdrie's Bert Martin, then carried a three in the second end on Calgary's Dale Goehring en-route to a 5-2 win.

The two wins put Koe into an A-event qualifying game, where they will play Edmonton's Evan van Amsterdam, also at 2-0 on the event.

Related:
> Facebook Live: Kevin Koe vs. Dale Goehring


Van Amsterdam won 9-3 over Calgary's Colton Goller, then dropped Warren Cross of Edmonton 5-3. Also advancing to the A-event qualifiers was Karsten Sturmay of Edmonton and Jeremy Harty of Calgary, set to face off for the second berth though the undefeated bracket.

Related:
> Youtube: Karsten Sturmay vs. Tracy Steinke:


"Good two win day for the boys, just want to thank Fourty-Creek," said Koe following their opening day back in competition.

"After the two wins, having a little refreshment, watching the playback of our game today."



"Special thanks to the Airdrie Curling Club, they're doing a great job of keeping everyone safe."

One of the initiatives coming out of the pandemic is the experimentation by teams to bring more coverage to the fans.

For Team Koe, the opportunity came out of a number of discussions driven by Hebert to give fans even more access to one of the most popular teams on Tour.

Throughout the season, they will be offering live stream coverage with multiple camera angles and live commentary as the hit the spiel circuit in Alberta.



Be sure to head over to Team Koe on Facebook and give them a follow for updates on their next game action.