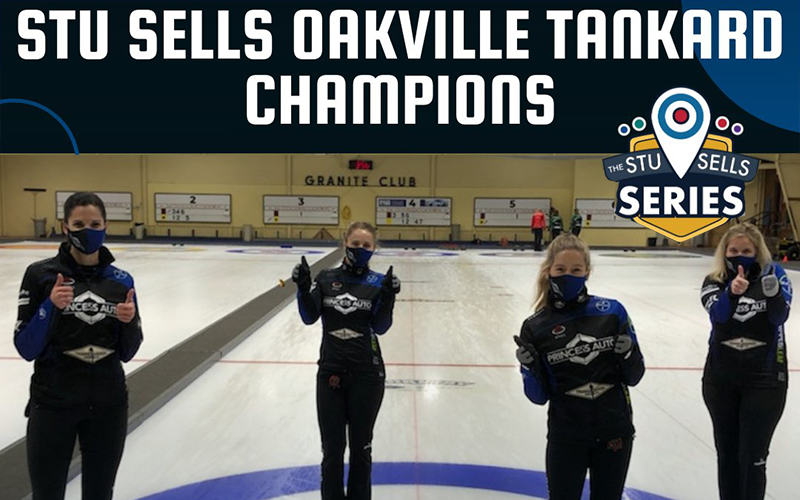 Jennifer Jones and her Winnipeg-based team (photo by @TeamJJonesCurl) win in a weekend of twists and turns, from misses to strong performances, and even our own COVID scare.

It was a fascinating experience dealing with one of the first significant events in North America getting off the ground, while also needing to exercise strict protocols and put a portion of the event on hold.

Jennifer Jones captured the Stu Sells Oakville Tankard title, holding off a Hollie Duncan comeback attempt in an extra end. After falling behind 4-0 after two ends when a hit for three just barely rubbed the guard in play, Duncan fought back to tie the game with three in the eighth end.


We went the distance and kept our distance in our first event of the season! Thank you to @Stusellsto and organizers who hosted the Oakville Tankard and all of the teams as we all worked through the new guidelines and safe processes. It was a great start to our season. pic.twitter.com/hX2NYCaizC

— Team Jennifer Jones (@TeamJJonesCurl) October 4, 2020


The men's event however ending prematurely, after a player COVID Alert app indicated this morning that they had recently come in contact with someone who tested positive.

As part of protocols for the tournament, all players download the COVID Alert app, and one of the players ended up showing a contact alert, and from there, this team notified the club, and the next steps were put into place.

After discussion with the remaining teams, the decision was made as a group to cancel the remainder of the men's playoffs.

In the end, had we not mandated all the players use the COVID Alert app, we'd have completed the event without concern, though we would have unknowingly had an exposure.

In the unlikely case that this player will test positive, we've managed to identify a possible risk to the event very quickly and minimize the potential impact.

While the event didn't come to a completion, the four semifinalists will walk away with $2,000 each, and some excellent games played this weekend. Team Glenn Howard Curling and Team Jacobs went 5-0 with Team Ainsley coming in at 4-1 and Team Robert Desjardins in at 3-2.

A busy weekend of streaming saw twelve games covered and a total of 30 hours of curling coverage through the weekend with guests Chelsea Carey, Danielle Inglis, Colin Hodgson, Julia Weagle and the Curling Zoom Party on Saturday night.

Related:
> COVID-19 concerns at Waterloo curling tournament

> CBC: COVID Alert app notification halts play at curling tourney in Kitchener-Waterloo hub
> TSN: Event halted after player received notification on COVID Alert app