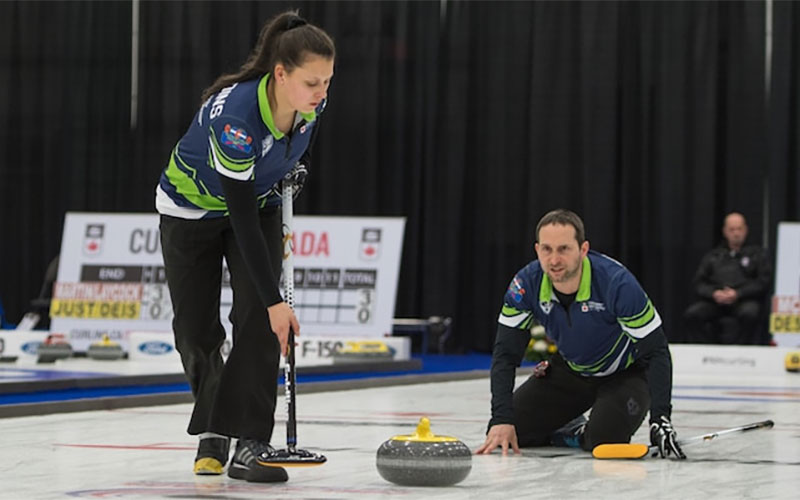 Hang in there, Canadian curling fans! The Tour is back in Canada with the Goldline Mixed Doubles Tour Finals going this weekend (Infinite Eye Sport Photography/Curling Canada photo).

Sixteen teams will compete for the title, rescheduled from last April as the wrapup event to last season's schedule. Robert Desjardins and his daughter Emile highlight the field, made up entirely of Quebec teams.

The growth of the Mixed Doubles tours across Canada has been built at the grassroots by the players themselves. In Quebec, it was Desjardins of Saguenay whose vision for the growth of the sport at the grassroots has made a difference in bringing new players to the competitive realm.

Outside of Brenda Nicholls - whose curling with Dan deWaard this season - the field is made up mostly of unknowns, which is a testament to the work done to entice more curlers to play at a competitive level.

"I realized there was interest to more than just a provincial and maybe one more," Desjardins talked about the discussions going on around the game during a provincial championship.

"I said, Would you guys like to have a tour or something like that?', and then the next day, we were already running four spiels."

From there, the Goldline Mixed Doubles Tour was formed and became an opportunity to get bring more players out of the clubs and into the competitive circuit.

"This is great for Goldline; it's great for the curlers. For the players, that every time you play a Goldline Tour [event], it's supposed to be the same amount of teams; the prize money will look pretty much the same, it's the same structure, the same format. It starts on Friday at the same time, with the finals on Sunday [afternoon]."



The event structure is a sixteen team field broken into four pools of four. The top eight teams head to the competitive division playoffs while the bottom eight teams play in a consolation playoff.

It's a format that I love," added Desjardins. "It's four games guaranteed, and everybody plays on Sunday."

The growth of the Mixed Doubles tour continues in Ontario with Katie and Shawn Cottrill, and in Saskatchewan with Sherry Just. Many of the events run are by players as well.

There are opportunities in regions for curlers who want to build these events, with the template already laid out in several places.

Related Stories:
> Finding the perfect teammate is the "magic" of mixed doubles

The Canadian tour schedule continues next weekend in Nova Scotia with The Curling Store Cashspiel near Halifax with a men's and women's field and the Cameron's Brewing Mixed Doubles in Kitchener-Waterloo, Ontario.