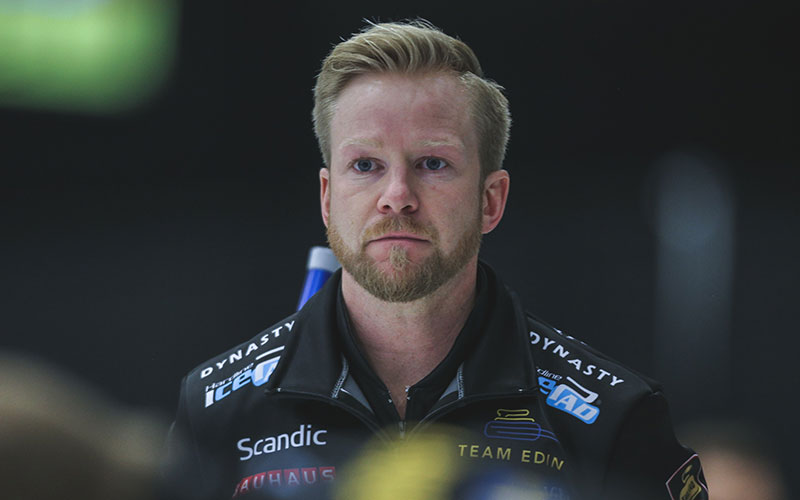 Sweden's Niklas Edin (photo by Jeffrey Au) continues to find games and stay sharp as the Tallinn Mixed Doubles International goes this weekend in Estonia.

Edin and his partner Emma Sjodin are competing this weekend in the 9-team competition featuring several of Europe's top Mixed Doubles teams.

The event, initially set to run with 12 teams faced some cancellations and scrambled to put together a new schedule at the last minute.

Scotland's Jayne Stirling and Fraser Kingan (ranked 27th on the World Team Rankings) stand alone at 3-0, while Ildiko Szekeres and Georgy Nagy (#18) sit at 2-0 after the first day of competition.

"It's been going pretty good," said Kingan following their 6-4 win over Oona and Aku Kauste of Finland on Friday evening.

"We're just trying to not over-complicate things and kept things simple. We've kind of surprised ourselves with the results a little. "

"I think that's called beginners luck," Stirling interjected. "It may run out tomorrow, maybe not."

"It's been good. Sometimes when you're not over-focusing on technique or anything like that, you just get there, look at the ice and throw as well as you can."

Sweden's Johanna Heldin - ranked 10th on the female player ranking (and 9th last season on the overall ranking with former partner Kristian Lindstroem) is joined by Daniel Magnusson for this season - are off to a 2-1 start, joined by the Kauste pair.

Edin and Sjodin are at 1-1.

Stirling and Kingan did travel from outside the Eastern European travel bubble that Estonia is part of, and faced a test and short quarantine upon arrival.



"When we arrived in the airport, we filled in a quick form, paid some money and got a COVID test," Stirling went on the describe the process.

"Which was unpleasant, not painful, but unpleasant."

"After that, we went straight to our hotel until and quarantined until we received the test results."

"Once we received negative test results, thankfully, that meant we were able to do some limited activities for the next week. For the first week after your first negative test, you can go to work, which for us is curling. So we can go to the ice rink, we can visit the ice rink bar, cafeteria area. We can go to the grocery store, and that's about it."

"We're quite limited for what we can do," Kingan added.

As the first team from Scotland to be seen playing on the Tour so far this season, the pair are thankful for the opportunity to get on the ice.

"We're an independent team, and we're not part of the performance setup in Scotland," said Stirling.

"So we can choose if we want to travel or not travel and some of the other Scottish teams who are part of the program haven't been able to travel at the moment as the program is not keen for the teams to travel for now."

"It's partially also that upon return to Scotland you have to quarantine for 14 days from a lot of different countries based on their COVID prevalence."

"Estonia is relatively low compared to other countries at the moment, so it's one of the countries on the list of place that you don't have to quarantine on the way home, which helps up a lot."

Coverage of the Tallinn Mixed Doubles International continues Saturday with the playoffs going Sunday.