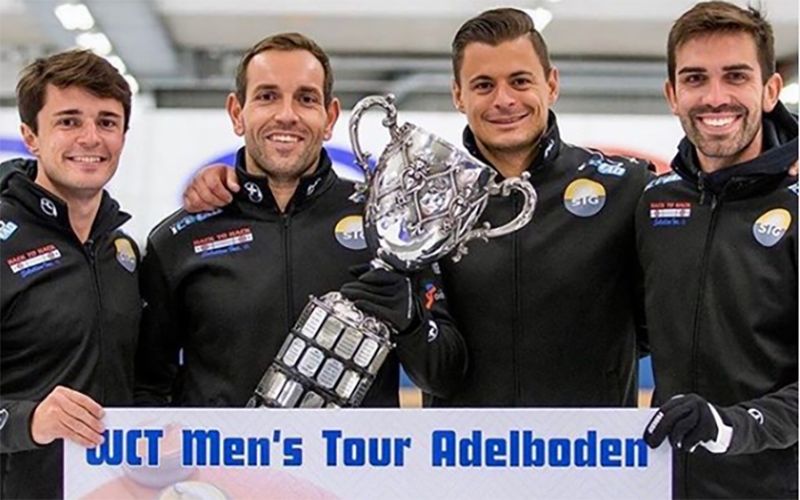 Peter De Cruz, skip throwing second stones with Benoit Schwarz at fourth, Sven Michel at third and Valentin Tanner at lead (photo: IG/WCTAdelboden) won 8-1 over Yannick Schwaller to win the title.

The Adelboden International featured 15 top-ranked men's European entries, along with reigning world-champion Silvana Tirinzoni in the field.

The final was a short and lopsided affair, though both teams battled in a tight game down to the end. A slight over-roll by Schwaller in the first end left De Cruz a hit for two, then in the second end, the draw against two got enough of the four-foot to score a single point.

While still close, the game was ended in the third end, when De Cruz scored six. The end looked innocent enough until Schwaller's missed first shot removed two of his own stones, leaving De Cruz with four counters buried.

On his last shot, Schwaller played an in-off into the pile in the middle, clipping off the top of one stone, then skirted through the only possible hole to leave Schwarz the draw for six.



Concessions followed, an 8-1 win for De Cruz in the first edition of the Adelboden International, planned as an event to support the up and coming teams in Europe. However, with the pandemic, it become only of the end events to still move forward.

The committee of Martin Stucki, Stefan Mathrilleda Hari and Simon Gempeler put a lot of work in to ensure they could host many of Europe's best teams this week.

"It was quite a challenge for the whole organizing committee to get this event going. But now we are really happy to have some world-class teams in our club," said Gempeler in talking about helping bring the event together.

The addition of events like Adelboden to the schedule will make it easier for the growing nations in Europe to develop while and allowing the next generation of Swiss curlers the chance to find more competition close to home.

"We hope to be able to run this event for many more years and allow the teams to compete early in the season."






De Cruz qualified for the playoff round winning three games through the A-event bracket of the triple knockout draw format. Wins over Christian Heinimann (Switzerland), Daniel Magnusson of Sweden put De Cruz into the A-qualifying game where they defeated Andrin Schnider (Switzerland) 10-4.

Schwaller won 5-4 over Jaap van Dorp of the Netherlands in the quarterfinals, continuing with a 5-4 win over Italy's Joel Retornaz. Schwaller made a great escape in the semifinal, stealing two in the last end to sneak away with the win.

Tirinzoni defeated Sixten Totzek of Germany, 7-2 in the quarterfinals before their weekend end in the semifinals. Tirinzoni went 4-2 on the weekend, opening with a 4-3 loss to Schwaller, then winning 8-7 over Totzek, 8-2 against Christian Bangerter and 4-3 against Bjorn Jungen to win one of three B-Qualifier berths for the playoffs.

Retornaz defeated Marco Hoesli (Switzerland) 5-4 in the fourth quarterfinals match.

Related Features:
> Tirinzoni Takes on the Men in Adelboden
> WATCH: Tirinzoni vs. Schwaller in opening draw: