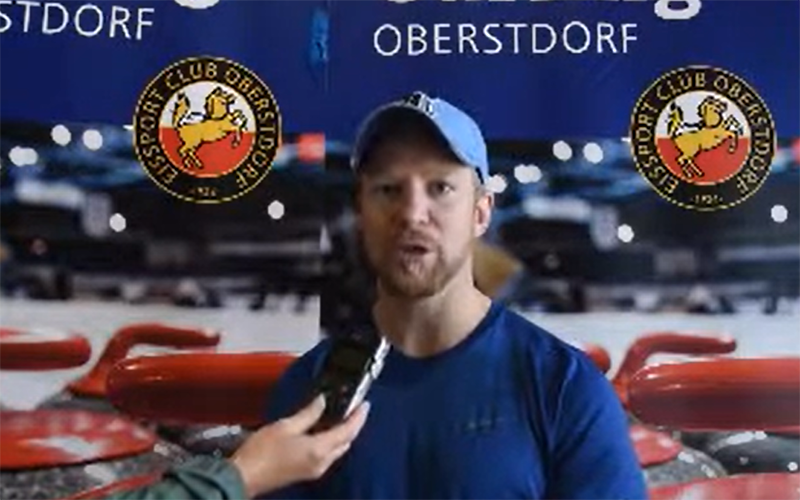 Sweden's Niklas Edin, along with teammates Oskar Eriksson and Rasmus Wrana are competing in Oberstdorf Doubles; Adding events to their schedule where possible.

Edin, along with partner Emma Sjodin lost their opening game to siblings Isabella and Rasmus Wrana 7-5, wth Niklas and Rasmus being teammates in the four-player game.

"We lost the first game, played a really solid team, another Swedish team that we're going toe to toe with pretty much to whole match, we're a little bit unfortunate in one of the ends and that was enough to lose it," said Edin following the opening game loss.

"It was a tough battle, now we need to win pretty much every game from here, I think, but we're good enough to do that if we can focus and play the we usually do.

Rasmus played last season with Agnes Knochenhauer in the Swedish National Championship and came away with the title. Currently, the Wranas sit at 3-0 in Pool B, joining countrymates Johanna Heldin and Daniel Magnusson as the only teams at three wins.

"The ice is a little bit frosty due to the warm weather outside, so we're definitely going to have to talk through what happened in this [last] game and how to handle it a little better in the next game."

Edin bounced back with a win over the daughter-father combo of Natalie and Kasper Wiksten to even their record at 1-1 following the opening day of competition.



"It's actually really nice to be back [in Oberstdorf], I've played a mixed event here, a decade ago, still really nice to be back here, nice memories, always having fun here," continued Edin.

"Good to be back, definitely a different kind of curling season to start to this, it's really different."

"Really happy we can at least play something so we're going to compete as much as we can but [with] a lot of events being cancelled, [we're] really happy this could run."

Related Stories:
Rachel Homan/Niklas Edin Win Arctic Cup Mixed Doubles Title in Russia
https://www.curlingzone.com/post.php?postid=1916

Round-Robin pool-play games continue through Saturday, with the eight-team Championship round beginning Sunday morning.

Live scores can be found at www.curlingzone.com.