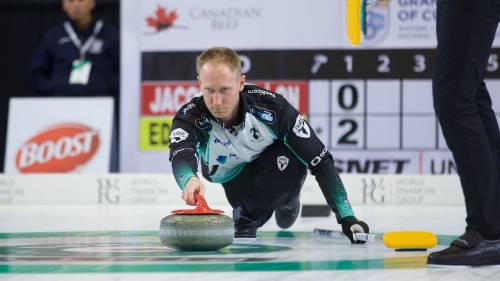 Brad Jacobs (Sault Ste Marie, Ontario) wins the Boost National, defeating Niklas Edin (Karlstad, SWE) 3-1 at the CBS Arena in Conception Bay South, Newfoundland & Labrador. Jacobs with Marc Kennedy at third, E.J. Harnden and Ryan Harnden on the front end take home the $35,000CDN first place cheque along with 90.791 world ranking points, while Edin receives $20,000CDN and 66.580 world ranking points for their second place finish.

After blanking first 3 ends, Jacobs stole 1 in the fourth end to take an early lead when Edin came just short on his draw, then added another steal in the fifth end on an attempted double to blank. Edin was held to a single in the sixth end to trail 2-1, then forced Jacobs to a single in the seventh end after which Jacobs made the runback to run Edin out of stones in the final end for the 3-1 win.

In the semifinals, Jacobs defeated Brad Gushue (St. John's, NL) 5-3 and Edin defeated Bruce Mouat (Stirling, Scotland) 7-4. Mouat and Gushue earned $15,000CDN and 51.448 ranking points for their semifinal finishes. In the quarterfinals, Jacobs defeated Brendan Bottcher (Edmonton, AB) 4-3 in an extra end, Edin defeated Mike McEwen (Winnipeg, MB) 5-2, Gushue won 6-5 over Peter De Cruz (Geneva, Switzerland) and Mouat knocked off Kevin Koe (Calgary, AB) by a 7-2 score. Bottcher, McEwen, De Cruz and Koe all received $10,000CDN and 36.317 world ranking points for their quarterfinals finish.

Jacobs finished 3-1 in the 15 team round-robin qualifying round. In their opening game, Jacobs lost 6-3 to Bottcher, then responded with a 5-1 win over Yannick Schwaller (Bern, Switzerland). Jacobs won 4-2 against Edin, then won 4-3 against Yuta Matsumura (Kitami, Japan) in their final qualifying round match to advance to the playoff round.