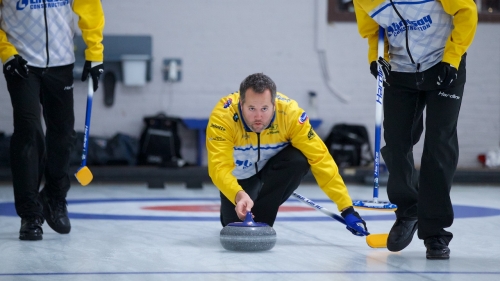 Jamie Murphy (Halifax, NS) wins the WFG Jim Sullivan Curling Classic, defeating Wayne Tallon (Fredericton, NB) 7-4 at the Thistle St. Andrews Curling Club in Saint John, Canada. Murphy with Paul Flemming at third, Scott Saccary and Philip Crowell on the front end take home the $5,000CDN first place cheque along with 18.912 world ranking points, while Tallon receives $3,300CDN and 14.859 world ranking points for their second place finish.

Starting with hammer, Murphy scored 1 in the first end, then added a steal of 2 in the second end. After Tallon scored a single in the third end, Murphy responded in the fourth end scoring 2 to extend lead to 5-1. Tallon scored a single in the fifth end, then forced Murphy to a single in the sixth end. Tallon then scored 2 in the seventh end, with Murphy scoring a single in the eighth end for the 7-4 win.

In the semifinals, Murphy defeated James Grattan (Oromocto, NB) 4-1 and Tallon defeated Terry Odishaw (Moncton , NB) 7-2. Grattan and Odishaw earned $1,500CDN and 11.482 ranking points for their semifinal finishes. In the quarterfinals, Murphy defeated Stuart Thompson (Dartmouth, NS) 7-6, Tallon defeated Robert Mayhew (Halifax, NS) 7-5, while Grattan defeated Scott Jones (Moncton, NB) 5-3 and Odishaw defeated Mark Dacey (Halifax, NS) 8-5. Jones, Mayhew, Kendal Thompson (Halifax, NS) and Dacey earned $1,000CDN along with 8.105 ranking points for their quarterfinal finishes.

Murphy went 4-1 in the 18 team round-robin pools qualifying round. In their opening game, Murphy defeated Tallon 8-7, won against Mayhew 5-2, before losing their next game to Paul Dobson (Saint John, NB) 6-4. Murphy responded with a 8-5 win over Dave Sullivan (Saint John, NB) and then won against Paul Dexter (Halifax, NS) 8-4 in their final qualifying round match.