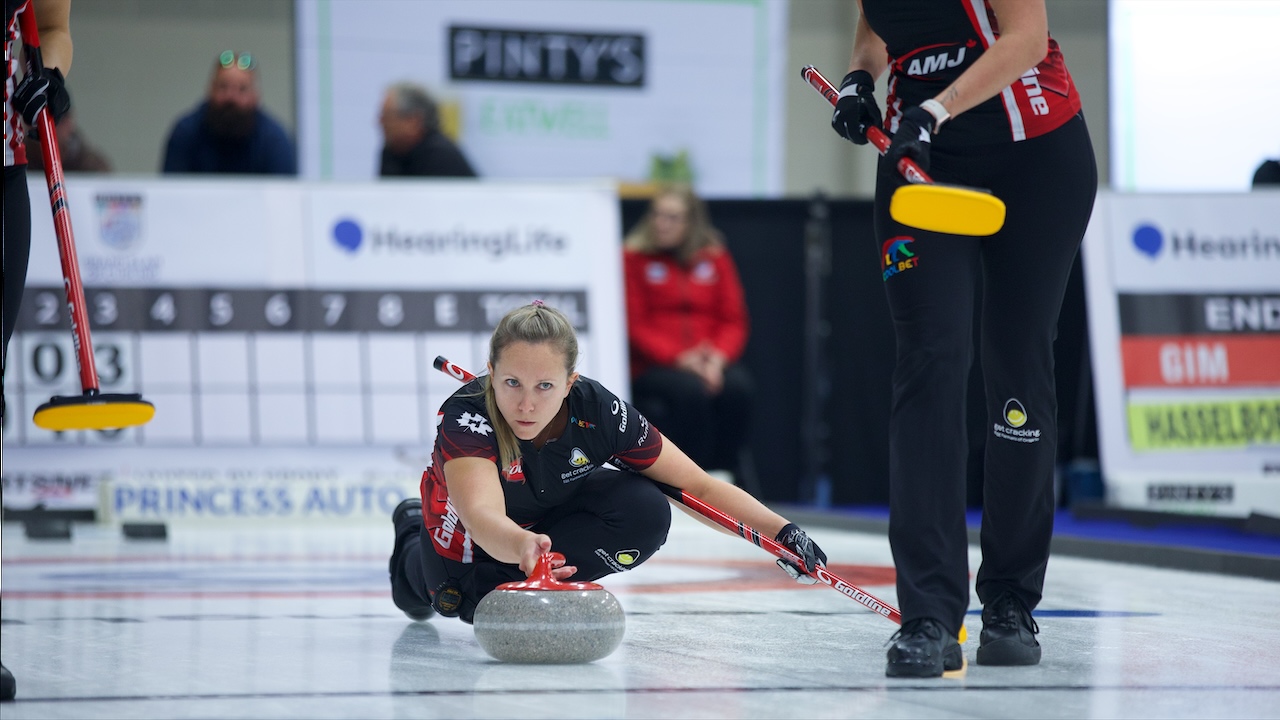 Ottawa's Rachel Homan (photo: Anil Mungal, GSOC) plays Winnipeg's Beth Peterson in Monday's playoffs at the Pumps and Pressure Red Deer Curling Classic.

As the reigning champions, winning last year's final 5-1 over Casey Scheidegger of Lethbridge, Homan comes into the playoffs looking to continue their winning ways and repeat as champions.

Homan holds a 22-3 record on the season, winning two events and reaching the final of the KIOTI National Grand Slam, where they dropped a 7-6 decision to Korea's Eun-ji Gim.

Homan's counterparts, skipped by Peterson with Kelsey Rocque, Jenna Loder, Katherine Doerksen and Melissa Gordon as a 5-player squad have had their own success on the curling tour this season, winning the MCT Challenge in September and reaching the semifinals at the Curlers Corner Autumn Gold and the MCT Shootout in October.

Peterson holds a 21-10 record on the season, going 5-2 in the 23-team qualifying round, taking the longest road possible. In their opening game, Peterson defeated Patty Wallingham (Whitehorse, Yukon) 12-1, then won 6-4 against Serena Gray-Withers of Edmonton and 7-6 against Michelle Englot of Regina to advance to a A-Qualifier game.

Peterson lost 7-4 against Brown, then responded with a 6-4 win over Abby Marks (Edmonton, AB) to advance to a B-Qualifier game.

A 9-5 loss to Saskatoon's Skyler Ackerman to dropped Peterson into a C-Qualifier game, where they booked their playoff spot with a 7-5 win over Amber Holland (Kronau, SK).

Homan took a more direct route into Monday morning's quarterfinals, winning three games to qualify through the A-event bracket. In their opening game, Homan defeated Holland 9-1, then won 6-2 against Edmonton's Selena Sturmay to advance to the A-Qualifier game where they 9-2 against Calgary's Kayla Skrlik to advance to the playoff round.

On the same half of 8-team single knockout playoff bracket, Winnipeg's Kaitlyn Lawes will play Ackerman while Corryn Brown of Kamloops plays Sturmay and Skrlik takes on Saskatoon's Nancy Martin on the other half.

Monday's championship final goes at 3:30 pm Mountain Time.