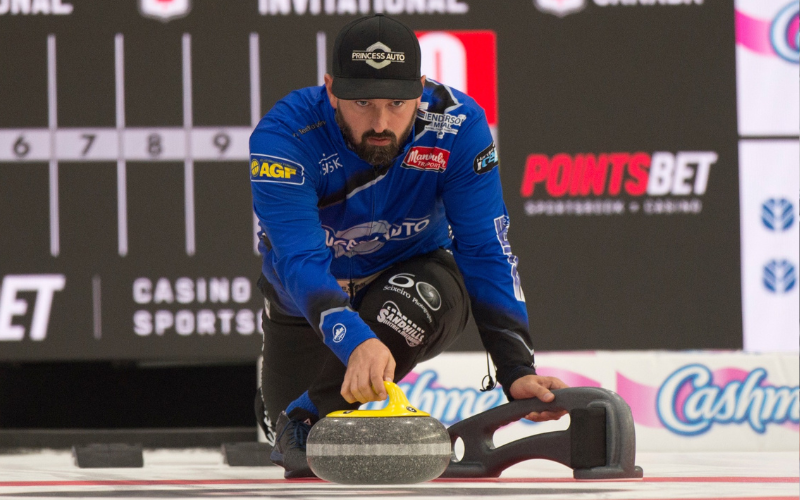 We're two years into the PointsBet Invitational, and one thing we can safely say is that Reid Carruthers (Photo: Michael Burns, Curling Canada) and Matt Dunstone have figured this format out.

The two Winnipeg-based teams met in the final of the inaugural PointsBet Invitational a year ago in Fredericton, N.B., where Team Carruthers prevailed 8-4 to claim the $50,000 winner's cheque.

New season, new location, but a familiar plotline as the same teams will battle again Sunday at 5 p.m. (all times Eastern) in the men's final of the 2023 PointsBet Invitational.

Both claimed Final 4 victories on in dramatic fashion Saturday, with both winning sudden-death draw-to-the-button tiebreakers at the Sixteen Mile Sports Complex in Mississauga, Ont., and are the last teams standing in the 16-team single-knockout bracket.

And, yes, Dunstone is looking for a little revenge.

"Tomorrow's a new day, we're a year (later)," said a smiling Dunstone during a post-game interview alongside Carruthers, moments after his third-seeded team, rounded out by vice-skip B.J. Neufeld, second Colton Lott, lead Ryan Harnden and coach Adam Kingsbury, shaded 10th-seeded Team Mike McEwen of Saskatoon 6-5. "Obviously Reid has a good team, they played to knock off Brad (Gushue), so it's going to be a fun game, a little Manitoba battle there. Hopefully we're a little hungry after what happened last year at this event."

Both teams already have $26,000 in the bank from their first three wins — Sunday's final offers a winner-take-all jackpot of $24,000, which would round out the winnings to a tidy $50,000, not to mention put an exclamation point on the opening month of the 2023-24 season.

The Dunstone-McEwen battle was a tight-to-the-vest affair that featured only one deuce in the opening six ends, scored by Team McEwen in the second. Team Dunstone scored a crucial steal of one in the fourth to take a 3-2 lead, and stole another in the eighth for a 5-3 lead.

Team McEwen, though, would rally for singles in the ninth and 10th ends to tie it and force the draw-off. McEwen was heavy with his, and Dunstone finished back button for the win.

"I got a little glimpse of Mike's draw and I had quite a bit of space (to work with," said Dunstone, the 2023 Brier silver-medallist. "So that kind of puts your mind at ease a bit."

Carruthers, vice-skip Brad Jacobs, second Derek Samagalski, lead Connor Njegovan and coach Rob Meakin reached the final by taking down top-seeded Team Gushue of St. John's, N.L., in the semifinal for the second straight year.

After falling behind 3-1 through five ends, Team Carruthers would rally for a game-tying deuce in the sixth thanks to a pair of sublime deliveries from Carruthers. The teams traded singles the next four ends to get to the tiebreaker. Both were a little light of the button, but Carruthers finished closer to advance to the final with a 6-5 win.

"We got down early but we didn't get too upset," said Carruthers. "We stayed positive. I said, 'Guys, just get me to a draw (for the win). That's all you can really hope for in this format. It's a mental battle; all these teams are really close, so that's all it is."

Since that final 12 months ago in Fredericton, Team Dunstone has won seven of eight head-to-head meetings with Team Carruthers. But that goes out the window on Sunday.

"Apparently we both really love this event," chuckled Carruthers. "I'm expecting a burner; every time we play them, it seems to be a really good game. They're an amazing team. I'm looking forward to it. I'm sure there's going to be some chirps sent back and forth via text tonight. It'll be a good battle."

"Any time you get a couple of top teams in the province battling it out against each other, you do nothing but make each other better," added Dunstone. "This will be one of probably double-digit meetings this season. The more we get into this situation, the more both of our teams will benefit."

The 2023 PointsBet Invitational wraps up Sunday with the women's final between top-seeded Team Kerri Einarson (Gimli, Man.) and No. 2 seed Team Rachel Homan (Ottawa), followed by the men's final at 5.